Bendy, Bawdy Pole Show Combines Eroticism, Athleticism and OMFG
It's time for our utterly gratuitous coverage of Pole Show L.A., a pole dance show. Hence its name. Please try and keep up.

Pole Show L.A. is a showcase for some of the best pole dancers in the world, and there's no better place for these talented, young (mostly) women to show off their skills.
And skills they are.

At Pole Show, one quickly realizes pole dancing is a lot more physically demanding that you might think. There's a whole subculture around pole dancing we didn't realized existed, and a majority of its fans appear to be women.

Pole Show is described as "Cirque dul Soleil meets a Victoria's Secret fashion show."
However it's described, it's an impressive collection of people committed to fitness, agility and entertaining an audience in a big way.

One of the stars of the show was an aerialist by the name of Amy Hazel. She's one of the elite performers in the field, and boasts a long list of competition titles. Yes, there are titles.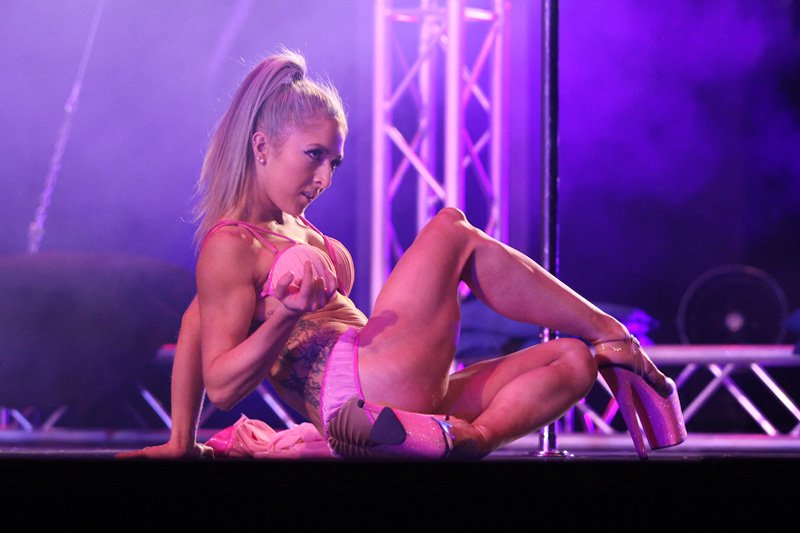 Here's a peek at her "I Dream of Jeanie"-inspired routine, and please keep your hands where we can see them.
Fun fact about Amy Hazel: Before her pole dancing career, she studied underwear design, which we also didn't realize was a thing.
Less fun, awkward fact about Amy Hazel: She suffers from "flexorexia," an ailment described as "a type of body dysmorphia that affects mostly flexible people," where someone is unable to see themselves as flexible enough. Hey, one person's "ailment" is another's "moneymaker." Read more.

Pole dancing has its own nomenclature like back hook spin, invert, carousel slide, thigh hold, fireman spin and other terms we don't understand.

We loved seeing Pole Show, for lots of reasons we didn't anticipate. From the costumes to the choreography to the daring (there are no safety lines), these performers make the case for pole dancing being in the Olympics. We suspect viewership would go up considerably.

Pole Show travels the country, so you, too, can catch these amazing displays of dexterity, choreography and OMFG live. Visit the official site for more information.