Plaza to Temporarily Repurpose Bus Terminal as Art Gallery
Ah, crap. Now, we can't claim Las Vegas doesn't have any decent art.
Plaza's hosting a temporary art exhibit in its adjacent former Greyhound bus terminal. The exhibition is called "Artist/City" and comes from Bortolami, whoever that might actually be.
The exhibition will be on view from Nov. 18, 2022 to Feb. 26, 2023.

Apparently, Artist/City is an existing program, but here's more from the news release: "Expanding exhibition programming outside the gallery's walls, the Artist/City initiative pairs artists with an unconventional space in an American city for a longer duration than a standard gallery exhibition, granting artists freedom to push the boundaries of their creative practices."
Yeah, we also don't really get it.
It looks like the work of three artists will be featured, New York–based Japanese painters Koichi Sato and Susumu Kamijo, and L.A.–based artist Jonas Wood.
While one might not expect Plaza to be a hotbed of art, they've actually been fairly active in the scene, boasting three massive murals on the sides of its hotel towers. Read more.

According to Plaza CEO Jonathan Jossel, "The Plaza Hotel & Casino has always believed in the power of art in revitalizing communities. We were proud to transform our North Tower into a canvas for three 21-story murals and now, we are excited to welcome the next iteration of Bortolami's Artist/City program. The public art exhibition at the former Greyhound bus station shows how the space can be a prime feature of our plans to transform Main Street into a vibrant and diverse destination in downtown Las Vegas."
We don't know about all that, but it's great to hear the bus station is being used as something, anything, other than as a bus station.
The former Grayhound station, which faces Main Street, was a magnet for crime. Beyond making the area feel seedy, the bus station was responsible for the most police calls for service in the entire city.
Greyhound was given the boot, after 50 years, in Feb. 2021.

Bortolami Gallery has presented eight iterations of its Artist/City program since its inception in 2015. Exhibition locations have included Miami, St. Louis, New Haven, Philadelphia, Illinois, Washington, D.C., Baltimore and Buffalo.
By far the most interesting location is St. Louis, where the gallery is in a former Taco Bell.
Las Vegas will definitely be the place where it's least appreciated, but that's because we have so much other eye candy to distract us.
We kid Las Vegas about not having any decent art, but that's only because it's factually accurate. It sucks. Our public art sucks, our galleries are virtually non-existent, but bless our hearts, we're trying.
The very best art in Las Vegas continues to be the retired neon signs at the Neon Museum, far and away.
Maybe Artist/City could be a symbolic turning point for art in Las Vegas.
We don't actually believe that, but we're a gambler, and gambler's are endlessly optimistic.
Here's more about Bortolami Gallery.
Again, because you tend to skim, the exhibit opens Nov. 18, 2022.
Apologies to Plaza for not being nearly as excited about this partnership as we are about the new Carousel Bar, Oscar's expansion and camera-friendly, smoke-free casino space it has in the works. Here are the details.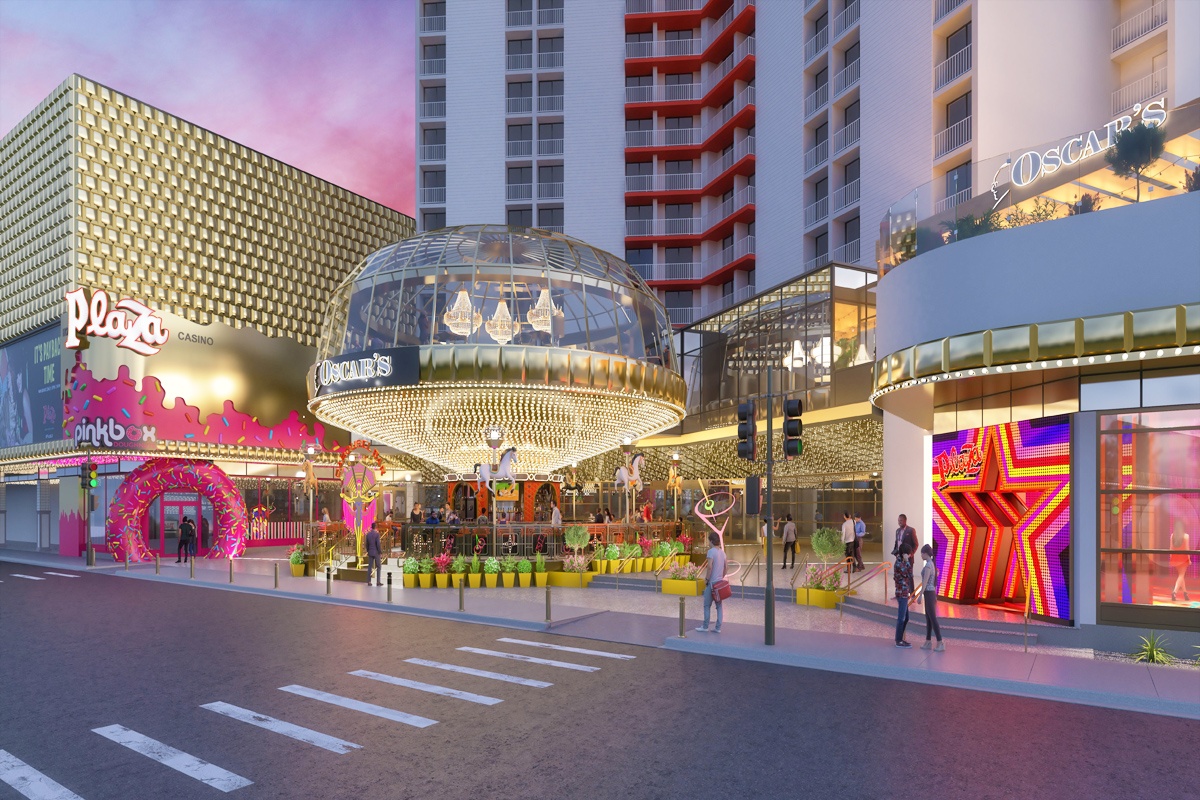 We'll definitely check out the art exhibit, though. We took art history in community college, back in the 1930s, so we are a noted art expert and were a huge fan of Piet Mondrian for a minute to try and impress girls.
Our pre-opening reviews: Koichi Sato, not good; Susumu Kamijo, oof; Jonas Wood, yeah, also not great. Let's just say they'll all fit right in with the Las Vegas art scene.
And, yes, before you say it, we know it's terribly unfair to judge things before we actually see them. It's a horrible injustice we think "Amystika" and "Bat Out of Hell" reek to high heaven without having experienced them. Life isn't fair. That's one of the things that makes life so interesting.
Ultimately, art is subjective. There might even be someone who liked "Bourne." They are wrong and need to seek professional help.
A better example of how art is subjective is a comparison to pizza. Everyone has an opinion about pizza. In Las Vegas, there's the Pizza Rock camp (including us) and the Good Pie camp (the wrong people). There's even a Giordano's camp, comprised mainly of people who have escaped from mental institutions.
The biggest difference between art and pizza is even bad pizza is still pretty good.
See you at Bortolami's "site-responsive installation" at Plaza when it opens in November. We'll definitely hit the casino bar first. A noted art expert once said, "There is no art that cannot be improved by spiced rum."
Oh, we're definitely turning that into a graphic because the Internet needs more of those.

We'd love to hear your thoughts about art, pizza, "Bourne" and spiced rum in the comments, especially if you agree with us.