Plaza Reveals Details of Carousel Bar, Smoke-Free Casino Expansion and More
Downtown's Plaza casino shared plans for a new bar, Carousel Bar, in its iconic porte cochere, as well as a smoke-free casino expansion.
Those new additions, along with a new Pinkbox Doughnuts outlet in the former party pit space, will completely change the facade of Plaza, and we're going to need a minute.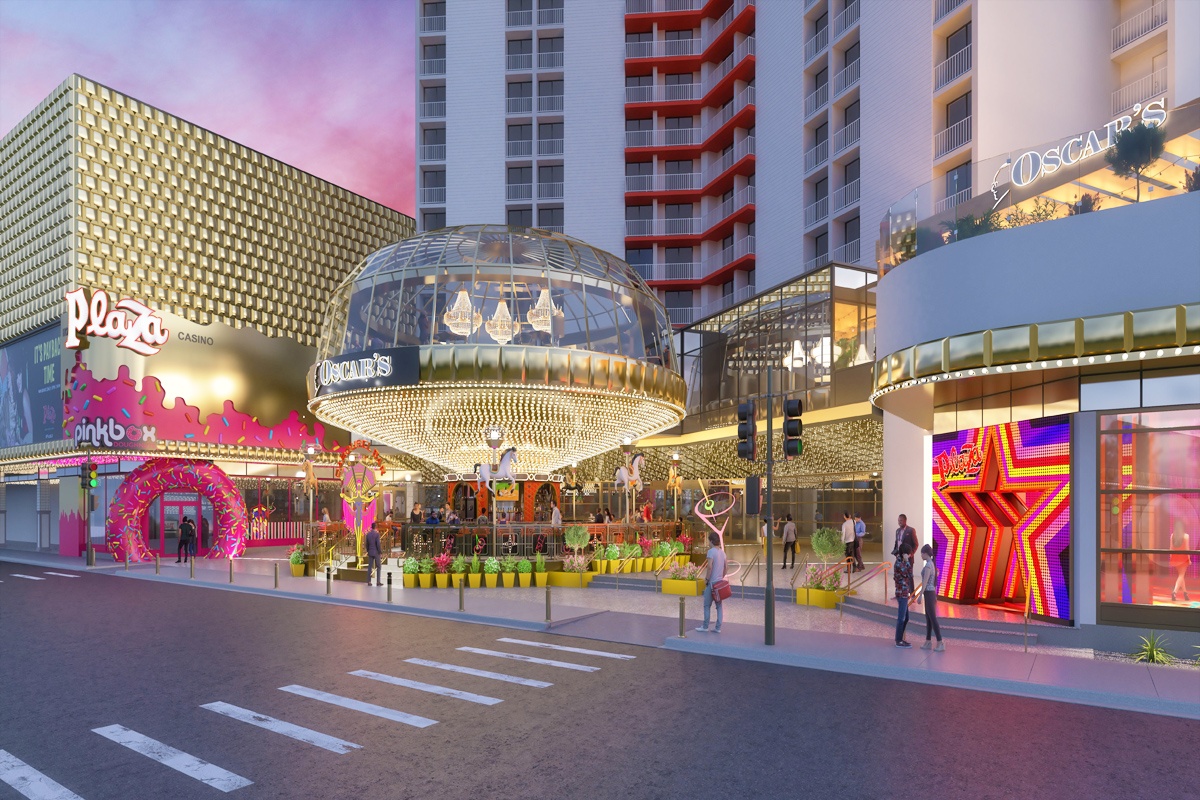 It's just a lot, and change is hard. Plaza was always the gritty one, the old-timey one.
Now, it's going to have a metric ass-ton of flair.
Also in the works is a previously-announced expansion of Oscar's Steakhouse.
So, let's get into it.
First, Carousel Bar.
Plaza has smartly added an outdoor bar, the source of immense revenue elsewhere along Fremont Street, without screwing with the aforementioned iconic porte cochere.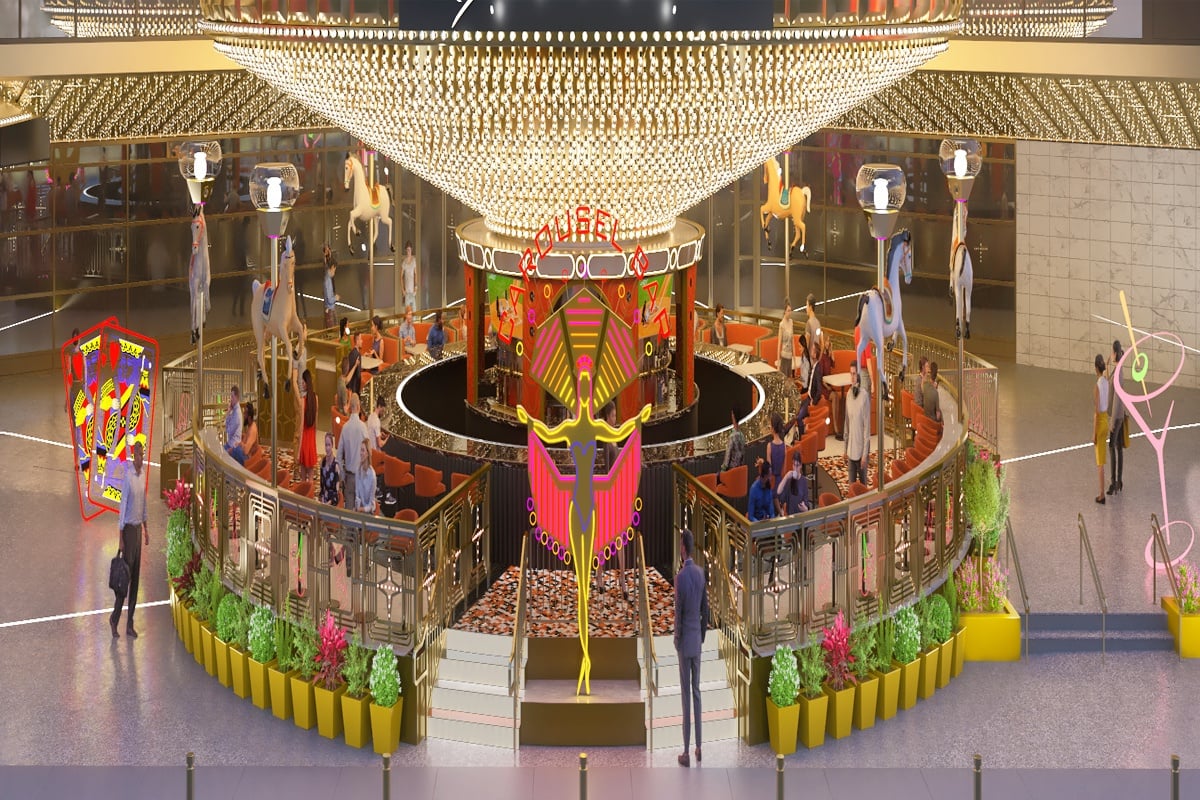 The carousel theme was inspired by the roundness of the space, naturally.
Fun fact: Sugar Factory on The Strip attempted to build a Carousel Bar, but Plaza owns the rights to that now, so Sugar Factory went another direction.
Carousel Bar will have animated elements, like horsies that move up and down as they do on a real merry-go-round. There will also be a revolving deck of cards and a martini glass, a tip of the hat to former Mayor Oscar Goodman's drink of choice.
Carousel will feature an outdoor cooling system, because we know you're a big baby about our Las Vegas heat.
Carousel will have eight bartop video poker machines. Again, we know how you are.
Here's another look at this sexy new bar.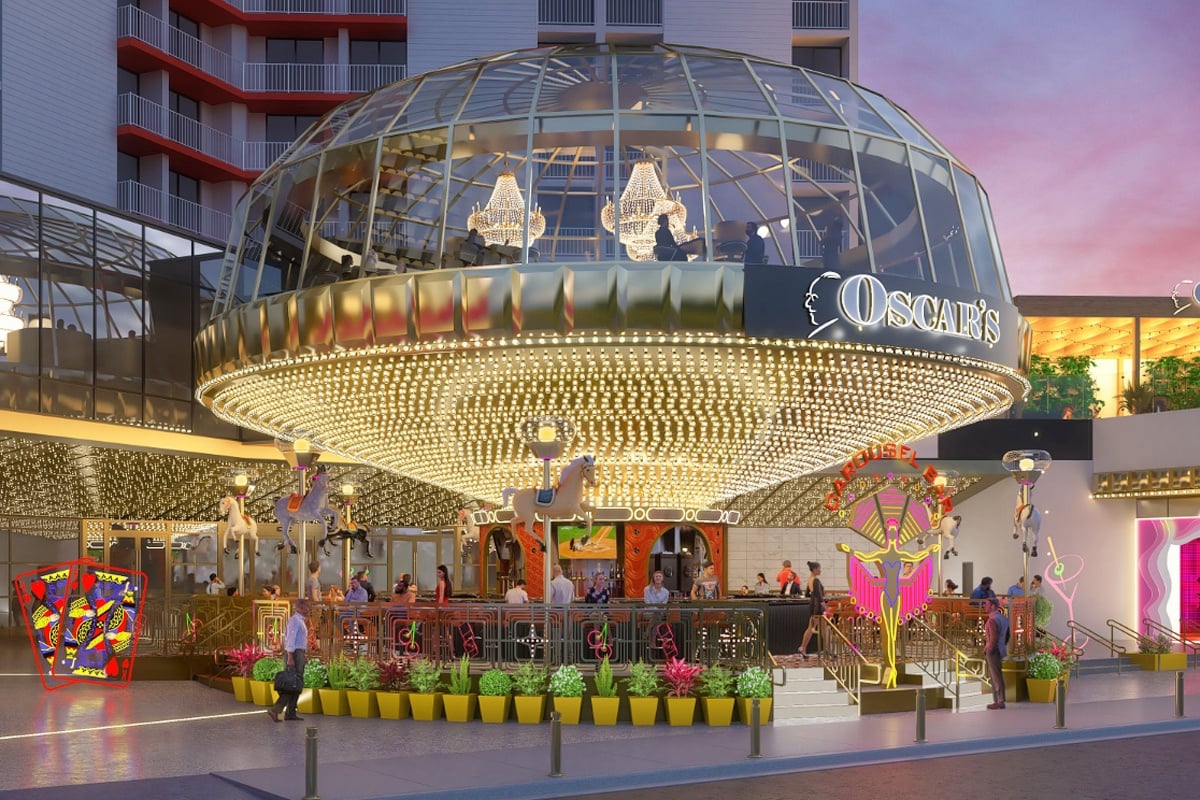 The design of the bar, and the other new additions, are clearly intended to be eye-catching. The eyes Plaza seeks are people visiting Fremont Street Experience.
Plaza has a long and drama-filled history with Fremont Street Experience (where we used to work in digital marketing), which is why Plaza isn't a member of that organization.
Time heals all wounds, or most of them, as they say, and Plaza would love to see more business from the downtown casino boom. Shiny new things is a great way to make that happen.
Plaza is looking to generate some buzz from another new offering, a casino expansion (into the former beer garden space) that will be smoke-free.
The casino is being described as "the first smoke-free casino in downtown Las Vegas," but the existing Plaza casino won't be going smoke-free. Still, it's a big deal, following in the footsteps of Park MGM, the only smoke-free casino on the Las Vegas Strip.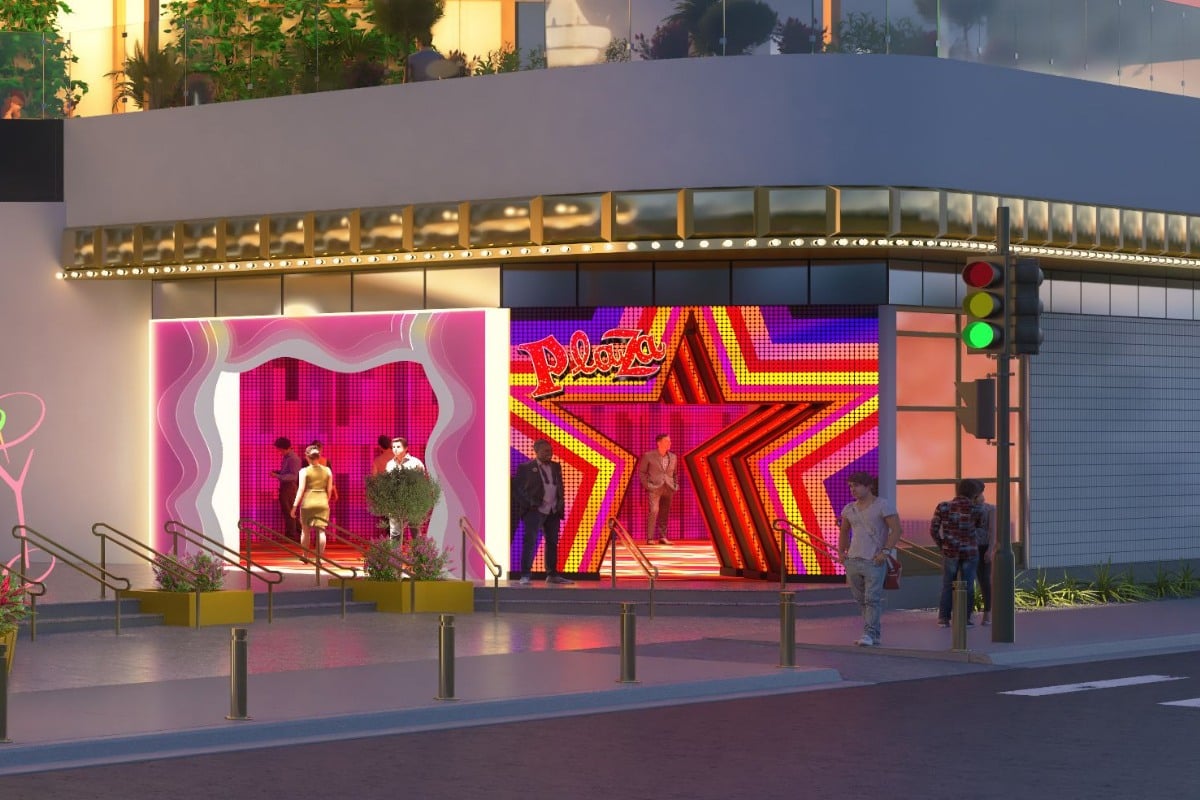 This new casino space is in partnership with slot influencer Brian Christopher. Christopher has said he'll stop doing his influencing at casinos that allow smoking starting in 2023, so this new addition to Plaza should side-step any awkwardness.
Beyond being smoke-free, the space will be social media-friendly, meaning photography and videography will be encouraged. Shocking, and about damn time! Thank you, Plaza. This old-school nonsense about prohibiting photography in casinos is utter hooey.
Part of the casino experience is sharing the casino experience!
Props to Four Queens and Strat who have previously said they welcome photography in the casino, and big thanks to Plaza for helping get this message out there in an even bigger way.
Also announced at a media event on June 14, 2022, Plaza will get a new food outlet, Pinkbox Doughnuts. (Like all this news, we shared it on our Twitter account prior to the official announcement, but not everything has to be about us.)
The Pinkbox entrance is definitely attention-grabbing, we'll give it that. We tried the glazed doughnut, easily one of the best in Las Vegas.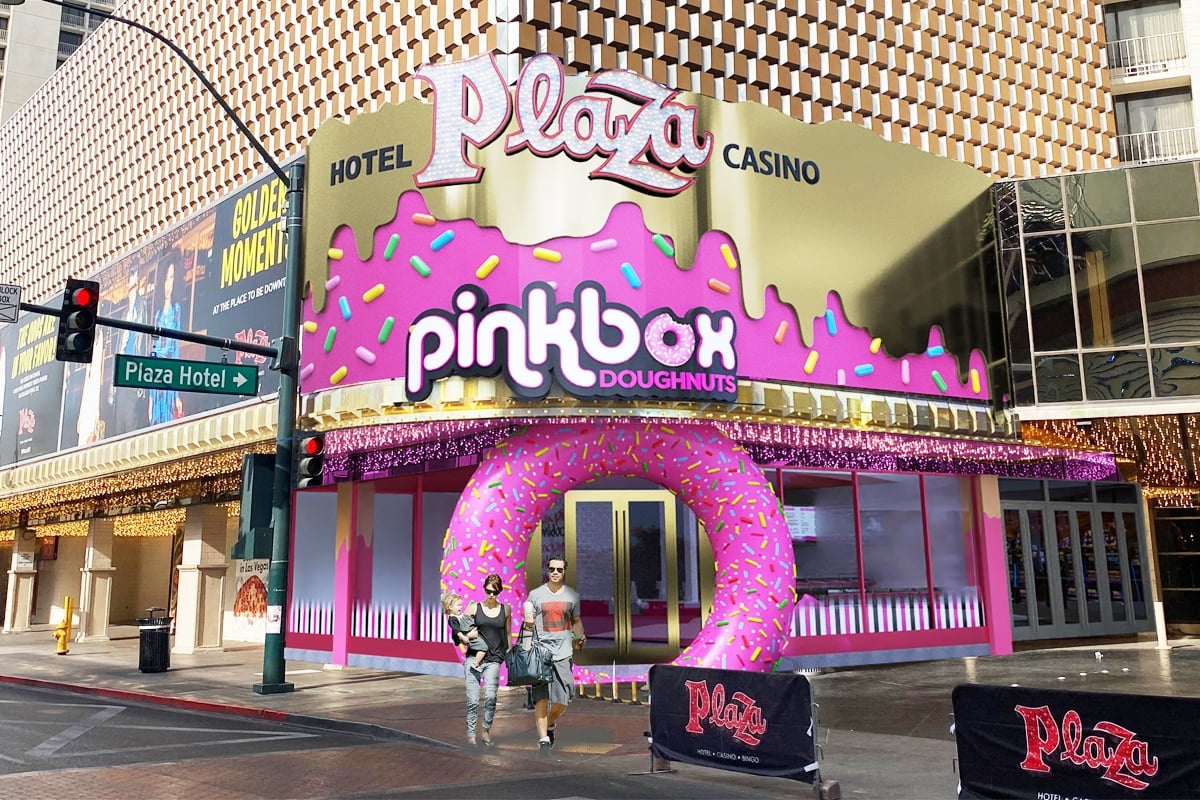 As mentioned, Pinkbox will go into the space that was previously a party pit that never gained traction, and is now home to a disco-themed photo op.
Pinkbox comes from The Siegel Group, the company that owns a number of "flexible-stay apartment complexes" in Las Vegas, along with the well-received Siegel's Bagelmania near the Las Vegas Convention Center.
These are the same folks who recently purchased 10 acres of land on the Las Vegas Strip. Plans for the land haven't been finalized, but we heard there will be a casino involved, so we approve.
Rounding out the recent set of announcements was a reminder of an upcoming expansion to Oscar's Steakhouse.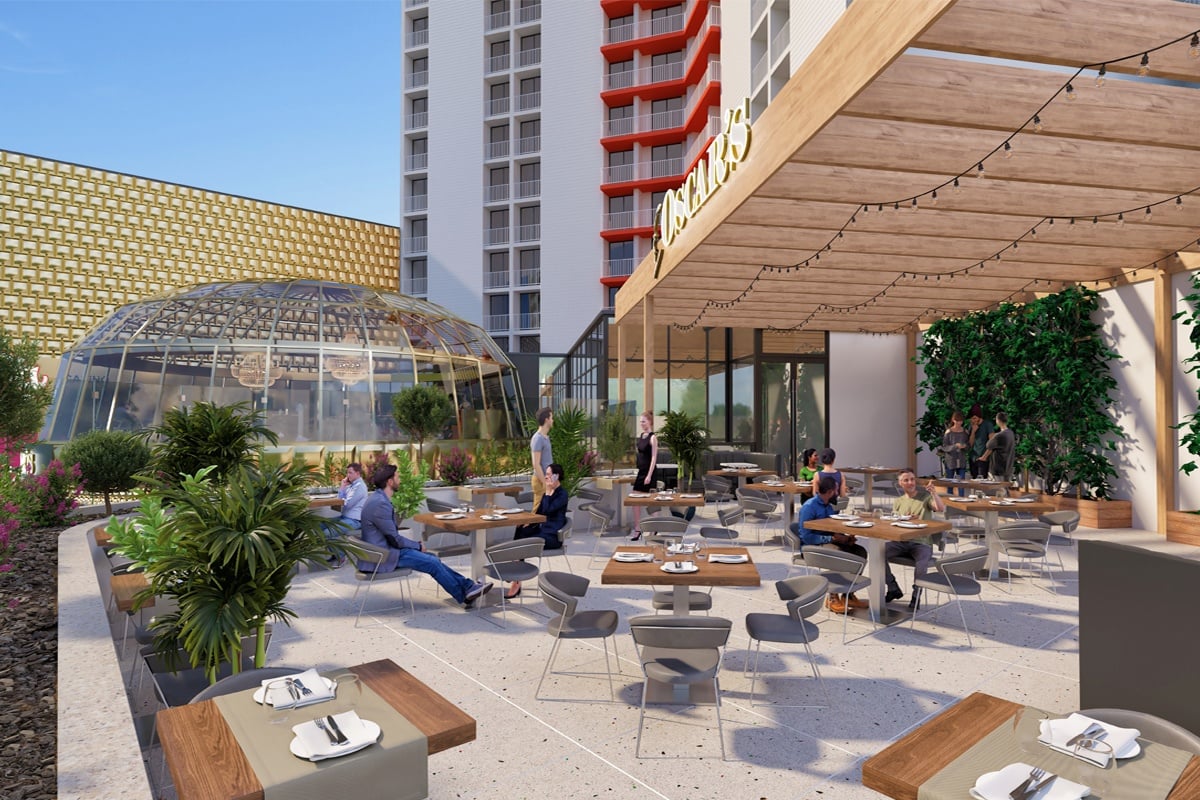 Oscar's is one of our favorite steakhouses downtown, and downtown has a lot of excellent steakhouses, including Vic & Anthony's at Golden Nugget, Barry's at Circa, Top of Binion's at Binion's and Triple George at Downtown Grand.
The Oscar's expansion will offer patio dining. We can't think of another downtown steakhouse that has that option, and the spot will provide an excellent view of Circa, Golden Gate and the back of the SlotZilla zipline landing platform. We kid! The platform doesn't really affect the view that much. Long, drama-filled story there, too.
Hear more on the Plaza's awesome podcast, "On the Corner of Main Street," and thanks for the gang at Plaza for inviting us on the show. Three times. Just saying.
In addition to these recent announcements, Plaza opened Sand Dollar Downtown last month, to universally rave reviews, even among those of us who have an aversion to loud music.
Sand Dollar has a great vibe, pool tables, pizza from the nearby Pop-Up Pizza, a Champagne vending machine and video poker with free drinks for players! What's not to love?
There's no denying Plaza is making some big moves to feel more integrated into the Fremont Street party.
Carousel takes outdoor bars in the Fremont Street Experience area to a new level, a great bookend for the Fremont East district (on the other end of Fremont Street Experience) with its quirky venues including Commonwealth, We All Scream, Lucky Day, Park on Fremont, Discopussy, Corduroy, The Griffin and others.
Will the Plaza's new facade take some getting used to? Definitely. But Vegas is all about evolving and delivering new and shiny, even if your hotel's been around for half a century! (Plaza opened in 1971.)
Booze, good. Steak, good. Smoke-free, good. Camera-friendly, good. Doughnuts, good.
Plaza CEO Jonathan Jossel says the new offerings should open by the end of 2022. Let's go!