Overlook Lounge Opens at Wynn, Q&A With Resort Mixologist
Wynn Las Vegas recently opened Overlook Lounge, a major redesign and rebrand of the former Parasol Up lounge.
The official name of the new bar is Overlook Lounge, Spirits and Aperitifs, but our shorthand for it is "glorious."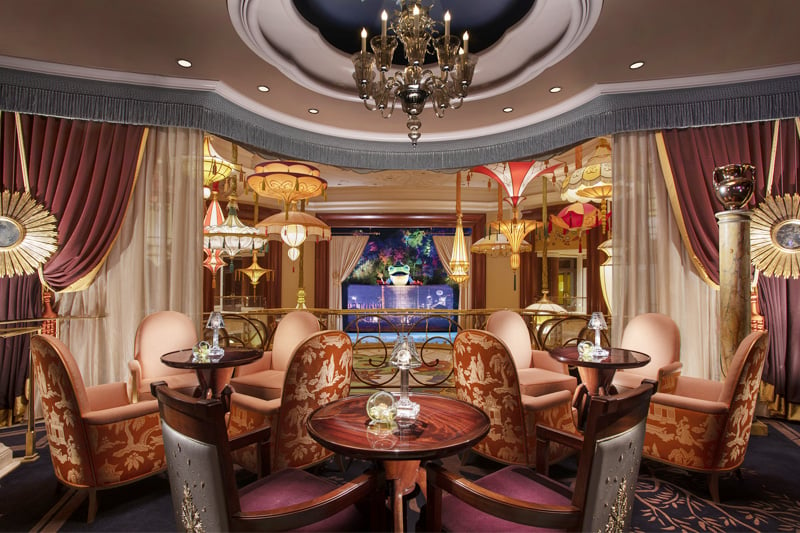 Don't freak out parasol fans, as the parasols and Parasol Down are still around.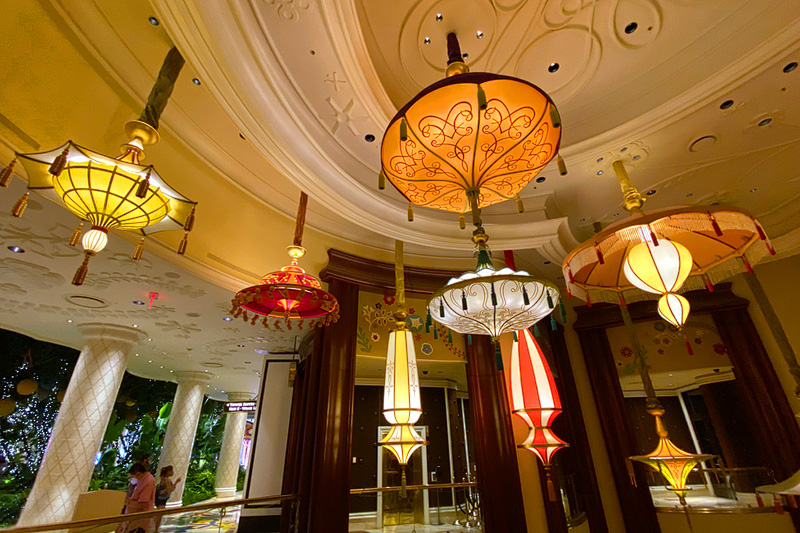 The interior design of Overlook is courtesy of Todd-Avery Lenahan, President & Chief Creative Officer of Wynn Design & Development.
Lenahan is firing on all swatches with this seductive new offering, and the lounge is a cavalcade of jewel tones, crystal chandeliers, period furnishings and beautiful art.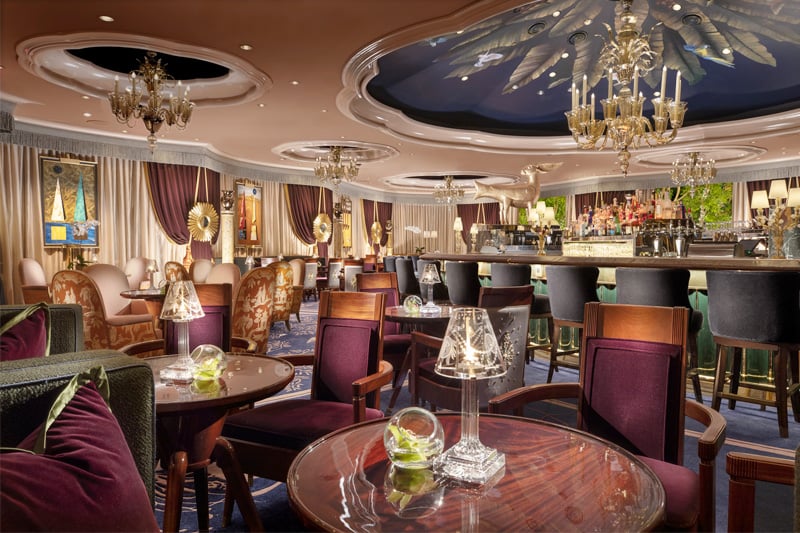 Overlook has the kind of opulence guests have come to expect at Wynn, setting the stage for an outstanding cocktail program.
Enter resort mixologist Mariena Mercer Boarini.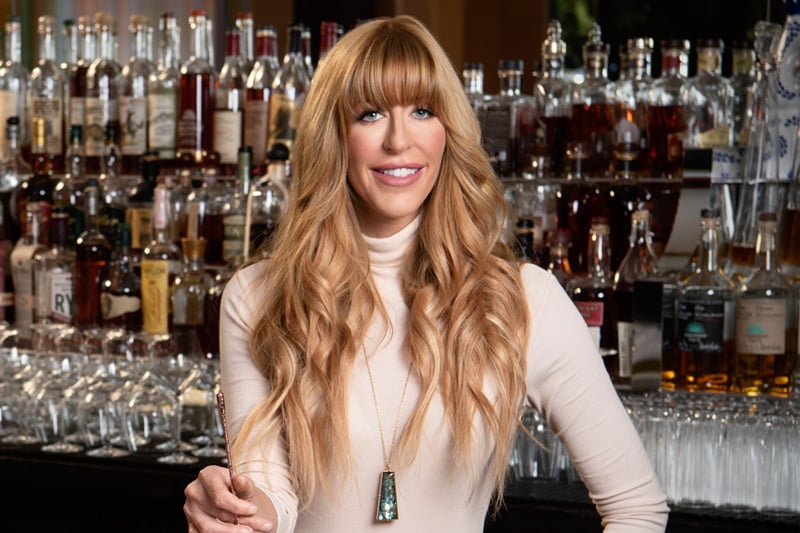 We should say up front you already know Mercer Boarini, even if you may not recognize her name.
She's the inventor of the Verbena cocktail at Cosmopolitan. If you don't know the Verbena, you're doing Las Vegas wrong.
Now, Mercer Boarini oversees the cocktail program at more than 30 bars and restaurants at Wynn and Encore.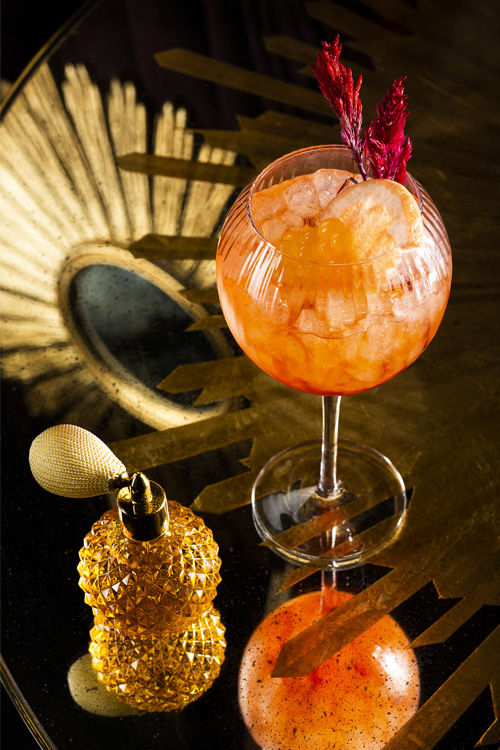 We snagged an interview with Mercer Boarini, which we'll share in an upcoming podcast episode. You can listen to the full interview on the YouTubes, if you're into that kind of thing.
Here are some poorly-articulated questions and very patient answers from our chat with cocktail imagineer and possibly mad scientist Mariena Mercer Boarini.
Vital Vegas: You're the mixologist for Wynn Las Vegas and Encore. That seems an overwhelming task.
Mariena: We have 31 different bars and restaurants that I get to design for, and it just continually keeps me engaged and excited and telling kind of fresh new stories through my cocktails with all of the different outlets.
VV: So, tell everybody what's going on at this new lounge.
Mariena: Overlook is an exciting new lounge that we've opened, it takes the place of Parasol Up which has been an amazing cocktail haven for Las Vegas. I've been here for many years working and so I remember when it opened and almost being intimidated by the cocktail haven that it was. So, it was a really cool moment in my career to be able to to do something in that space. We worked with our Chief Creative Officer of Wynn Design & Development, Todd-Avery Lenahan. You'll hear me talk about him a lot, and I'm the hugest fan of everything he does.
VV: Also, referred to as a "design god" in Wynn fandom circles.
Mariena: His design is so inspiring. How it's worked with the two projects we've done together, with one more coming up, is I need to see the space or get the design deck back before I start telling my story because I want to tell his story, the story he's telling with the design. It's Overlook Lounge, Spirits and Aperitifs, so I already thought, wow, to be able to tell the story, the romance of aperitivo hour, is really special because nobody's doing that in Las Vegas on that level. I'm a very analog person, so I write a lot of Post-it notes everywhere, but I only had one Post-it note out, it said, "Iconic." That was the only thing I could think about when I saw his
design.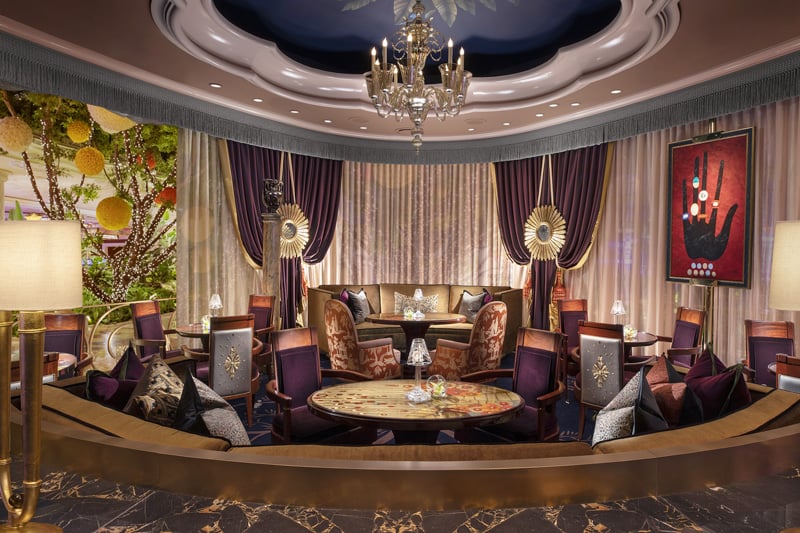 VV: Can you talk about the cocktail menu?
Mariena: You'll see that all of the cocktails have one-word names and they're kind of oblique references to different people or places in fashion, film, history, mythology. They tell that kind of story through the spritzes, because I thought to myself, how does something become iconic? And I just started writing words down like "Madonna," people or places that usually just have one word that you can refer to them as, or recognize them, are iconic. The cocktails have names like the Evangelista, the Coco, Aurora, named after the goddess of sunrise. Every spritz has a finishing perfume.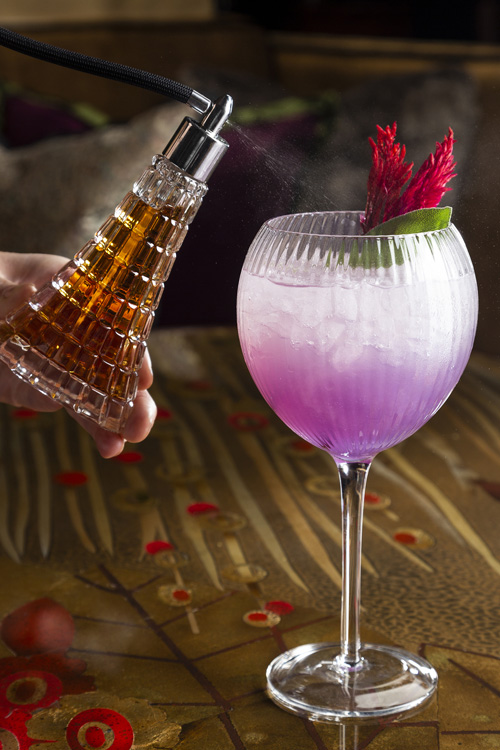 VV: Can you explain what that is?
Mariena: I designed a line of aperitif parfums, edible ones. I like to say if maybe Picasso had his blue period, I'm in my aromatic period. Everything is about aromas. Last year, I was really into flavor. I was reading about gastrophysics and gastronomy and trying to figure out how the brain is perceiving flavor and the palette and all those things. This year, it's all about aromas for me. So, you have millions of olfactory receptors, but you have thousands of taste buds, so you do taste predominantly with your nose. Eighty percent of flavor comes through aromas, so I thought this would be a really fun concept to be able to kind of elevate, manipulate, play with different flavors and aromas through aromatics. Also, it's a really fun way to play with memory and nostalgia because the shortest jump to your brain is through the olfactory bulb, so it's the easiest Way to access nostalgia and great memories and things like that.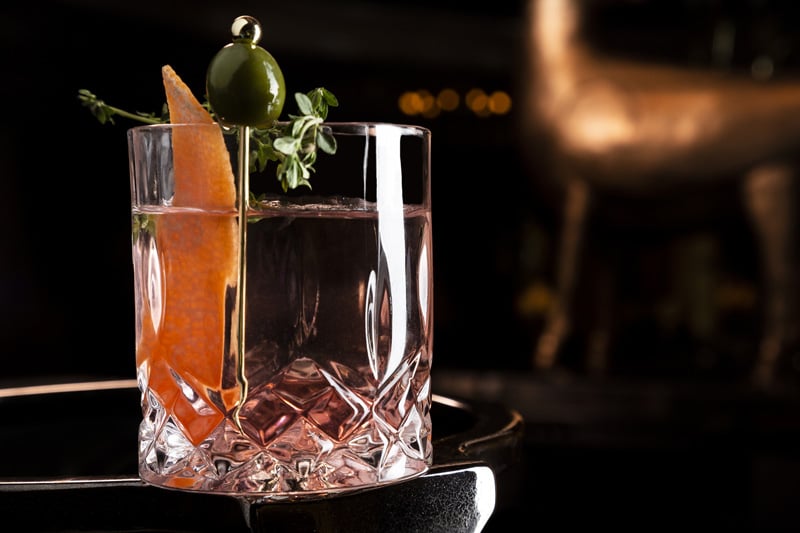 Mariena: So, I wanted to do four iconic locations and encapsulate those in an aroma so each one has their own beautiful vintage atomizer so you can atomize the aroma on top of the cocktail. There is Milan, which I closed my eyes and thought "What does Fashion Week smell like?" "What does a supermodel smell like?"
VV: O.K., that could go badly.
Mariena: My brain can be a little odd sometimes. Some fancy perfumes and hair products and maybe you know like a cheeky cigarette here or there, so there's even a little bit of layer of smoke to it. And jasmine and some floral elements. I won a global mixology competition in Morocco, in Marrakesh, so when I close my eyes and I think of that memory I smell Bombay Chai, Madagascar vanilla and apricot, so that's the Morocco. I did the Amalfi coast in Italy, and Paris. When you spray this mist, this aroma, on top of the cocktail, it really gives it a sense of place and a really unique experience for guests.
VV: The Hudson was delicious, but we have to talk about the Cleo. This is going to be the destination cocktail for the Overlook lounge.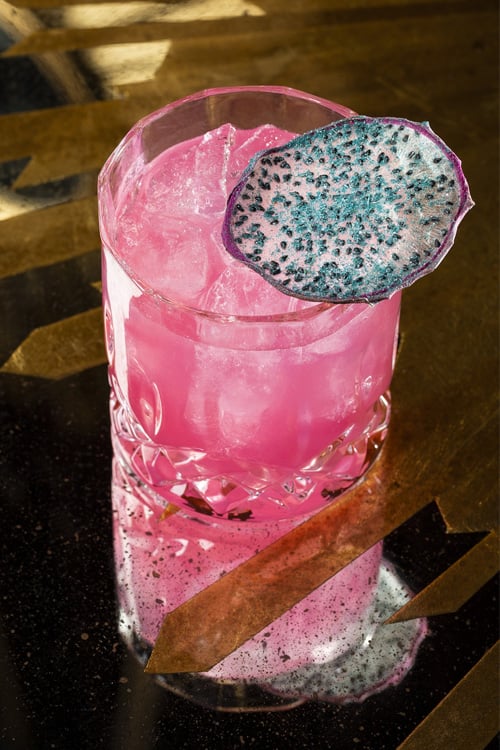 Mariena: It's such a fun cocktail, right? This is a dragon fruit margarita. It's not an overly sweet margarita, I stick to what's called a "Tommy's margarita" style, so it tends to be a lot more dry, but very spirited with the agave, so it's usually two full ounces of tequila, and then it has this beautiful dried dragon fruit chip on top, dusted with something called Electric Dust. Electric Dust is something I've done independent of the Wynn. It was my pandemic passion project. I created the cocktail program at The Cosmopolitan, and I was there for 10 years, and I created a cocktail called the Verbena, heralded as the most popular specialty cocktail in Las Vegas.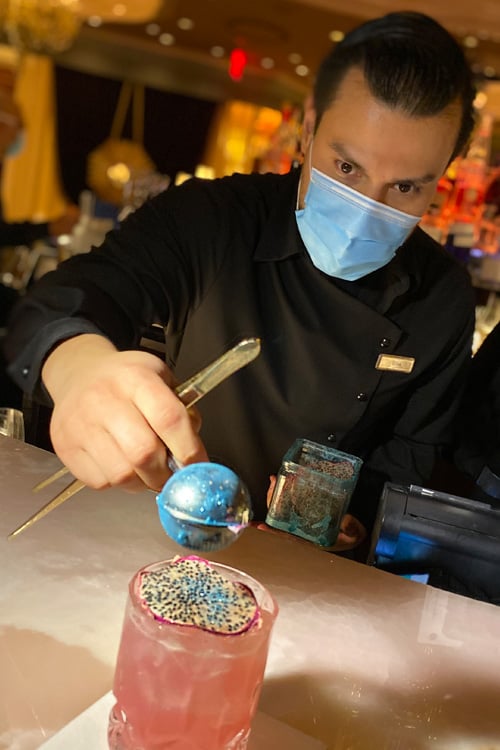 VV: Um, you're being modest, the world.
Mariena: So, basically, people love that flower so much, the "buzz button," the garnish on the Verbena cocktail. Everywhere I go, if I ever casually say I worked at the Cosmopolitan, it was always, "Have you ever had that flower drink?" I loved that it meant so much to so many people. So, during the pandemic, I just had a lot of creative energy, so I took that flower, and I've always loved chemistry, alchemy, the science of life, so I started experimenting with it. I found a process to make it shelf stable, but retaining all of the effects of the buzz button. The buzz button is a natural alkaloid, it speeds up your salivary glands and turns you into a super taster. It's a natural phenomena where some people have more densely-packed taste buds on their tongue, so it enables them to taste at a higher level. This buzz button, when you consume it, your tongue starts tingling and basically what it's doing is activating and awakening all your salivary glands to help you taste at a higher intensity, so it's a journey of flavor.
We can speak from experience, Electric Dust is a journey of flavor, and we aren't surprised Mercer Boarini filed for a patent.
There's a lot more cocktail talk in our interview with Wynn mixologist (along with more photos of the Overlook lounge and its cocktails), so give it a listen.
Wynn Las Vegas has delivered on all its promises with Overlook. It's rare when a resort overhauls something as popular as Parasol Up, and it was worth the investment.
Visiting Overlook lounge is elegant without being pretentious, and the cocktail menu is simple,
accessible and full of twists.
Drop by Overlook at Wynn Las Vegas, and definitely try the Cleo to see what all the buzz is about.