The Verbena Cocktail at Cosmopolitan Las Vegas May Implode Your Face
It's a Las Vegas cocktail like no other. It's the Verbena at The Cosmopolitan.
The drink itself, served at the hotel's Chandelier bar, has sort of a lemonade vibe, but the star of the show is something called the "Szechuan Button."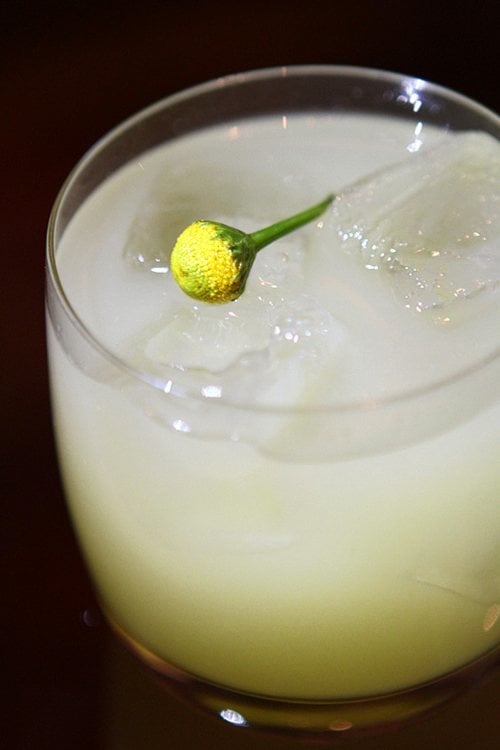 The "Szechuan Button" goes by many names, including "buzz button," paracress, "toothache plant" and its botanical name, Acmella oleracea.
When you chew it, the sensation is like having a sparkler in your mouth, but without the second degree burns. It numbs. It tingles. It's an explosion of sensation, and you haven't even gotten to the liquid part of the cocktail yet.
Apparently, there's a compound called spilanthol at play. It sets off a reaction along the trigeminal nerve pathway, whatever that might actually be. Fancy explanations aside, this is a not-to-be-missed Las Vegas experience.
How do you pronounce Verbena, you wonder? Yes, there's a YouTube video for everything.
If you'd like to take a stab at making the cocktail yourself, here's Cosmopolitan's Verbena cocktail recipe:
1 spoonful sweet ginger puree
2 kaffir lime leaves
1/4 oz. lemon juice
1/4 oz. coconut ginger rooibos tea
1/2 oz. lemongrass syrup
2 oz. Belvedere vodka
top with Gosling's ginger beer
Because everyone's got coconut ginger rooibos tea sitting around. Not to mention buzz buttons.
According to the cocktail wizards at Cosmo, one should tear the kaffir leaves and muddle with ginger puree. Then, combine the remaining ingredients and shake well. Strain over ice into a collins glass and top with Gosling's ginger beer. Garnish with a kaffir lime leaf, candied ginger and, of course, a "Szechuan Button."
Give this memorable cocktail a try and let us know what you think!
Update (4/30/19): As of April 2019, Cosmopolitan has reported sold $9.4 million in Verbena cocktails, with more than 629,000 sold. Read more.
Want to explore more stories? Read about US gambling here:
You can also learn about online gambling in Canada here: