Old-School Main Street Station Casino Reopens Downtown
It somehow turned out to be the most-anticipated casino reopening coming out of the pandemic, and it was worth the wait.
Downtown's Main Street Station, owned by Boyd Gaming, reopened on Sep. 8, 2021, after being closed since March 2020.
The drinks were flowing, the quads were bountiful and it was glorious revisiting all the weirdness for which Main Street Station is known, or should be.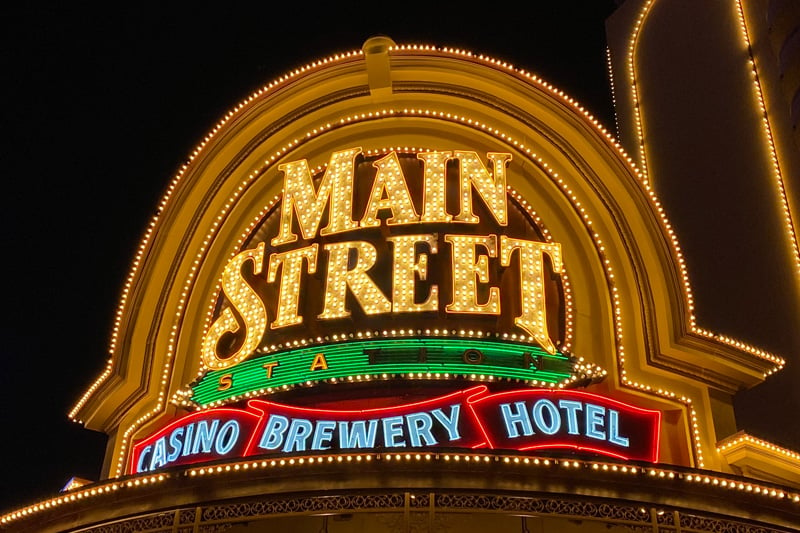 Weird how, you ask?
Well, Main Street Station isn't your typical Las Vegas casino.
Prior to it being Main Street Station, the hotel was The Park. It was purchased by Bob Snow in 1986, and he spent about $80 million improving the place.
Snow brought a weird a wonderful collection of antiques and oddities to Main Street Station, a collection he'd spent 25 years building. Unfortunately, Snow was a better antique collector than casino operator (at one point, Main Street Station was losing $200,000 a month), and the casino filed for bankruptcy protection in 1992.
Boyd bought Main Street Station in 1993 and wisely chose to keep the casino's oddities on display.
Our favorite is probably a portion of the Berlin Wall in the men's restroom.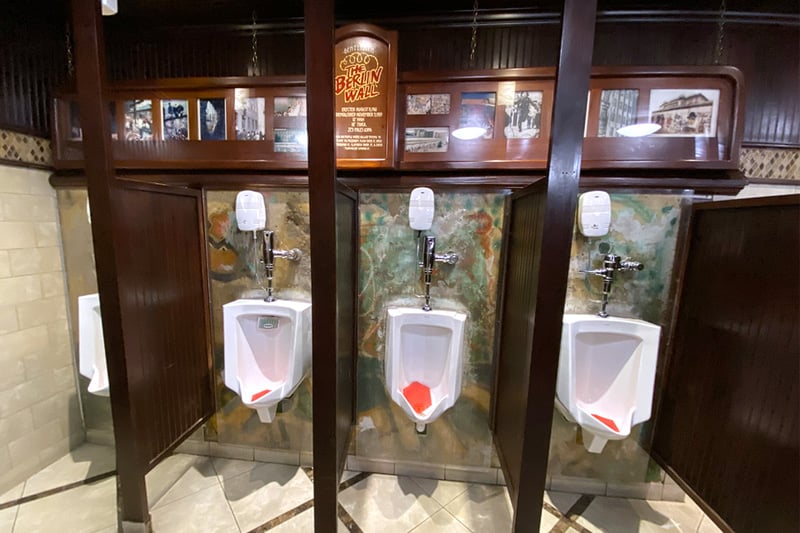 Don't have a freak-out, ladies. Security can escort you in when the coast is clear.
Our next favorite bit of weirdness is Winston Churchill's snooker table, discreetly available for viewing via an unassuming elevator with a "Lift" sign.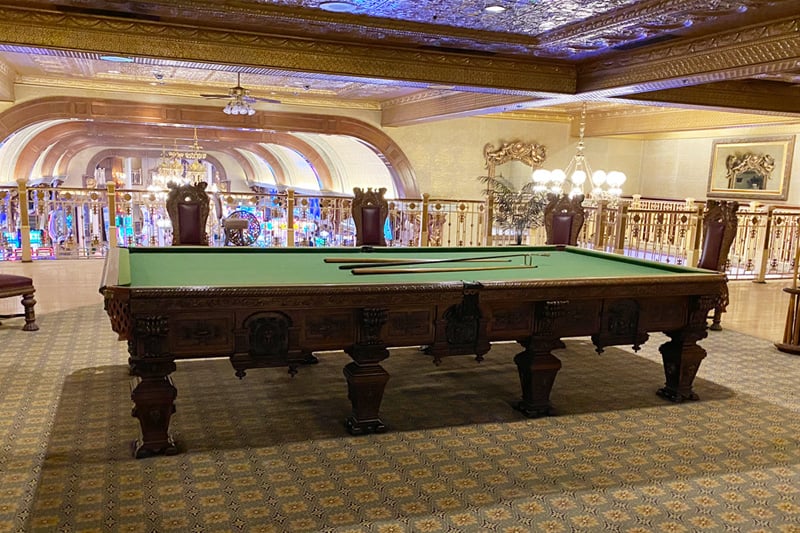 The helpful brochure highlighting Main Street Station's Artifacts, Antiques and Artworks has been freshly updated, and we got our hands on it, of course. You're welcome.
There are fascinating things at every turn, and one could spend a full day seeking out all these oddball discoveries.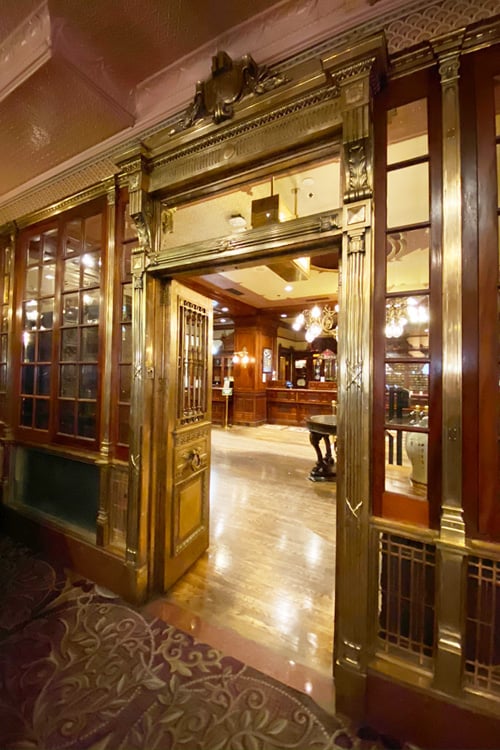 While not an antique, also keep your eyes peeled for this artwork. We love it. There's another one just like it at The Cal.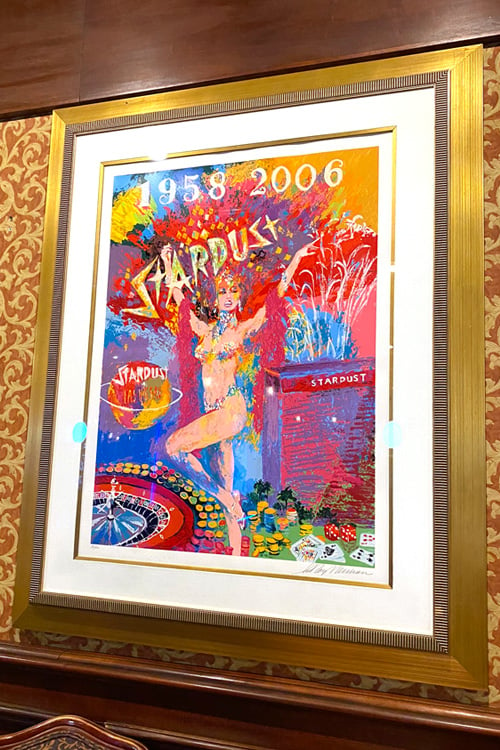 Casino nerds will, of course, note the dice in this piece of art, pipwise.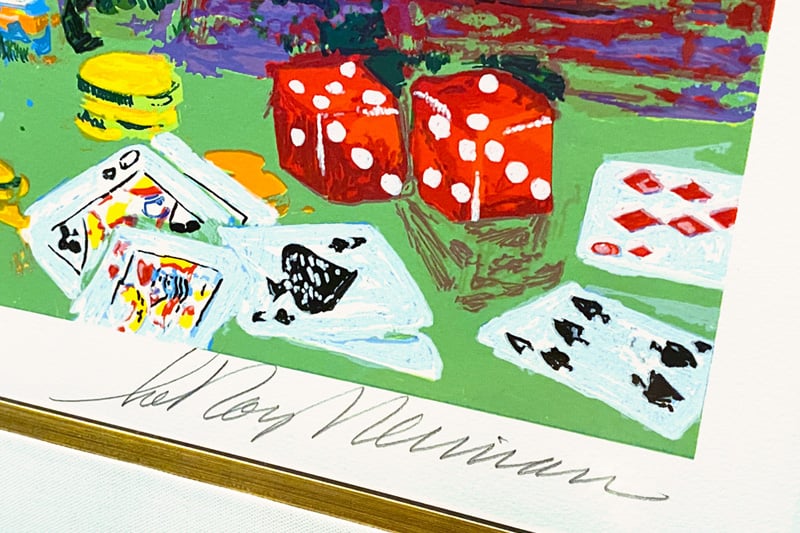 Such diversions should be augmented by drinking and gambling, of course, and those are in plentiful supply at Main Street Station.
Main Street Station isn't flashy, but it's a solid value and one of our favorite places to play downtown.
It was great being back in Main Street Station, and they even made sure we had a winning video poker session. Such thoughtfulness!
We got eight quads in a few hours, including two quad aces and four deuces. We were also dealt quad 10s, and just to show how good we are at video poker, also got a dealt
straight flush.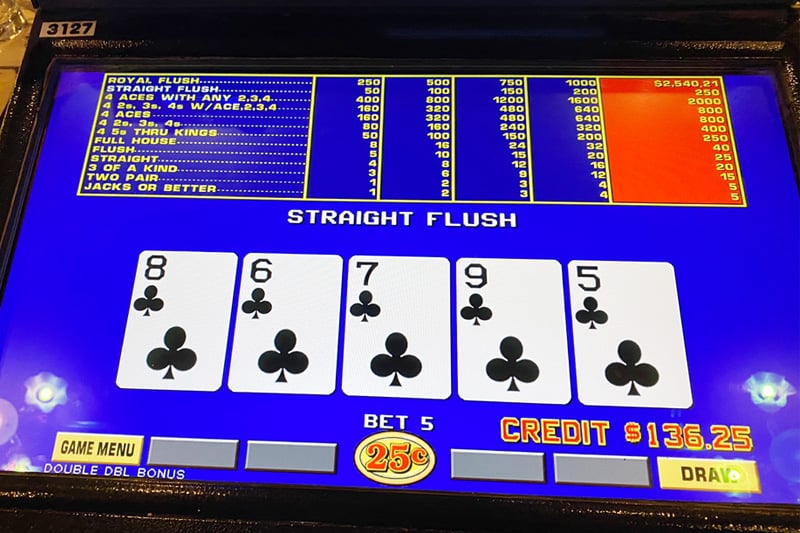 The bartenders were awesome at Boar's Head Bar, and after 20 or so years visiting Main Street Station, we discovered these awesome elephants holding the brass rail at the bar.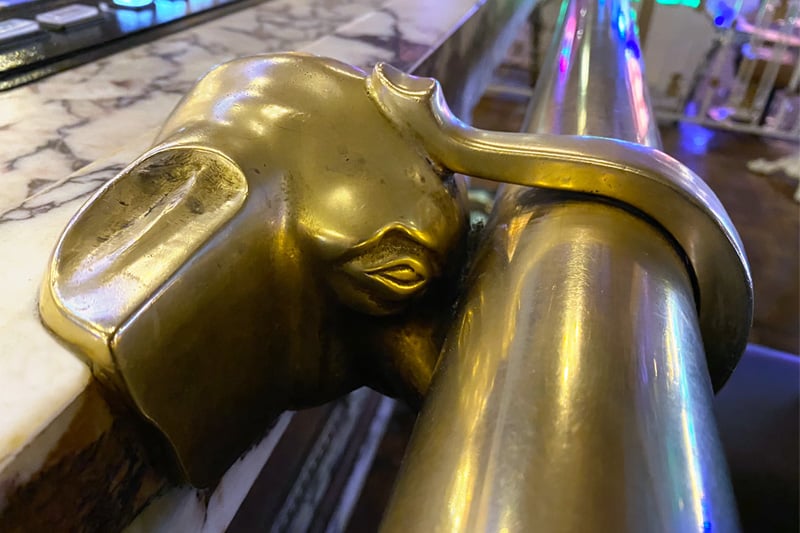 Frequent visitors to Main Street Station will notice some changes, including fewer table games. About half of the games have been removed, replaced with electronic games. This is an increasingly common cost-saving measure, as we've covered extensively.
Main Street Station's table game minimums are still some of the best around, with $10 minimums on most table games. Main Street still offers player-friendly 20x odds on craps.
We were surprised to see there was no roulette table.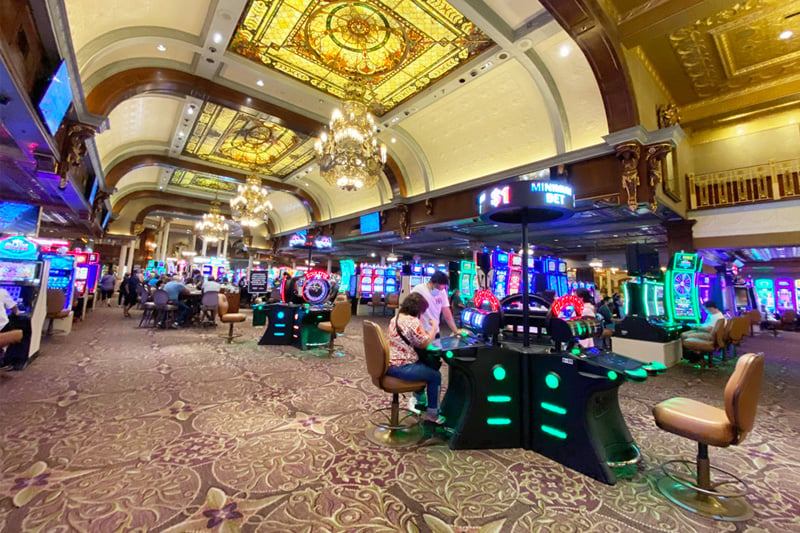 Another change at Main Street Station is its coin machines are gone. Another Boyd casino, Fremont casino, removed its coin machines in Oct. 2020. A third Boyd casino downtown, The Cal, still has coin machines. El Cortez is about the only other downtown casino with coin machines, unless you count Sigma Derby at The D.
Fun fact: On The Strip, hit Circus Circus for coin machines if you enjoy getting your hands dirty.
Other changes at Main Street Station include the hours of operation of its restaurants.
On the bright side, and to everyone's surprise, the Garden Court buffet is back. It's open daily 8:00 a.m. to 2:00 p.m. for brunch ($18.99) and Friday/Saturday 4:00 p.m. to 9:00 p.m. for dinner ($25.99).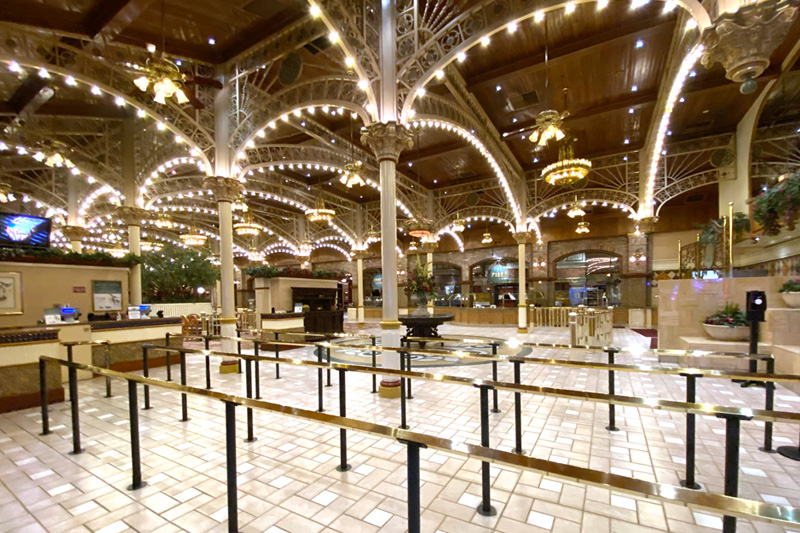 The popular Triple 7 restaurant was packed on reopening night, possibly because it also has a brewery on-site. And poke, whatever that might actually be. See the menu here.
Triple 7 is open 5:00 p.m. to midnight, Thursday through Monday only. We trust that could change based upon demand.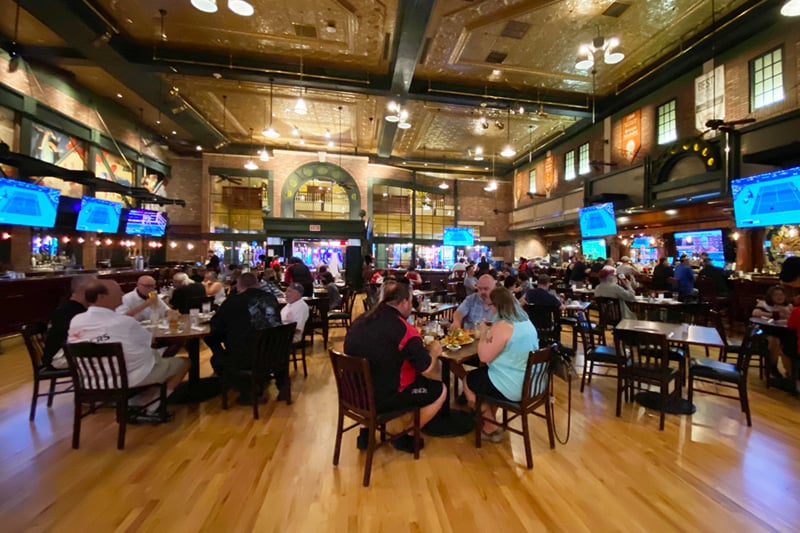 It's worth noting, parking isn't free as was the case for a long time. Out front, a surface lot costs $5 per hour with a $25 per day maximum. Self-parking in the garage is a flat $10 Monday through Thursday, $20 Friday and Sunday, with the first 30 minutes free.
Parking is free for Emerald and Sapphire tier level members of the loyalty club. Main Street Station will also validate for "Dining & Gaming Guests." That means free parking if you spend $20 or more at a restaurant or earn at least 20 tier credits or more in the casino.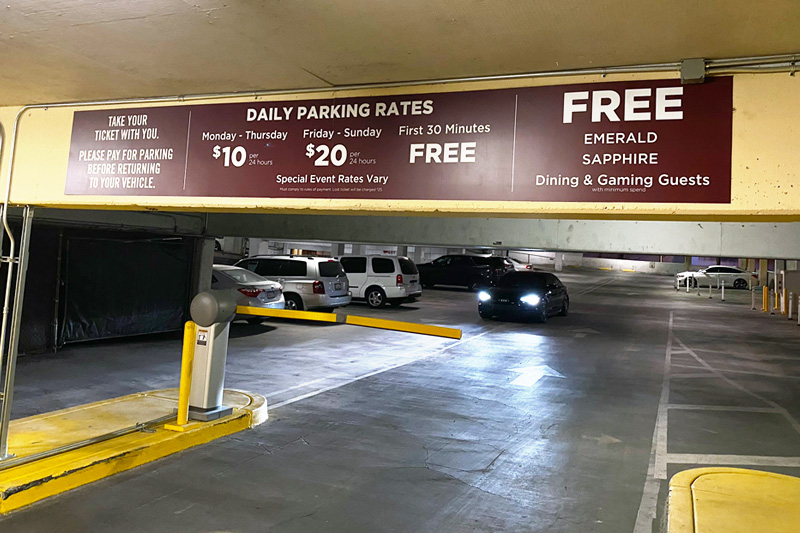 Overall, Main Street Station is just as you remember it.
The customers are mostly visitors from Hawaii, the staff is friendly and it's a wildly different experience from a typical Strip casino.
You won't find an ultraclub or Cirque show at this downtown gem, but Main Street Station is Las Vegas the way we like it best.
Quiet, cheap, quirky and gambling is still very much king.