Official at Last: Britney Spears Begins Las Vegas Residency at Planet Hollywood Resort Dec. 27
In what was described as "the biggest announcement in Las Vegas entertainment history" (at least by the people making the announcement), long-circulating rumors have finally been confirmed: Britney Spears will begin a two-year residency at Planet Hollywood on Dec. 27, 2013.

Spears' show, "Britney: Piece of Me," was announced on "Good Morning America," rumored to be a television show that airs far too early for this blog to ever watch it live.
Of Las Vegas, Britney Spears commented, "I love Las Vegas. The energy here is really, really good."
About her show, "I'm definitely going to do the greatest hits, but I'm going to have to put some of my new material into it, just to keep it fresh."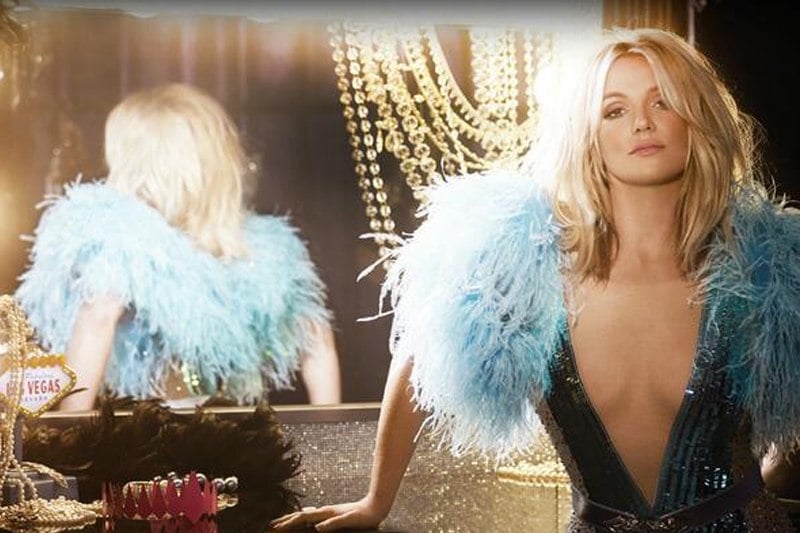 The residency announcement included a live event overnight, in the Nevada desert (specifically, in the Jean Roach Dry Lake Bed in Jean, Nevada) south of The Strip, with more than 1,300 participants taking part (hauled out in 28 buses), most of them Caesars Entertainment employees. Caesars Entertainment is the company that owns Planet Hollywood and a number of Las Vegas resorts.
A participant in the live event posted on Facebook, "While America slept, I was in the middle of the Nevada desert for Britney Spears' Vegas residency announcement on 'Good Morning America.' We arrived at 1 a.m. with 1,300 other people and Britney literally came out for 20 seconds, which was incredibly disappointing. But at least we get tickets to her new show."
Someone who's unlikely to be disappointed by her paycheck is Britney Spears. Spears is said to be collecting $15 million a year for her Planet Hollywood shows. That works out to about $310,000 per show.
Britney Spears arrived at the announcement event by helicopter, and apparently had a bout of air sickness, which might explain the briefness of her appearance. She looked a little peaked during her interview.

The announcement event featured the Caesars Entertainment employees, and dozens of people dressed in schoolgirl outfits (a reference to Spears' 1998 hit, "Baby One More Time"), holding up large, sporting-event-inspired cards to welcome Britney Spears to Las Vegas.

Britney Spears' new show is described as "an action-packed performance hybrid, where club meets theater." So, a concert. Probably with dancing.
Tickets for the new residency go on sale Sep. 20, 2013, and are reasonably priced, from $59 to $179.