Las Vegas News of Note You May Have Missed
We sometimes forget not everyone spends 28 hours a day on Twitter, so we're going to blast through 11 Las Vegas news stories you may have missed.
Don't think of it as "lazy journalism" so much as "We were out late gambling." Besides, news round-ups are fun! You can scan these items and later use them to impress members of the opposite sex at bars.

Rosa Mexicano Coming to Miracle Mile Shops
A new restaurant is coming to the Miracle Mile Shops at Planet Hollywood in late 2023. We know this through extensive research and it was also shared by Miracle Mile Shops at Planet Hollywood. Rosa Mexicano has a ton of locations elsewhere, but this one will be the best because, well, Las Vegas.
We are getting ready to paint the town pink! @rosamexicano will bring its renowned elevated fiesta to Las Vegas late this year. 🌺🍹✨ With award-winning margaritas and tableside guacamole, Rosa Mexicano will be a welcome addition to Miracle Mile Shops! pic.twitter.com/zUohDgRrUh

— Miracle Mile Shops (@MiracleMileLV) January 11, 2023
Buffalo Bill's Reopens in Primm
Poor, sad Primm. Even sadder, Buffalo Bill's. The place closed in March 2020 due to the pandemic, but now it's back and as awkward as ever. The owners claim the hotel, about an hour from Las Vegas, got a "multimillion-dollar renovation," but visitors have been a smidge underwhelmed. We look forward to our first visit since the reopening.

Transfix Headed to Resorts World
Resorts World is getting some sort of immersive art experience, Transfix. Also known as "monetizing idle space." The attraction is described thusly, "Explore a sprawling, two-acre illuminated, multi-level labyrinth, filled with kinetic, interactive and fire breathing art, sculptures, projections and mind-bending sonic experiences." Opens in spring of 2023.

Bellagio Debuts Year of the Rabbit Display
We haven't been by to check it out yet, but the reliably whimsical Bellagio Conservatory has once again pulled out all the stops for its new Chinese New Year display. The display runs through March 4, 2023, and features 70 koi fish, a 32-foot Year of the Rabbit medallion, 12 rabbit "representations" and four ding vessels, which a good number of tourists think are cigarette ash receptacles. Nice job causing an international incident.

"Absinthe" Producer Buys Nipton, California
The wildly unpredictable and inventive Ross Mollison, producer of "Absinthe," "OPM" (formerly "Opium") and "Atomic Saloon" has purchased the town of Nipton, California. There are lots of plans for the town, all of them as peculiar as Mollison and his shows. We'd say money has gone to Mollison's head, but something may very well have been ajar to begin with. Anyway, we look forward to sharing a first-hand report at some point from Nipton, wherever the hell that might be. See more.
Downtown Grand Sets Sportsbook Opening Date
We've been watching the new Caesars Sportsbook at Downtown Grand closely, for no particular reason, and now they've chosen an opening date: Jan. 24, 2022. The sportsbook will be in the former high limit slot area. Yes, it's weird to have a sportsbook operated by another casino company, but it's more common than you'd think. There's a Circa Sportsbook at Tuscany casino, for example. In other Downtown Grand news, the opening of Hot N Juicy Crawfish has been pushed back several times, but now we're hearing "Feb. 2 at the latest."
Quick peek at construction inside @Downtown_Grand's new Caesars Sportsbook. Bonus: Laser beam levels and a butt-ton of TVs. pic.twitter.com/EuqdBh8FTI

— Vital Vegas (@VitalVegas) January 12, 2023
Circa Gives Away Millions in Sportsball Contest
Sports aren't typically our thing, but it's hard to ignore a contest where winners take home millions in winnings. No, really, prizes totaled $12 million. They weren't playing football, mind you. We don't get it, but like we said, millions. Read more.

Tao Group Could Sell to Pay for MSG Sphere
Rumors abound about the financial suckhole that is the MSG Sphere, mainly started by us. A recent twist: The New York Post shared that Tao could sell its nightlife and restaurant empire to help pay for MSG Sphere. None other than Tilman Fertitta (owner of Golden Nugget) is rumored to be a suitor. MSG Sphere recently began testing its exterior video screen. One to watch as the entertainment venue plows toward its opening later this year, presumably with U2 as the opening act.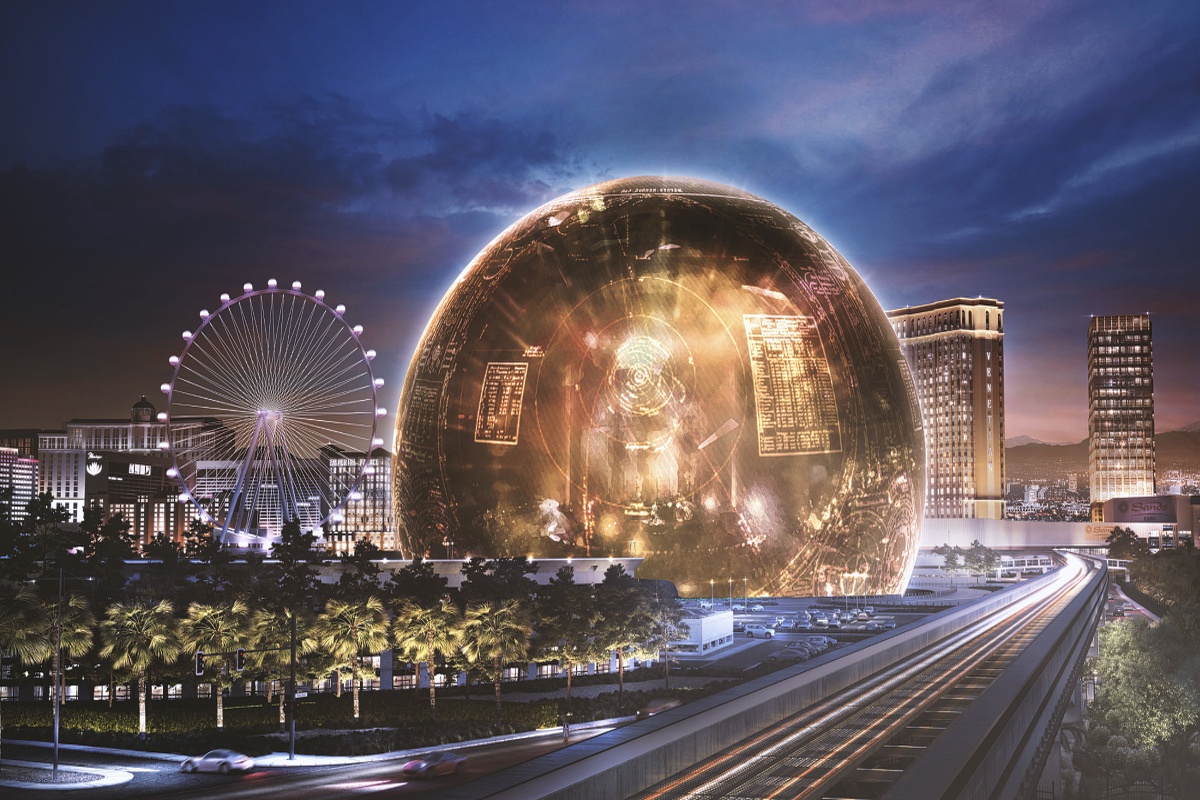 Luxor is Getting an Arcade
The former Rice & Co. space at Luxor will soon be filled with non-gambling gambling machines, it appears. The place will be called Play Playground, and the description is cryptic. We trust it will be immersive.
Coming to the former Rice & Co. space at Luxor. VR? Arcade? Web site is fairly useless. (h/t @theslotfreaks) https://t.co/3UpxstBAHc pic.twitter.com/h5Ynzk2FF3

— Vital Vegas (@VitalVegas) January 17, 2023
Rouge Room Set for Red Rock Resort
Red Rock has wrangled hospitality company Wish You Were Here and restaurateur Nick Mathers to bring a new lounge, Rouge Room, to the off-Strip resort. Mathers is the creator of Elephante and Belle's Beach House, which we've never heard of, and Kassi Beach House at Virgin, which we quite enjoyed. Rouge Room opens in the spring of 2023.

Ole Red Breaks Ground at Horseshoe Las Vegas
Blake Shelton's Ole Red "broke ground" (it was gravel on a sidewalk) outside Horseshoe Las Vegas (formerly Bally's) on Jan. 19, 2023. The goal is to open the new venue by F1 weekend (November 2023). We look forward to Ole Red opening, mainly because it will help obscure the Grand Bazaar Shops. Here's some background on this new venue.
Blake Shelton's NEW place to play just broke ground on the #Vegas strip! Ole Red—located near the Horseshoe (Old Bally's) will bring the full country experience with live music, southern eats & drinks. @CommishJGibson joined in to welcome the multilevel experience to #ClarkCounty pic.twitter.com/cgXcLhKcz5

— Clark County Nevada (@ClarkCountyNV) January 20, 2023
We trust that brings you up to speed on all things Vegas, and good luck at the bar. In addition to your encyclopedic knowledge of Las Vegas news, we also suggest wearing expensive shoes and watches. If a beautiful woman starts talking to you, it's because you know a lot about Las Vegas, though, trust us.