Chick-fil-A Update: The Latest from the First Three Chick-fil-A Restaurants in Las Vegas
When it was first announced Chick-fil-A was coming to Las Vegas, the news was met with euphoric glee, and not just because Euphoric Glee would make a great band name.
Later, we learned not only was Chick-fil-A coming to Las Vegas, but multiple locations were planned, with "eight or 10" in the works over the next five years, according to Chick-fil-A officials. We were beside ourself.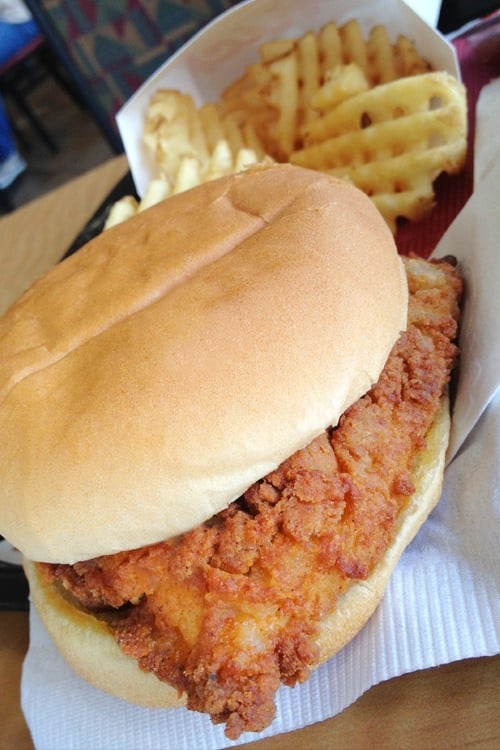 Three Chick-fil-A restaurants are right around the corner, so we figured it was a good time to check on the progress of the three spots likely to fulfill our chicken sandwich fantasies first.
Two of the three Chick-fil-A locations are in a city called Henderson, affectionately called "Hendertucky" by locals. First, we checked out the Chick-fil-A at 460 N. Stephanie St., near the corner of Warm Springs and Stephanie.

Things are looking good at the Stephanie St. location, with the exterior of the building in place. Construction of non-casino establishments seem to take an agonizingly long time in Las Vegas, but Chick-fil-A will be here soon enough.
Both Henderson locations will debut in 2017.
Here's another look at the Stephanie St. Chick-fil-A.

Next, we fly over to 9925 S. Eastern Ave. in Henderson, to something called the Diamond Summit Plaza. Locals know this address because it was the former home of the now-closed Nacho Daddy. Don't freak out, Nacho Daddy recently opened on The Strip, and the downtown Nacho Daddy is doing brisk business.
Here's the Chick-fil-A at 9925 S. Eastern Ave.

This location appears to be no further along than the Stephanie location, but we have decided not to wail or gnash our teeth about it. Much.
Here's another look.

So, those are the two frontrunners.
Also in the mix is a location a lot closer to The Strip, at the corner of West Sahara Ave. and Rancho Drive. This Chick-fil-A will be right across the street from the Palace Station casino.
Here's a peek.

There's a structure going up at this site, but it's unclear if this is the Chick-fil-A building. There's no Chick-fil-A signage here as there is at the other two sites.
If it's retail space, that means the Chick-fil-A will be built from the ground up in the open space near the construction, and this location is even further off than the other two outlets.
Life is filled with disappointment, but there's are waffle potato fries at the end of the tunnel.

So, our anticipation grows, and we expect we'll spend the next few months learning more about how to get the most of Chick-fil-A when it arrives.
For example, did you know that if you order a kids meal at Chick-fil-A and decline the toy, you'll get a free ice cream or larger drink or order of fries?
It's time to bone up on your Chick-fil-A hacks!
You'll also want to prepare for the arrival of Chick-fil-A by downloading the Chick-fil-A app. Rumor has it you'll get a free sandwich if you do.
We should also, collectively, start lobbying Chick-fil-A to keep its restaurants open on Sunday. Just in Las Vegas. Because Las Vegas.
Believe us when we say we'll be keeping a close eye on the progress at any and all Chick-fil-As in or near Las Vegas, and you'll find us camping out as opening dates near.
Oh, and if you're not thrilled about Chick-fil-A's controversial past, get up-to-speed on why you should chill out and enjoy the chicken sandwich gloriousness the minute it arrives in Las Vegas.