Rejoice, Chick-fil-A Has Finally Arrived in Las Vegas
The wait has been agonizing, but Chick-fil-A has finally arrived in Las Vegas, with two locations opening on Jan. 26, 2017.
Yes, two. As they say in Vegas, "Double up to catch up!"

We were lucky enough to sneak in for a preview of the new Chick-fil-A restaurants, and as expected, the food and friendly service more than live up to the hype.
Simply put, Chick-fil-A is the best thing to happen to Las Vegas since the invention of the tassel.

Both of the new Chick-fil-A restaurants are in Henderson, about 10 minutes from the Las Vegas Strip.
One Las Vegas Chick-fil-A location is 9925 S. Eastern Ave., Las Vegas NV 89183 and the other Las Vegas Chick-fil-A can be found at 460 N. Stephanie St., Henderson, NV 89014.
Just follow the unmistakable scent of OMG.

We first checked out the Eastern Ave. location, then the Stephanie St. location. From what we could tell, both locations share an identical floor plan.
We even got a peek at the inner workings of Chick-fil-A. It's like being invited into the Wonka factory, but with waffle fries instead of snozzberries.

Both locations have drive-throughs, and we were surprised to learn about 60% of a Chick-fil-A's revenue is generated by the drive-through. About 90% of its breakfast business is done via the drive-through window.

Because you didn't click that link, we're now compelled to pass along another Chick-fil-A tidbit: Chick-fil-A generates more revenue per restaurant than any other fast food chain in the country.
Why?
If you need to ask that question, one of these sandwiches has clearly never been anywhere near your face. Which makes us sad just thinking about it.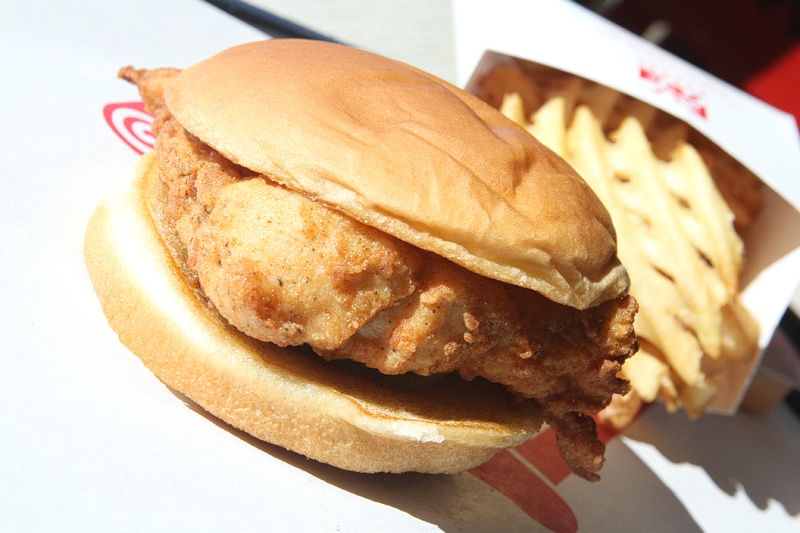 The two Henderson Chick-fil-As are the first of 10 coming to Nevada over the next five years. The next will open across the street from Palace Station, temptingly close to The Strip.
Chick-fil-A has more than 1,900 restaurants in 42 states, but the two new locations are obviously the best because Las Vegas.

Las Vegas has a metric hell-ton of pent-up demand for Chick-fil-A, and by "Las Vegas," of course, we mean this Las Vegas blog.
Seriously, though, when we Tweeted some photos of Chick-fil-A, our Tweet nearly broke the Internet. It was viewed by more than 40,000 people in 12 hours. That's a lot of Chick-fil-A love.
Here's more Chick-fil-A love in the form of a fly-over.
Even the Chick-fil-A cynics, often based upon
myths and outdated information
, will come around the first time they bite into a Chick-fil-A chicken sandwich made in Las Vegas. Because even the greatest of things are better in Las Vegas.

Expect long lines when these new restaurants open, but we anticipate the hoopla about Chick-fil-A coming to Las Vegas to die down after approximately never.

If you think Chick-fil-A is overrated, you're doing taste buds wrong.
Join us in giving Chick-fil-A long, lingering, inappropriate embrace to welcome the chain to Las Vegas, a city worthy of its lightly breaded, deep-fried gloriousness.
Are you as excited as we are about having Chick-fil-A in Las Vegas? If so, you are clearly a genius and we'd love to hear your thoughts.
Chick-fil-A Arrives in Las Vegas