Las Vegas Aces Win W.N.B.A. Championship
Fair warning: We are not a sports person, so everything we know about this story is pretty much in the headline.
From what we understand, the Las Vegas Aces defeated the Connecticut Sun, 78-71 to win their first W.N.B.A. championship. It was game four of a best-of-five series.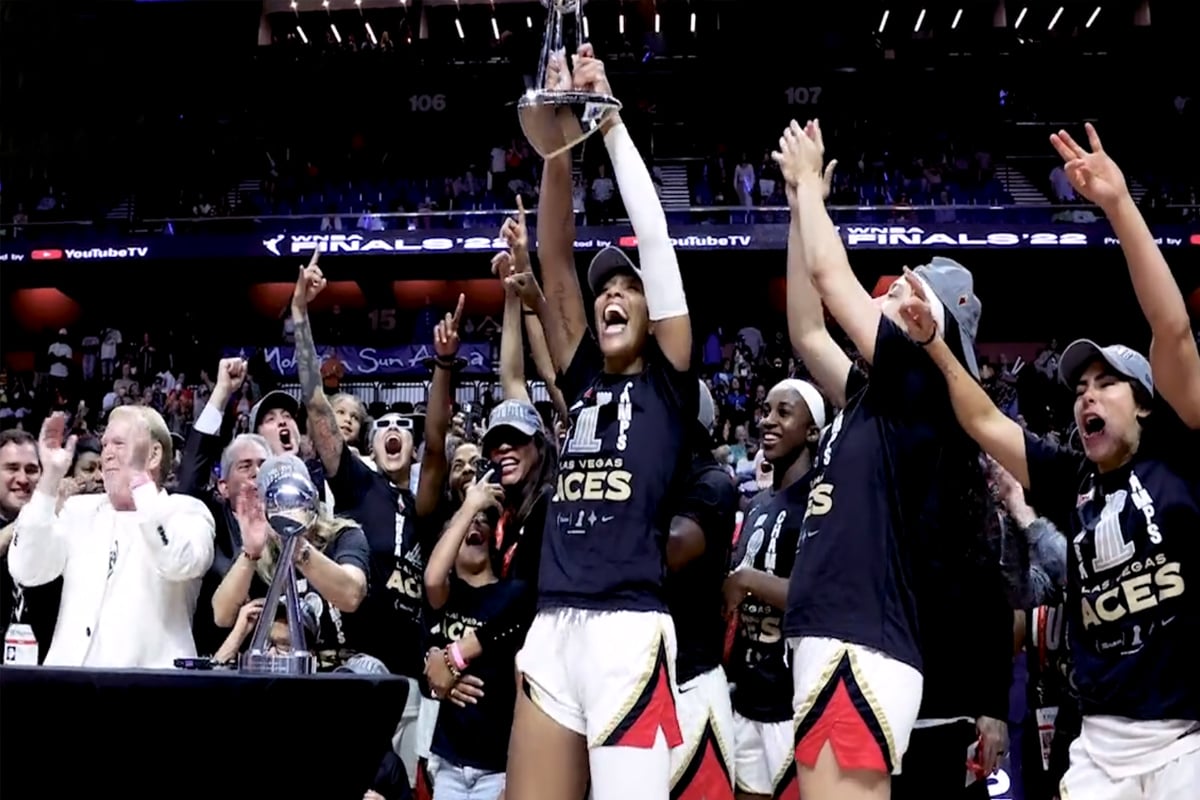 This championship win is a great opportunity for us to learn more about our team. There's a chance you don't know much about the team, either.
Our only previous interaction with the Las Vegas Aces was when we broke the story that would be the team's name back in 2017. This is proof positive one need not know about something to break news about it.
Here's what Wikipedia says about the team: "The Las Vegas Aces are an American professional basketball team based in the Las Vegas metropolitan area. The Aces compete in the Women's National Basketball Association as a member club of the league's Western Conference. The team plays their home games at Michelob Ultra Arena in the Mandalay Bay Resort and Casino."
Here's a list of the players on our championship team.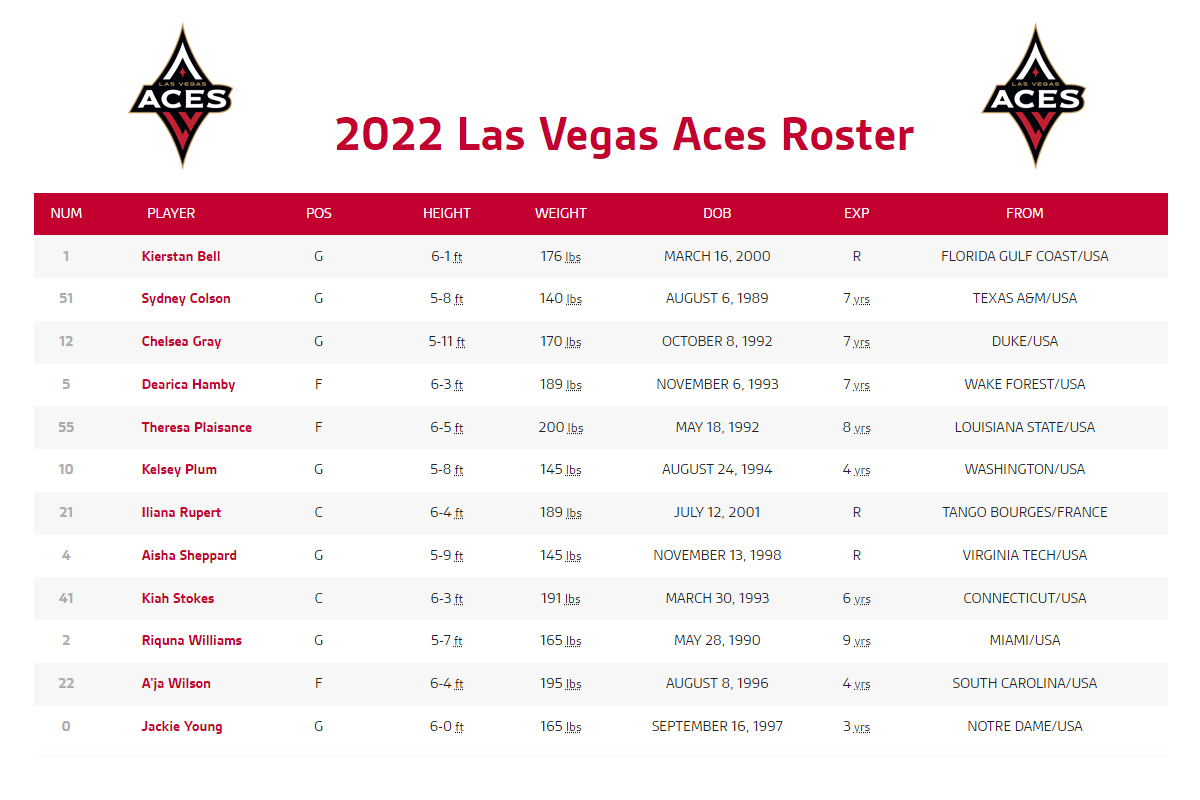 The team has gone through some changes over the years. It was originally named the Utah Starzz, then the San Antonio Silver Stars, then just the San Antonia Stars.
The team started playing in Las Vegas in 2018.
You should totally search "Las Vegas Aces" in Google. They added some sweet fireworks.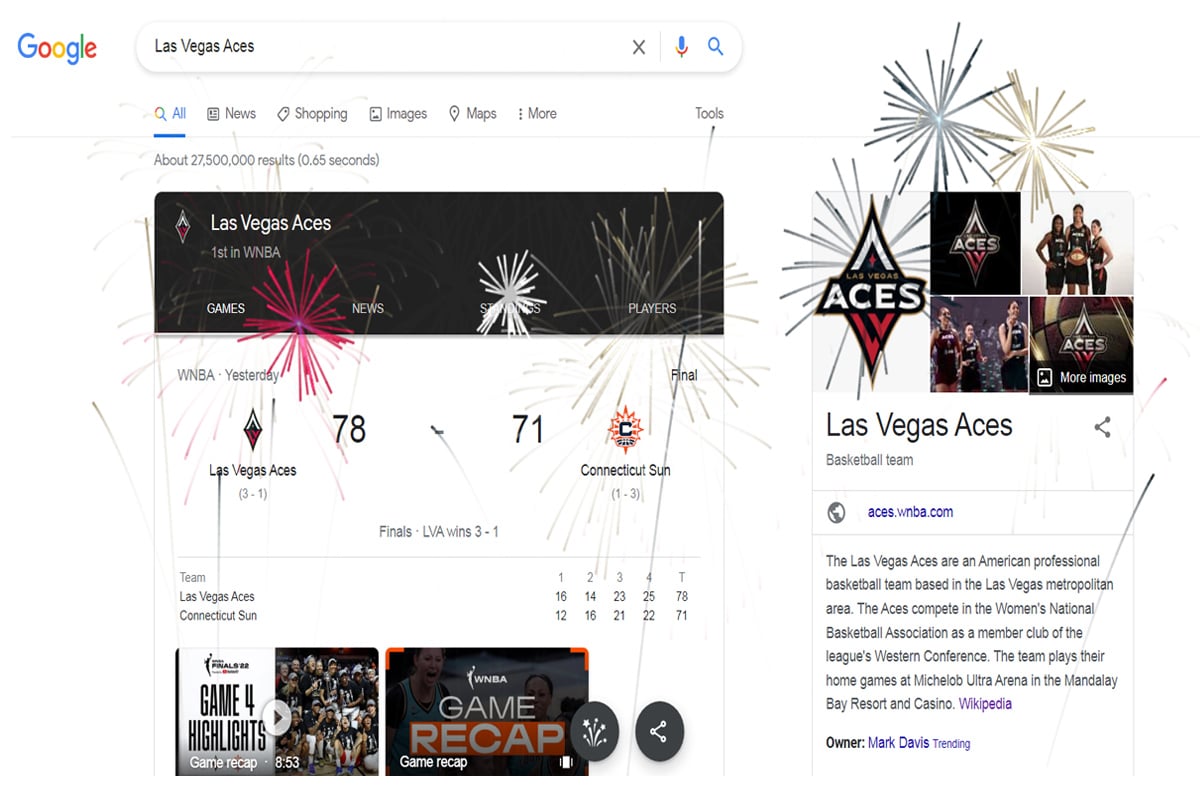 You can see all the players snuggling up to their championship trophy on the official Twitter account of the Las Vegas Aces.
We will leave further coverage of this story to those more knowledgeable about sports, which is pretty much everybody.

Las Vegas Aces Win First W.N.B.A. Championship

Las Vegas Beats Connecticut Sun to Win First WNBA Championship

Las Vegas Aces' Becky Hammon Silences Doubters

Aces Win First Championship in Franchise, and Las Vegas, History

Chelsea Gray Leads the Las Vegas Aces to Their First WNBA Title

Las Vegas Aces' Aisha Sheppard Makes Beer Angel After Winning WNBA Title
A parade is scheduled for the Las Vegas Strip to honor the Las Vegas Aces, Sep. 20, 2022. Fans are invited to join the team at 5:30 p.m. at Bellagio where a stage will be set up for the festivities.
Sports are everywhere in Las Vegas now, but major professional sports didn't officially arrive until the Golden Knights came to town in 2017.
Despite our persistent disinterest in sports, it's great to see people enjoying themselves while watching sports, and especially fun to see a Las Vegas sports team win a championship.
Our sources say there's more pro sports news on the horizon, so stay tuned.
We finally get our NBA announcement in 2022, so there's that.

— Vital Vegas (@VitalVegas) January 5, 2022
Congrats to the Las Vegas Aces for their championship win!
The W.N.B.A. doesn't always get a lot of respect (the N.B.A.'s average game attendance is 18,000, the W.N.B.A.'s is roughly 6,500), but being the best at anything is worthy of applause and hoopla.