Golden Nugget Takes Its Show, and Its Gold Nugget, On the Road
For some time now, it's been a fairly well-known fact that various Golden Nugget casinos around the country have the world's largest gold nugget on display.
Specifically, some of the gold nuggets (one in Laughlin, Nevada and another in Atlantic City) are replicas.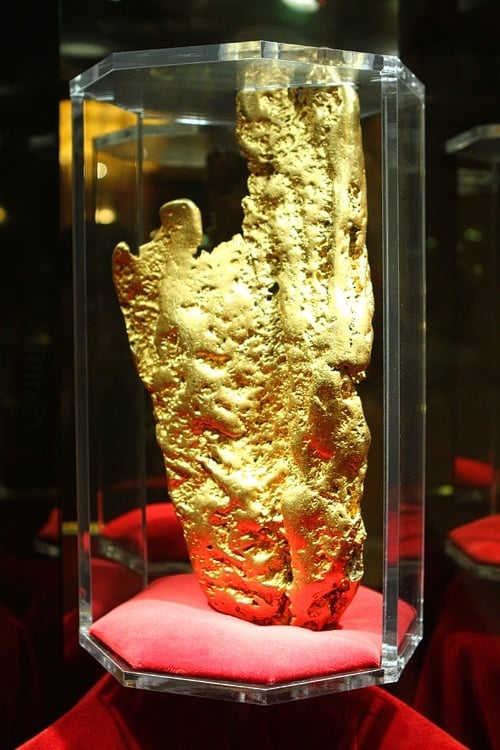 Until recently, the one-and-only real Hand of Faith gold nugget was at its true home, Golden Nugget Las Vegas.
When we wrote recently about the hotel's Gold ATM, we mentioned it was located near the Hand of Faith display. This Las Vegas blog's eagle-eyed reader Adam Mace mentioned, "At the moment it appears the Hand of Faith is on display at the Golden Nugget casino in Biloxi Mississippi, not across the way from the Gold to Go ATM as this article suggests."
We scoffed, of course, because we know everything! Except when we don't. It turns out Golden Nugget Las Vegas has loaned the original Hand of Faith to Golden Nugget Biloxi.
In its place, a replica.

The Golden Nugget seems more than happy to confirm the locations of the replicas when asked. For example, a Golden Nugget rep in Las Vegas confirmed the nugget was loaned to the Biloxi location on May 1, 2014 and will be returned to Las Vegas at the end of the summer. (Update: This never happened. As of December 2015, the real nugget remains in Biloxi.)
Apparently, this whole loaning-out process is a pretty common occurrence, as the same thing happened when a Golden Nugget opened in Atlantic City in 2012.
Will the average visitor know their selfie with the world's biggest gold nugget is actually with a look-alike? No.
Would it feel a little less unseemly if Golden Nugget made a mention of which nuggets are replicas in their various display cases? Yes.
Are we going to keep answering our own questions? Yes.
Will it get annoying? Yes.
Hasn't it already? Yes.
Are we going to keep doing it, anyway? Apparently not.