Three New Things at Caesars Palace, Plus One Phenomenally Stupid Sign
There's lots of newness at Caesars Palace, so we figured it was time to stop by and see what's what.
First up, the hotel has a new lobby bar. It's called (wait for it) Lobby Bar, and as such immediately takes its place on our list of things in Las Vegas named what they are because naming things is hard. It used to be called the Galleria Bar, but that apparently sounded too much like a shopping mall, so people were understandably confused.

The lounge feels about twice the size of the previous bar, and has some distinctly Roman flourishes.

The new Lobby Bar makes a good first impression by providing two bowls of goodies, at least one of which is a fancy bowl of cashews.

There's relatively little seating at the bar for playing video poker, so you may have to actually pay for your cocktails (gasp!). There's a great selection of signature cocktails, as part of an all-new cocktail menu, most for around $15. Oh, stop your whining. Did we mention you get a giant bowl of cashews? Those are gold.
If you have money to burn, you can always spend it on a couple of ounces of Hardy Perfection "Earth" brandy for $900.
We opted for the Cleopatra's Smile, a panty-dropper if ever there were one. Cleopatra's Smile has Ketel One Citroen vodka, Aperol Apertivo, Pavan liqueur, fresh-squeezed ruby red grapefruit and lemon juices and clover honey syrup.

The Lobby Bar cocktail menu is robust, as they say. Here are the Classic Libations. Here are the House Specialties. The gin and vodka selection is here. Drinks with whiskey, tequila, bourbon and rum are here. More whiskies, brandy and beer are here. Wine, non-alcoholic drinks (why?) and cold-pressed juice drinks are here. The things we do for you.
We quite enjoyed our visit to the new Lobby Bar at Caesars Palace. It makes a nice companion to the also-new Apostrophe Bar, near the hotel's Bacchanal Buffet.

The Lobby Bar renovation is estimated to have cost $1.3 million, at least a portion of which was devoted to a serious cocktail waitress upgrade, if you get our drift.
Also new at Caesars Palace is the Poker Room. The former poker room has closed, and is expected to be swallowed whole by an expansion to the also-closed Pure nightclub.

The new poker room is just across from Mesa Grill and the hotel's statue of a famous boxer we can never remember the name of, mainly because we're not convinced punching another person in the head repeatedly is a sport.

Here's a photo of the shuttered Pure nightclub, mainly because we really like the idea of nightclubs closing.

The third new thing at Caesars Palace? Here, we'll give you a hint.

Talk about new. This is so new, it's not even a thing yet. Have you guessed what it is, or what it will soon be?
Here's another hint. It's coming soon to a walled-off portion of the Cypress Street Marketplace (food court). The part of the Cypress Street Marketplace closest to Gordon Ramsay Pub & Grill. Figure it out yet?

You're correct, it's a Starbucks! That public school eduction just keeps paying dividends, doesn't it?
Before you ask, yes, there's another Starbucks just down the hall from this Starbucks, next to Central restaurant. So, there are going to be two Starbucks in the same hotel. Because Starbucks! We expect the new Starbucks will open within a month or two, whether we'd like it to or not.
That's it for the new things, now we finally get to the phenomenally stupid thing. Admit it, that's the part you were really looking forward to, right?
So, here it is, in all its phenomenally stupid glory.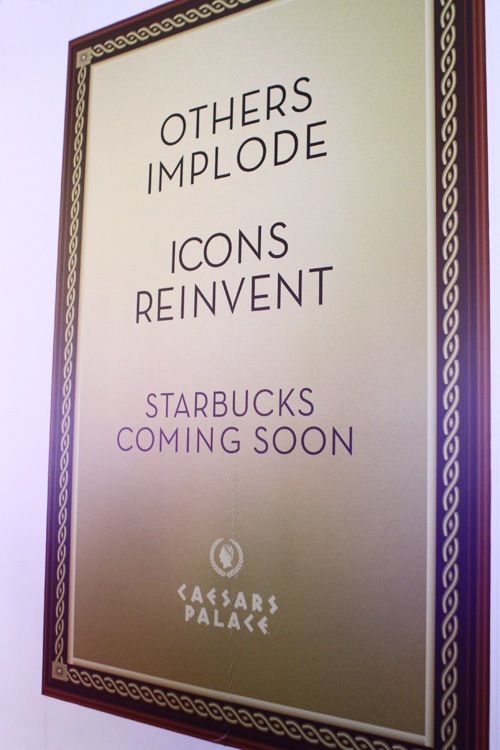 That's right, "Others implode, icons reinvent." Because while other Las Vegas resorts are busy imploding their snack bars, Caesars is reinventing its snack bar. As a Starbucks.
It's just this kind of game-changing reinventing that's made Caesars Palace the icon it is today.
Our work here is done.