Free Las Vegas Webcams: Check In on Sin City With These Eyes in the Sky
We know how you are. Even when you aren't in Las Vegas, you're sort of still in Las Vegas.
You check blogs, Web sites, apps and social media to stay in touch, but are you using any of the free Webcams with their eyes on various locations in Las Vegas?
Let's remedy that.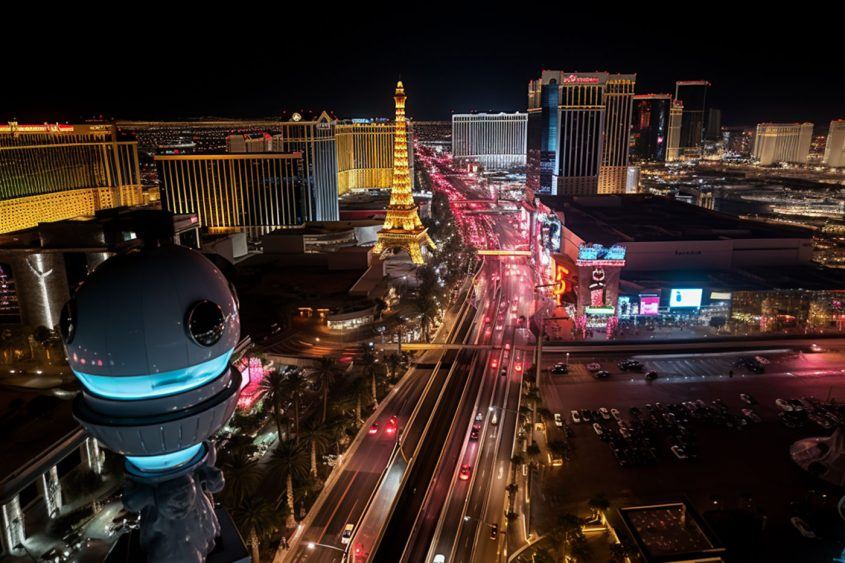 Here are some of the most popular Las Vegas Webcams, like the eyes in the sky watching casino guests and employees, but out in the wild.
It doesn't get any more iconic than the "Welcome to Fabulous Las Vegas" sign, and this Webcam keeps constant watch over this timeless photo op. Our top tips when visiting the Las Vegas sign? 1) Don't wait in line, just step to one side and snap your pics. 2) Ignore scam artists pretending to be "official" photographers. There's no such thing. If you need help with a photo, ask a fellow visitor.

If you want to see the dazzling Las Vegas Strip as it looks through a wet gym sock, this is the Webcam for you. Yeah, cleaning the lens isn't the highest priority with this Webcam, but free is a lot less expensive than an airline ticket, so enjoy.

Fremont Street Experience is one of our favorite places in Las Vegas, mostly because we love the people-watching. Have you ever driven by a car accident without looking? Of course not. Same with Fremont Street. Every day is a new adventure in downtown Las Vegas, and this Webcam is a great way to keep tabs on the ebbs and flows of Fremont, nexus of WTF in Las Vegas. A fun drinking game is taking a shot every time someone ignores the "no crossing" signs. Hint: You'll quickly be as drunk as everyone on Fremont Street.

The Bellagio Conservatory is one of the best free attractions in Las Vegas, and this Webcam is a convenient way to see which seasonal display is open or in the works. The transformation from one display to the next is nothing short of miraculous, and you can see the work being done in real time online. It's a distant second to seeing the Conservatory in person, but it'll do in a pinch.

The Sphere at Venetian is The Strip's newest eye-popping attraction and you can watch the venue's "exosphere" in all its glory online. There are a lot of boring daylight hours of meh, but once the sun goes down, the Sphere's dazzling video display kicks in and the wonder quotient goes way up. Our screen grab doesn't do this Webcam justice, but you'll manage.

We felt guilty, so we went back and got a night version of the Sphere Webcam. Just watch until you see a giant eyeball. It's worth the wait.

We felt guilty again and had to grab a shot of the eyeball, our favorite segment on the Sphere.

Plane nerds love this Webcam that includes a live feed of the Harry Reid International Airport, formerly known as the Pat McCarran Airport. The reasons behind the name change of the airport is a long story, but basically involves Pat McCarran having been a xenophobe and anti-Semite, which he failed to mention during his job interview for Congress. Those qualities in a Congressperson don't seem to be a deal breaker in modern times, but Las Vegas was having none of it, so when Harry Reid died from a TheraBand injury, the name was switched. The airport Webcam is especially cool because it also has audio, so you can hear pilots showing off their pilot jargon.

Nothing says "excitement" like a Webcam pointing at a shopping mall. This Webcam points at Project 63, or 63 Las Vegas, whatever they're calling it today, basically an expansion of the Shops at Crystals, but less interesting. There are very few tenants, and the $20 million Ocean Prime steakhouse is already rumored to be in trouble. Anyway, there's a Webcam.

Want to spy on your neighbors or stalk an ex? The Nevada Department of Transportation has got you covered! We're kidding. Don't stalk. Anyway, the NDOT has dozens of cameras looking at traffic around Las Vegas and beyond. If you think traffic is boring, you've never driven in Las Vegas.

This is typically where Las Vegas Webcam lists take a nosedive. And, yes, this is the typical Las Vegas Webcam list. You guessed it, this is a Webcam pointing at the stage at Cat's Meow, a karaoke bar, in downtown Las Vegas. As if singing karaoke weren't already sad enough, now, people are watching other people singing karaoke. We are not making this up.

We looked for a "Watching Paint Dry" Webcam (which was actually a thing back in 2016), but we couldn't find one in Las Vegas, so we're sharing this one. Enjoy your moment in the limelight, random guy crossing the street.

Yes, we have exhausted the list of Las Vegas Webcams, so you're stuck with looking at the inside of a cheesy Las Vegas wedding chapel. Please feel free to use this in your classroom as an example of diminishing returns.

Given the lack of quality Las Vegas Webcams, how about a peek at some sweet 360-degree panoramas in and around Las Vegas?

Even when you aren't in Vegas, you want your Vegas fix, and Webcams can give you that sweet infusion of Las Vegas you so desperately need between visits.
If you stumble upon other Webcams, preferably not pointing at malls or wedding chapels, we'd love to hear from you so we can add them to our list.
When it comes to Las Vegas eye candy, just think of us as your Candyman. Sorry, "Camdyman." Which is why America has trademark laws, thank you very much.