Rio Shares Details of Transition From Caesars Entertainment to Dreamscape
Rio Las Vegas has launched a new Web site with details about the coming transition from Caesars Entertainment to Dreamscape operating the neglected, off-Strip resort.
Dreamscape takes over operations of Rio on Oct. 2, 2023, a welcome change given the decline of the casino in recent years.
Dreamscape plans to make a substantial investment into Rio, many of the upgrades are already happening.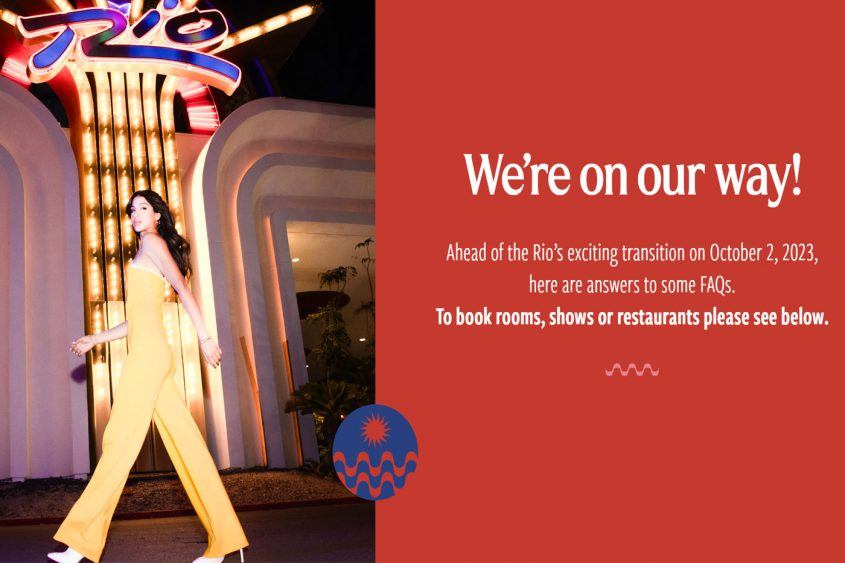 Rio's new Web site is basically one page with frequently asked questions. Is this a good time to ask why people insist upon pluralizing "FAQ"? "Q" stands for "questions." "FAQs" is essentially "frequently asked questionses."
Rio also plans to add a page of infrequently asked questions, like, "Did you know the guy who does Vital Vegas knew Larry Gelbart, the co-writer of 'Blame It On Rio,' and shares an IMDB credit with him?"
Anyway, back to the less interesting frequently asked questions.
Starting Oct. 2, 2023, Caesars Rewards is out at Rio, Rio Rewards are in. Rio has taken the liberty of creating a Rio Rewards account for you if you're a Caesars Rewards member.
Some details about Rio Rewards: "We are excited to introduce Rio Rewards, a new program that recognizes both gaming and non-gaming spend. Points can be earned at slots, table games, and around the resort in non-gaming areas such as food and beverage, at varied earning rates. A point is worth a penny and points are earned fast!"
If you had credit at the former Rio, you'll need to apply again.
Miracles are real! Sign at Rio is getting some love. (h/t @Thebelldesk) pic.twitter.com/aAb5R0Aldy

— Vital Vegas (@VitalVegas) September 19, 2023
If you have Rio TITO vouchers, you'll need to get your ass in gear to redeem them. You can redeem your Caesars Entertainment slot tickets at Rio until Oct. 2, 2023 at 6:00 a.m. Beyond that, you can redeem them at Caesars Palace.
As for your Rio chips: "Chips valued at less than $1,000 will remain completely redeemable at the Rio cashier. After 6:00 a.m. on October 2, 2023, Rio casino chips valued at $1,000 and greater will require validation of play from Caesars by the Rio team and may not be redeemed immediately."
Here's what's up with your Caesars Rewards points and tier status: "All balances, benefits, and tier status from your activity with Caesars Rewards prior to the October 2, 2023 transition will remain with Caesars Entertainment properties and can be utilized as normal at their other properties."
Parking will remain free at Rio.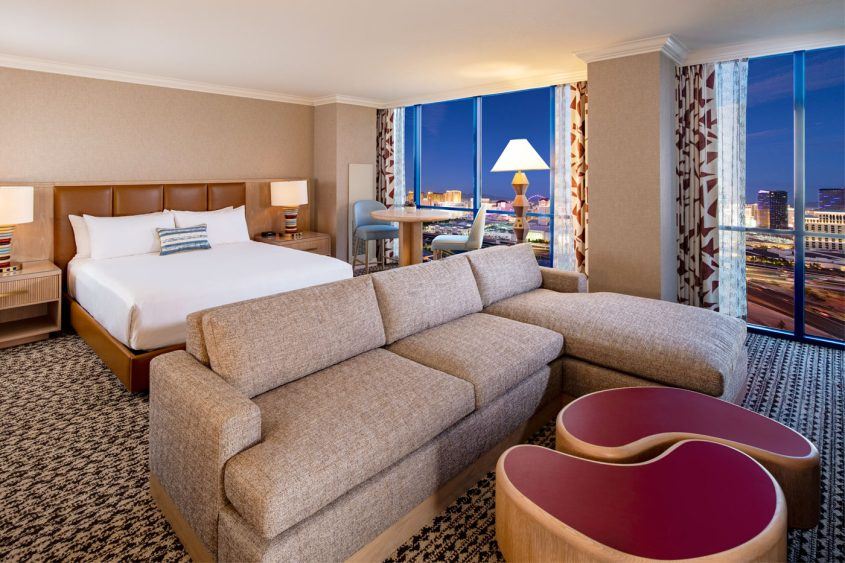 Here are more pics of the room renovations at Rio.
In a Las Vegas first, resort fees under Dreamscape are actually going down. The reduced resort fee is $39.
A big deal for pet owners (and those who think animals don't belong in casinos, like us): "For the safety of your pets, support animals, and our guests, Rio Las Vegas no longer allows for pets."
Those are the highlights, but keep your eyes peeled for further details on Oct. 2, 2023.
While we suspect Dreamscape is making moves to eventually flip Rio, in the meantime, we're guaranteed to see big improvements in the resort, and any changes are welcome.
Thanks to J on Twitter for letting us know about the launch of Rio's new Web site.
Penn & Teller think staying put is the right move, so they've extended their residency.
The buffet won't be back, but nobody thought it would, as Dreamscape has smart businesspersons at the helm.
"Exxcite" recently opened at The Duomo.
"Exxcite" has opened at Rio and the costumes are gloriously cheesy. pic.twitter.com/A3H7fPPyUS

— Vital Vegas (@VitalVegas) September 22, 2023
If the Trop deal with the A's falls through, don't count Rio out as a potential location for a new ballpark.
Stranger things have happened. Like Rio being relevant again.
Update (10/2/23): Rio has released more details on its official Web site, including about Rio Rewards. The players club tiers are Rouge, Azul, Gold and Platinum. Rio invented a dopey term for free play, "FrioPlay." Here are some of the perks for the tiers.

Rio's going aggressively at the competition. We love these numbers where Rio throws some shade at other Las Vegas casino loyalty clubs.