Fontainebleau Sale, Stadium Location, Raiders News and Every Damn Rumor We Could Squeeze Into One Cluster of a Story
The rumor mill is on tilt this week in Las Vegas, and we've wrangled some of the juiciest tidbits to share in a completely irresponsible fashion, because that's how we drunk blog, baby.
Here's how it falls out.
For starters, the Fertitta brothers (also referred to as Lorenzo and Frank), sold the UFC for $4 billion. Not too shabby for a $2 million investment back in 2001.
The sale of the UFC has resulted in the Fertitta brothers moving from bajillionaire status to multi-bajillionaire status. It's a great gig if you can get it.
To be more specific, Forbes says the Fertitta brothers are worth a combined $3.2 billion. That's not Sheldon Adelson money, but it'll do in a pinch. Since the UFC sale, each brother's wealth has climbed to $2.4 billion each.

And this may not even take into account the bajillions the Fertitta brothers made when their Red Rock Resorts, Inc. (a/k/a Stations Casinos) went public. Each of the brothers is believed to have received more than $110 million for that little transaction.
So, what is one to do with all these billions? Make more billions, of course!
Here's what we hear. (From someone who spoke to an actual Fertitta, by the way. Not from the primary Fertittas, but someone in the gene pool.)
The Fertitta brothers are going to purchase all or part of the Las Vegas Raiders. Yes, the Raiders are coming to Las Vegas, despite our best efforts.
In case you haven't been keeping up with the whole Raiders drama, the current owner of the Raiders has said he's willing to move the team if Las Vegas can pony up with a stadium. A surprising number of NFL team owners are now onboard with having a team in Las Vegas, despite years of resistance related to concerns about people (GASP!) gambling on sports.
Roughly 10 potential locations for a new stadium have been floated, but only one is going to win, and that location is…
Wait for it.
The 100-acres in and around the Wild Wild West casino. The Wild Wild West casino is about a half-mile west of the I-15, close enough to The Strip to be a viable location, without many of the headaches (including traffic and parking) associated with the T-Mobile Arena.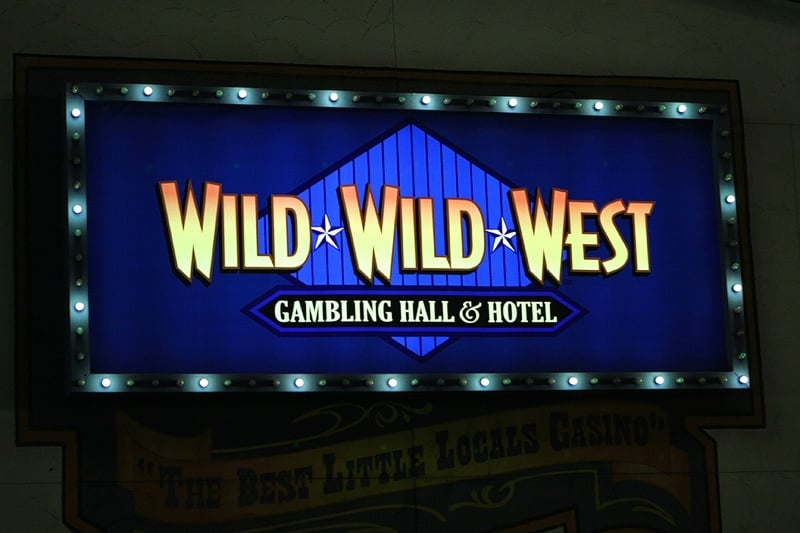 The Wild Wild West site is owned by the aforementioned Fertitta brothers and their Red Rock Resorts Inc. Even people who know what they're talking about agree the Wild Wild West space is the leading contender for the new 65,000-seat domed football stadium.
The stadium would probably be a public-private partnership between the Fertittas (Stations Casinos), Las Vegas Sands Inc., Majestic Realty and the Raiders (no matter who owns it when the deal is inked).
Yes, there are still lots of financial wrinkles to be hammered out. Cost estimates for the stadium have risen to $2.1 billion, with about $750 million in public funding needed. The "public funding" would presumably come from a room tax.
We are not personally interested in the "details" or "facts" surrounding this whole Raiders thing. We are more interested in another spectacular rumor we're starting right this very minute.
Because from what we understand, it's those very same Fertitta brothers who are the mysterious buyers of the (wait for it, again) Fontainebleau hotel!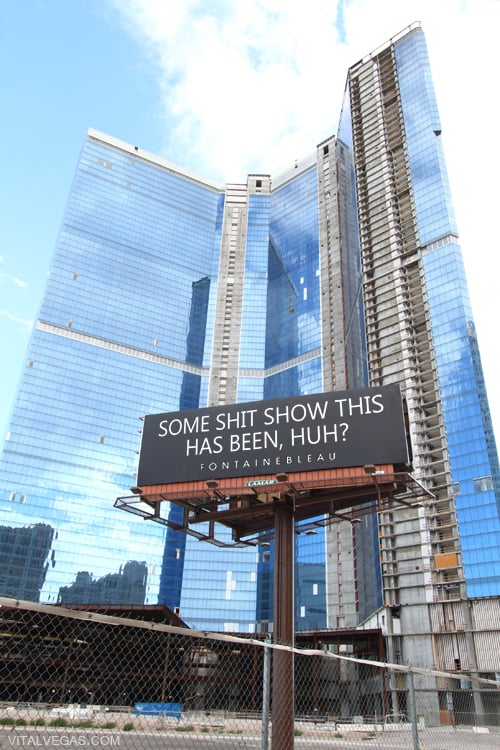 Look, they're not going to want to pay taxes on that $4 billion, so what better way to re-invest in grabbing the abandoned Fontainebleau hotel for $750 million, then plowing another $1.2 billion into the project to get it opened as the first Station casino on The Strip. (Palms was close, but it's not The Strip.)
We checked with a source at the real estate company handling the Fontainebleau and our theory was nixed: Station has denied "having any interest in the Fontainebleau." That'll teach us to drunk post.
Other than that, is all this the ramblings of an intoxicated Las Vegas blog? Probably. But if you can find holes in any part of this delicious web of unsubstantiated rumors, we'd love to have you poke them. Or something.
Let's hear your version of how all this unfolds. Especially if you agree with us. If not, keep it to yourself.