Fergusons Downtown Gets New Watering Hole, F the Bar
Downtown Las Vegas has tons of great bars, now it has F the Bar, a new drinking spot at Fergusons Downtown.
You probably haven't been to Fergusons Downtown, but it's worth a stop. That's where the excellent Peyote restaurant is, and Vegas Test Kitchen, which we still don't fully get but people speak highly of it.
F the Bar is petite, with a capacity of 80 people, and has a focus on craft cocktails.

The vibe at F the Bar is "greenhouse-meets-lounge," with more than 50 live plants sharing the space.
The new bar also features banquettes, family-style highboys and a social bar.
The news release about F the Bar shared some cocktail examples, so we're passing them along.
Craft cocktails include the Vegas Playground, with Ketel One, St. Germain, hibiscus, lavender syrup, lemon juice, topped with prosecco; The Clincher, with Old Forest Bourbon, Cocchi Rosa, vanilla liqueur, and Tiki Bitters; and Doctors Orders, with Creyente Mezcal, Ancho Reyes Verd, carrot juice, coconut syrup, lime juice and habanero shrub.
We told you it has a greenhouse vibe. All of the best craft cocktails contain shrubs.
F the Bar also has "mocktails," a kind of cocktail mutation we don't condone unless you're literally in the middle of a surgical procedure.
The mocktail menu features the Heatwave, with watermelon soda, coconut syrup, lemon and lime juice and jalapeno with a Tajin rim; The Earl of Fergusons, with Earl Grey iced tea, green apple syrup, passion fruit, lime juice and fresh mint; and Spring Fling, with Lyre's non-alcoholic gin, dragon fruit syrup, orgeat and lemon juice.
We're pretty sure you can order a side of shrub with any of these drinks.
So, where in the hell is F the Bar? Well, it's east of Fremont East. Ferguson's was a run-down (sorry, "historic") motel that's been given an overhaul.
The most eye-catching part of Fergusons is Big Rig Jig, one of the best photo ops in Las Vegas.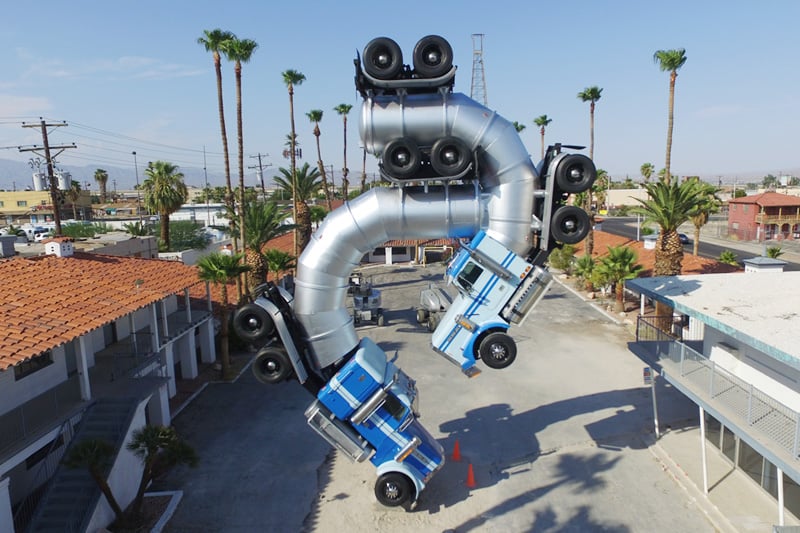 Fergusons Downtown is a dramatic departure from Fremont Street or even Fremont East. It's all about community and celebrating local art, music and libations. It's touted as a place for people to connect. Or, as Tony Hsieh liked to call it, "collide." (The tech visionary and former Zappos CEO lived in an Airstream trailer behind Fergusons. See more.)
Check out Fergusons Downtown's official Web site, and see more of F the Bar on the venue's new Instagram account.