Downtown's New Peyote Restaurant Is a Trip
A trendy new restaurant, Peyote, opens in downtown Las Vegas on Sep. 24, 2021.
Thankfully, you have us, so you don't have to wait to get a taste.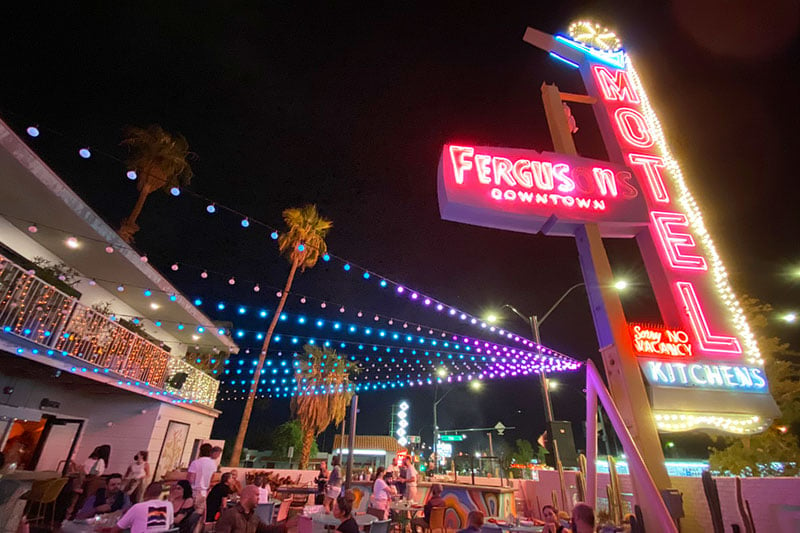 Peyote is located at Fergusons Downtown Motel, sort of just east of Fremont East.
Look for the bigass tractor trailers doing a mating dance.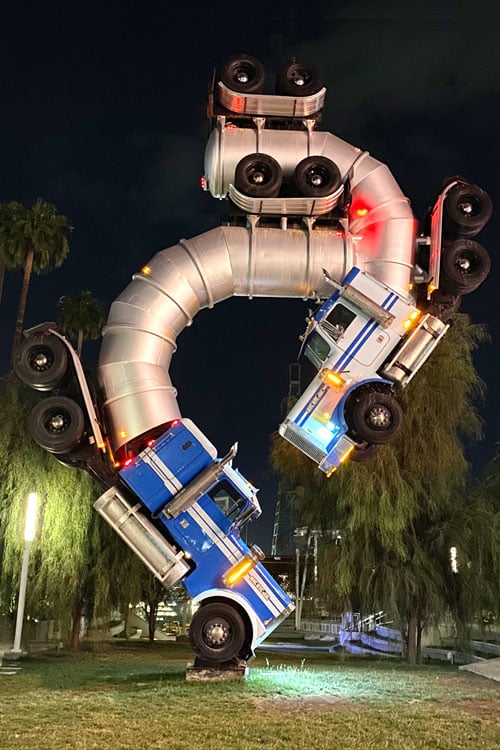 Peyote is a boutique restaurant from the awesome Ryan Doherty, founder of Corner Bar Management.
While Peyote is Doherty's latest venture, he's got his fingers in a plethora of other popular spots.
He's got Commonwealth, Park on Fremont, Discopussy, Lucky Day on Fremont Street and Oddwood lounge at Area 15.
Peyote is further evidence Ryan Doherty believes in downtown, and has built a team so good you'll want to try this out-of-the-way spot even if you've never visited downtown before.
If you're a Vegas virgin, hit Circa and the Viva Vision light show first, but after that, Peyote.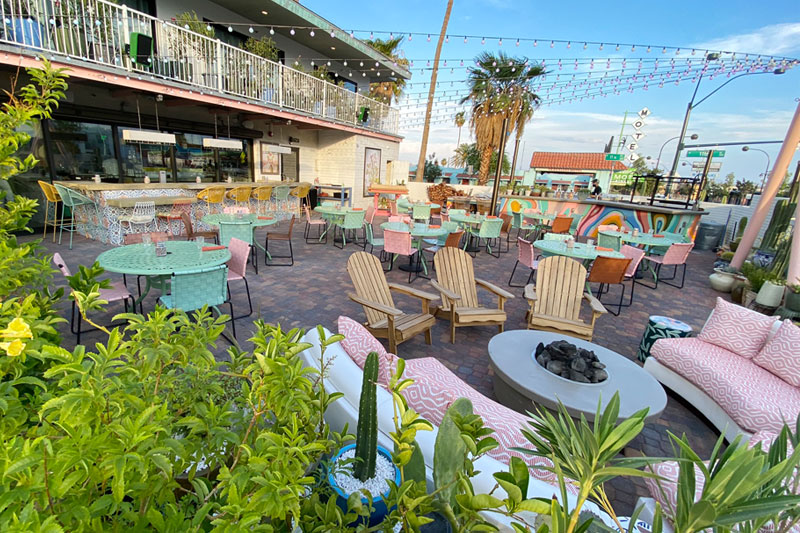 Some of the players at Peyote include Hall and Kim Owens, the folks behind Main St. Provisions; Jolene Mannina, managing partner; Max Solano, beverage and cocktail program consultant; and Juyoung Kang, general manager and lead mixologist.
Peyote is 3,400-square feet of great food, drink and eye candy, including a patio with a custom 3D-mapped LED bistro-light canvas.
There's also a ton of quirky art.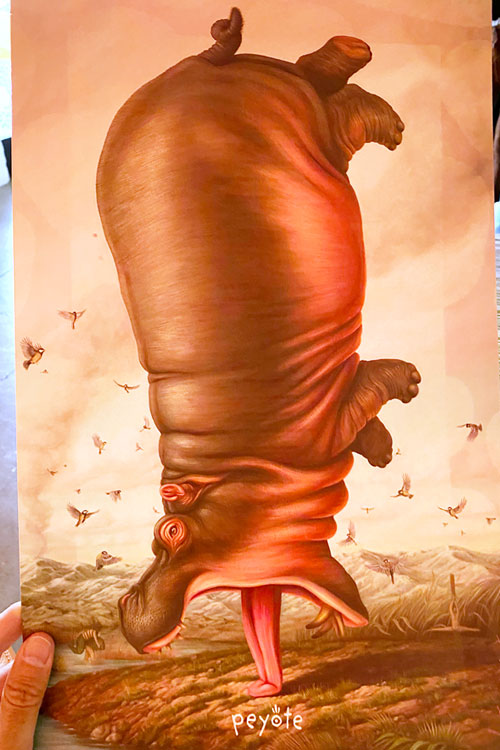 It's telling that at Ryan Doherty's venues, staff are given cheat sheets about the artwork in case guests inquire. They inquire.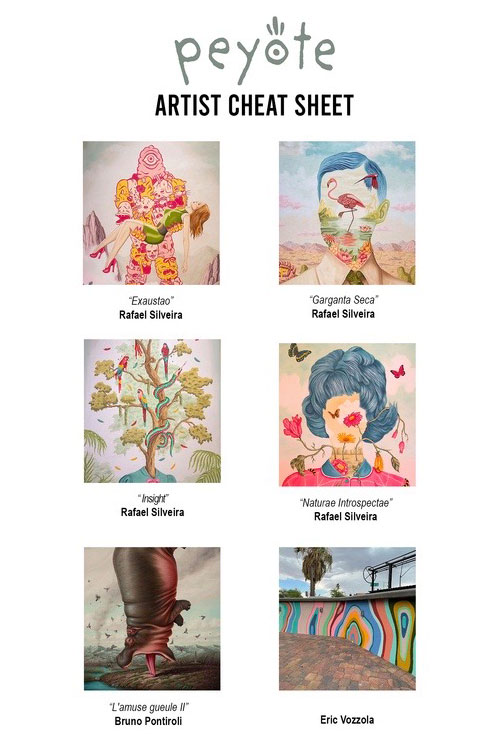 Naturally, we tried a cocktail first, and it was awesome. It doesn't come backlit like this. That's a blogger thing.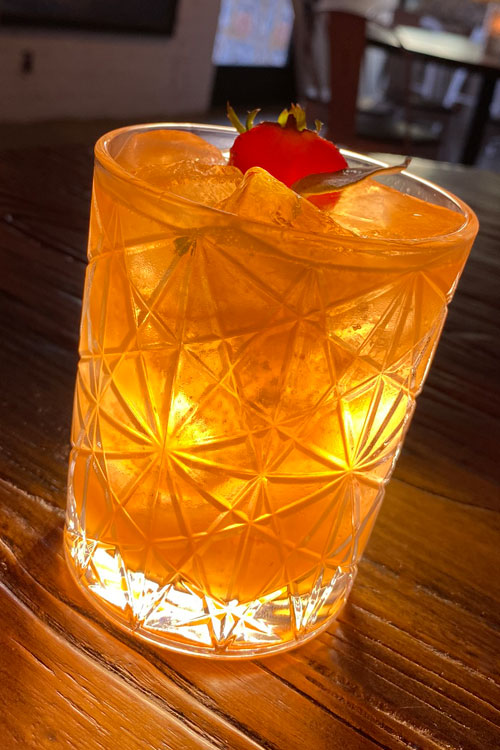 The Big Bliss has Volcan de Me Tierra blanco tequila, Giffard Pamplemousse liqueur, fresh strawberries, lime-orgeat sour and fresh sage. We don't know about you, but if they didn't have lime-orgeat sour, we'd have been out of there.
Here's a look at the cocktail menu.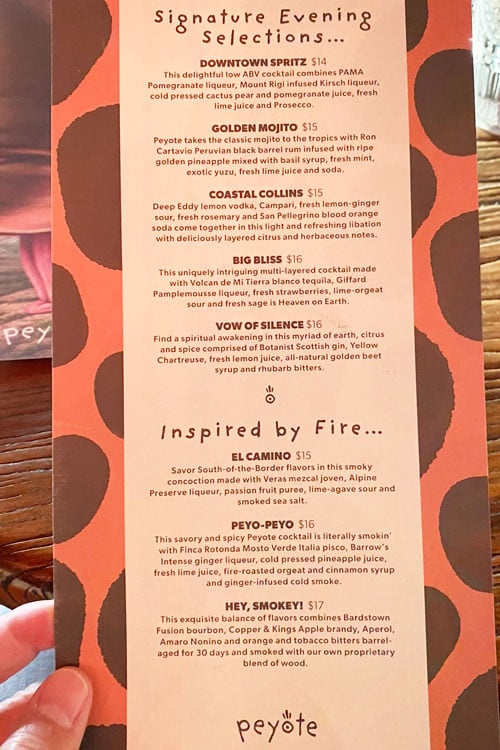 One does not live by cocktails alone, of course. Although, we have expressed a willingness to try.
We don't entirely know how to describe the cuisine at Peyote, we just know we liked it.
Here's the menu (see update at bottom of this story).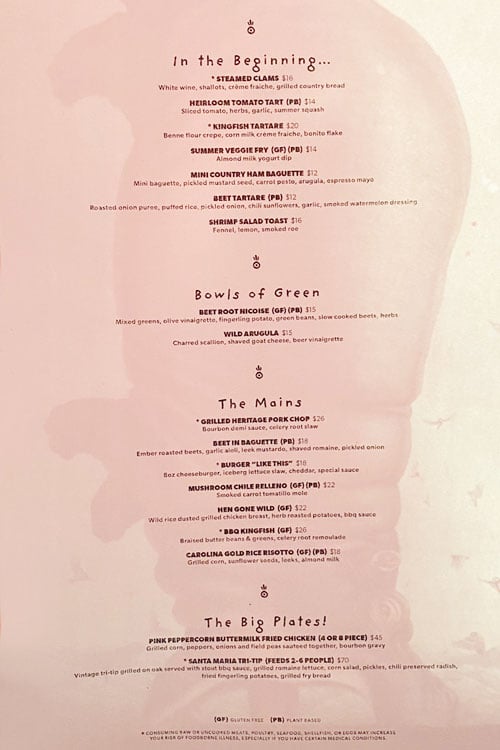 Here's a bigger version of the menu so your eyes don't implode.
We'll let the news release do the talking. "Peyote's upscale dinner menu will offer a decadent arrangement of appetizers, such as an heirloom tomato summer squash tart; mini shrimp toast topped with wild smoked salmon roe; American country ham on toast served with tangy pickled mustard seed, carrot aioli and wild arugula topped with red eye gravy; and more. Savory main dishes include Carolina Gold rice risotto with grilled corn, sunflower seeds, leeks and almond milk; heritage pig sandwich with grilled pork belly, grass-fed butter, radish, plum mustard, rouge creamery cheese and red pepper pickles; Santa Maria vintage tri-tip grilled on oak served with grilled baby gem, corn salad, pickles, chili preserved radish, butter ball potatoes and fry bread designed to feed three to six guests; and more."
Which all sounds great, but our tastes are a tad simpler. So, during our media visit, we let our host, Ryan Doherty, order.
Two words: Pork chop.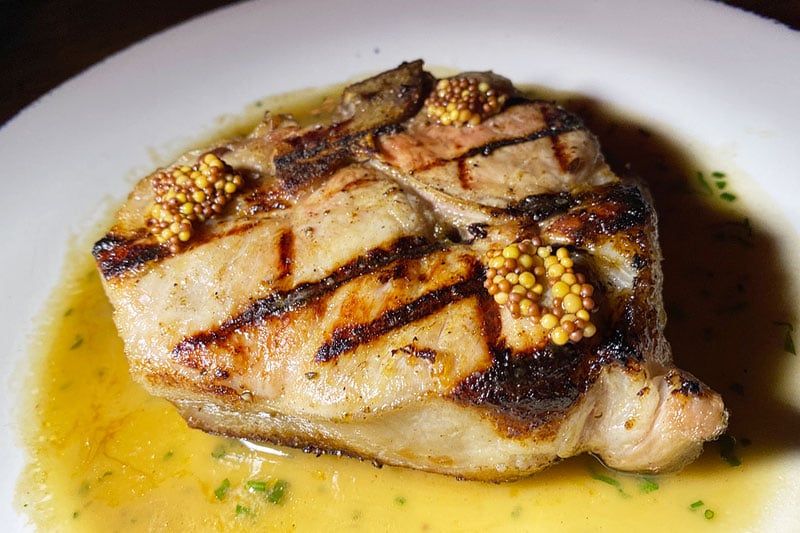 Even the weird food (we aren't exactly a tangy pickled mustard seed type) ended up being delicious, and we hate everything.
We even accidentally had vegetables thinking they were French fries.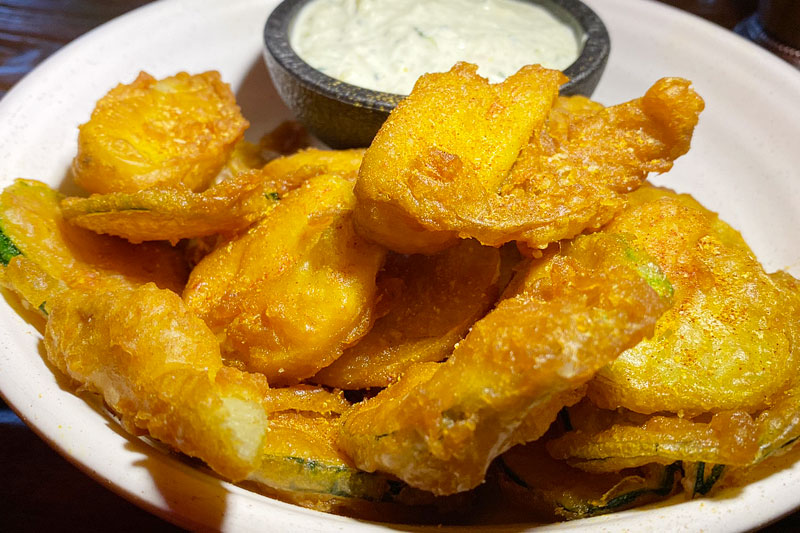 One of the best surprises was the Heirloom Tomato Tart, something we typically never would've ordered unless we were being water-boarded. It was great, despite the presence of tomatoes.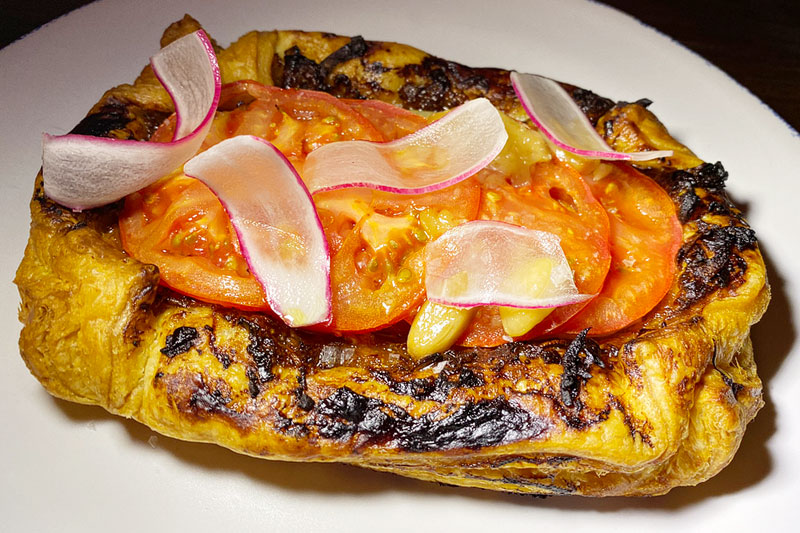 There aren't any desserts on the menu, but you won't have room for them, anyway.
Beyond the walls and patio of Peyote, it sounds like there will be some live music in a small amphitheater that sits just outside.
Ryan Doherty doesn't just create bars and restaurants, he creates experiences. He makes places people want to hang. Peyote is that.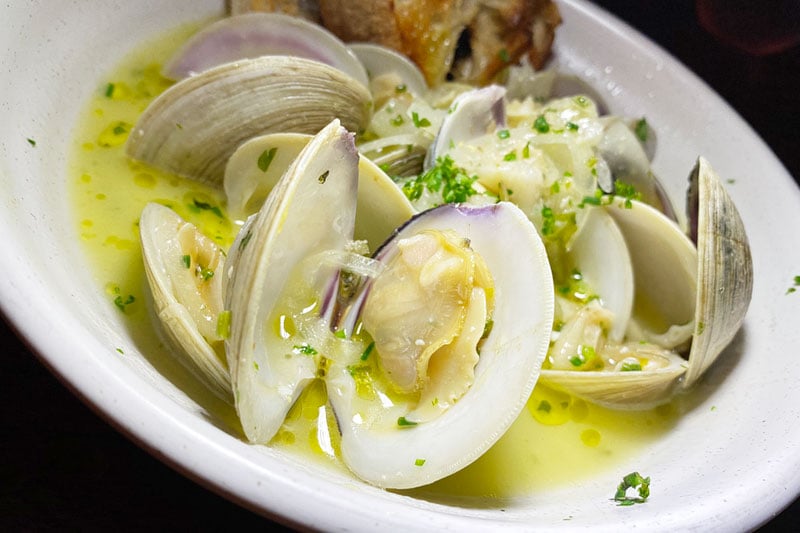 Peyote will be open from 6:00 p.m. to 2:00 a.m. on Wednesdays and Thursdays, from noon to 2:00 a.m. Fridays through Sundays.
There's some free street parking nearby, but rideshare is recommended. That way you can explore the cocktail menu more thoroughly, if you get our drift.
Riseshare also sidesteps the fact it's not the best neighborhood, although we've never had any issues. The area around Peyote is well-lit and there's security at the main entrance to Fergusons.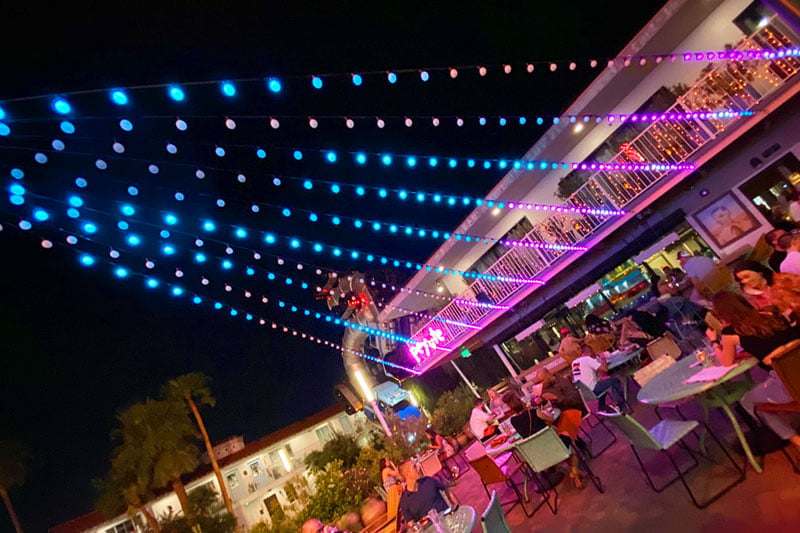 While Peyote is a little out of the way, it's a great excuse to explore the Fremont East Entertainment District.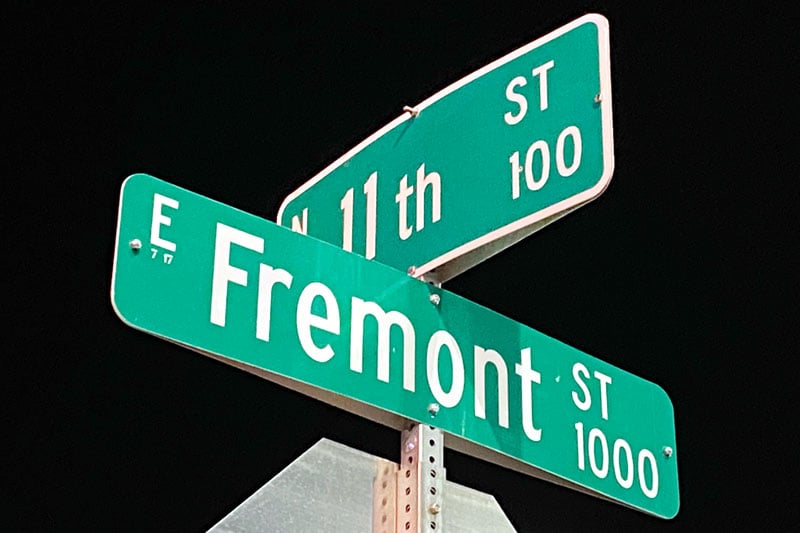 It's a challenging location for a new venture, but if you flame broil it, or create the right cocktail menu, they will come.
Update (11/3/21): Peyote updated its menu.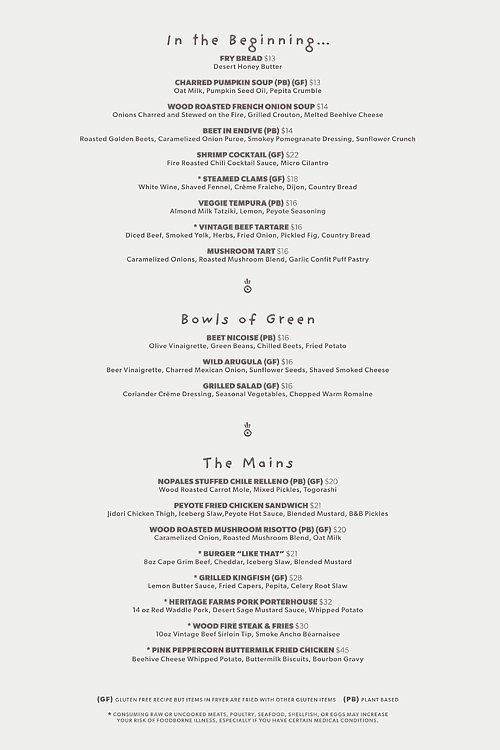 Enjoy more Peyote images in our expansive and poorly-focued photo gallery below.
See you there. We'll be the one balancing on our tongue.