"Extravaganza" Celebrates 500 Shows at Bally's, Nobody Knows How
The world of Las Vegas entertainment is fraught with peril and drama. Only the stong survive.
Which is why the 500th performance of "Extravaganza" at Bally's is worth celebrating.
That's because nobody really predicted the show would make it to 50 performances, let alone 500.
The pandemic made it even more of a longshot. Yet, here we are.
The show's 500th performance happened Nov. 9, 2021 inside the "Jubilee" theater at Bally's.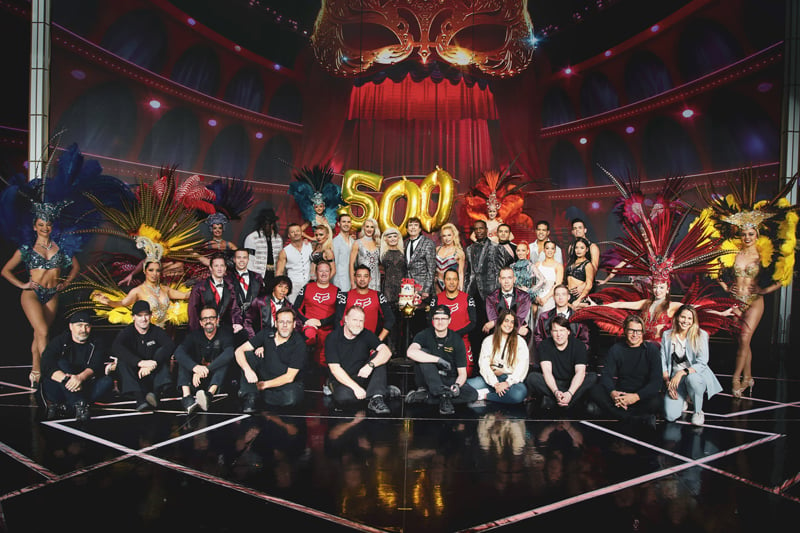 "Extravaganza" (technically, "Extravaganza, The Las Vegas Spectacular") has defied the odds and racked up an impressive run.
The drama began when "Extravaganza" held its first, and only, preview performance on March 14, 2020. It was forced to close the following day due to the pandemic.
The show soldiered on, however, reopening Nov. 23, 2020.
COVID restrictions were brutal, with capacities severly limited. Just 50 audience members allowed in the theater, a deal breaker for many shows in town.
The cast of "Extravaganza" hovers around 30 people, so there were nearly as many people onstage as in the audience. If you include the crew, there were far more people involved with the production than there were audience members. Many shows simply shuttered because they couldn't be profitable. Not "Extravaganza." It has circus people. Circus people are a different breed.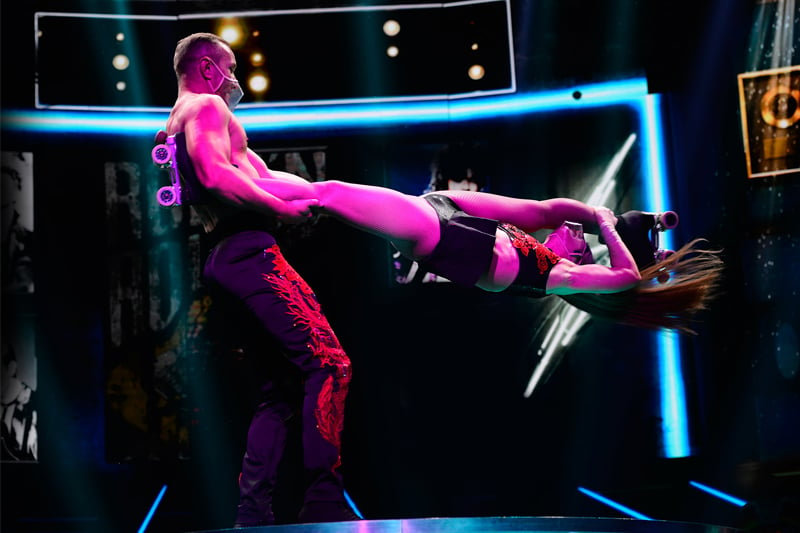 Everyone predicted the show would shutter. "Extravaganza" proudly waved its middle finger and stayed open throughout the unprecedented challenges.
Even without a pandemic, "Extravaganza" seemed oblivious to the economic considerations that have changed the landscape of Las Vegas entertainment in recent years. Namely, theaters aren't subsidized by gambling revenue anymore.
"Extravaganza" is a throwback to a time when lavish productions, like the aforementioned "Jubilee," didn't have to be profitable. They were intended to deliver casino customers. (Which also explains the short running times of Las Vegas shows. Productions can be fined for keeping guests in the theater, and away from the slot machines, too long.)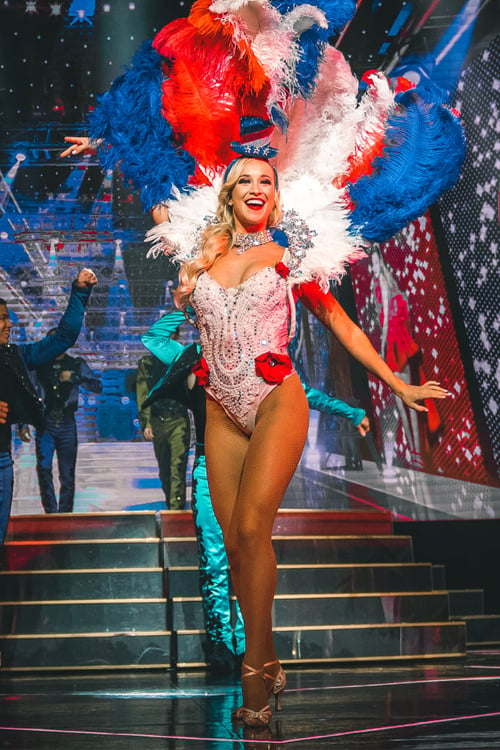 Here's how the show is described in the news release about the 500th show: "This extravaganza of passion and thrills features sensual performances that showcase the captivating talents of over 30 of the most talented, sexy and breathtaking artists from around the world, including dancers, acrobats, aerialists, skaters, comedians and the return of the iconic showgirl to the legendary Jubilee Theater." Note: "Jubilee" closed in 2016.
The release continues, "Beautiful feats of strength and flexibility will make you gasp while the spectacular sets, massive LED screens and state-of-the-art holograms (which include
some of Las Vegas' most famous headliners, from Elvis to Frank Sinatra, among others), will take your breath away."
Translation: "Extravaganza" is sort of everything, all at once.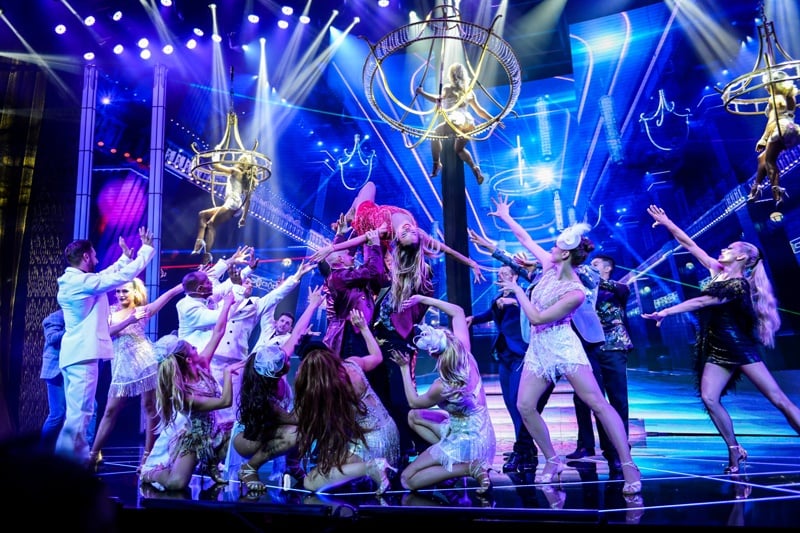 It's all about razzle-dazzle and eye candy, and a time-honored format for successful Las Vegas shows: Variety acts.
The highlight of the show is "crossbow artist" and third generation circus peformer Silvia Silvia.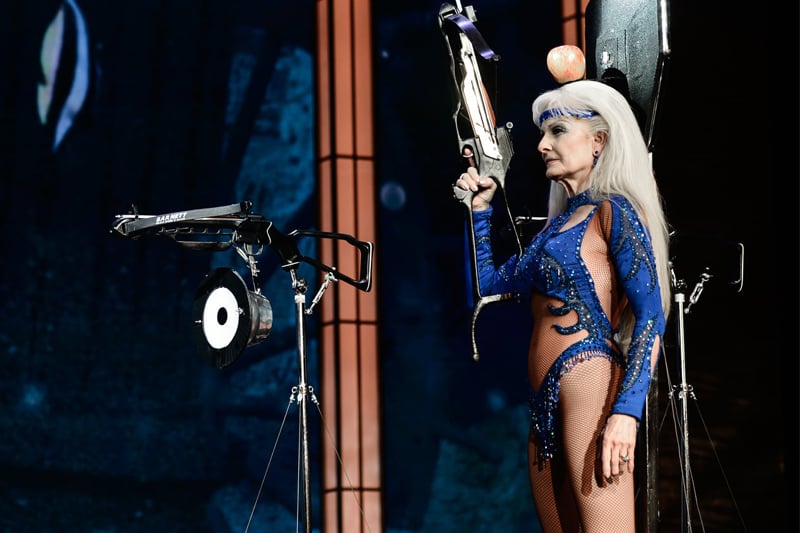 It's no exaggeration to say this seasoned performer will take your breath away.
Another must-see act is the "Globe of Courage," which is the PC version of what the contraption is really called, "Globe of Death."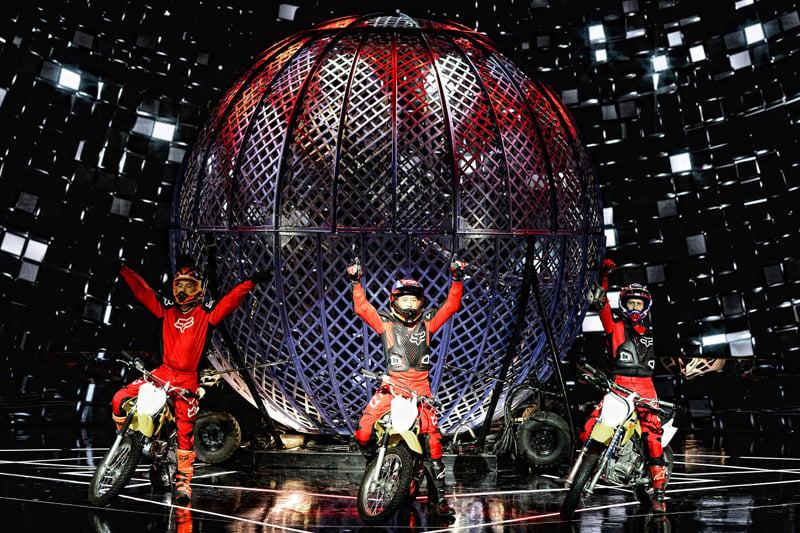 Multiple stunt riders whip around the inside of a giant metal globe. It's a true thrill.
What you won't read about in the news release is the show's copious amounts of cheese.
Fans of "Jubilee" will remember its over-the-top silliness, and there's a good deal of that to be found in "Extravaganza."
"Extravaganza" wisely keeps things moving, so just as you're about to cringe at something kitschy, there's something new to titillate.
The best strategy for enjoying "Extravaganza" is to just give yourself over to it. Cocktails are also recommended, as with any Las Vegas show.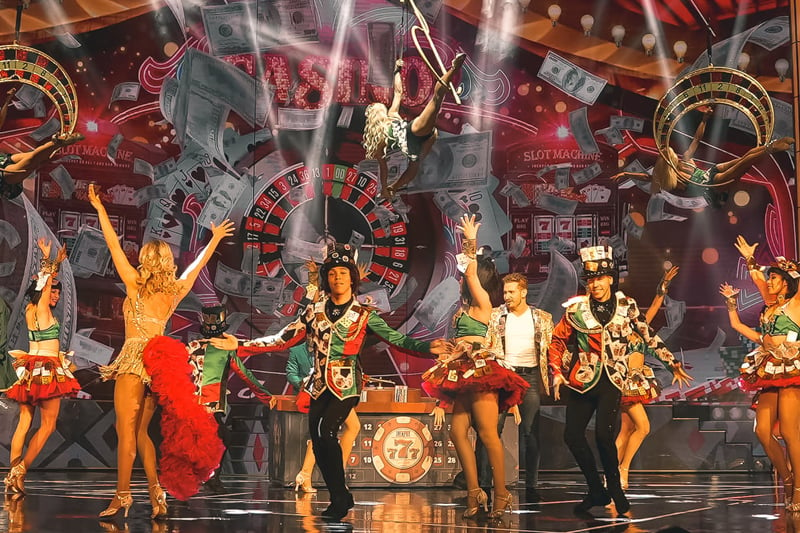 We honestly have no idea how "Extravaganza" makes money, but the show says ticket sales are strong.
"Extravaganza" is produced by T&R Entertainment and Tevet Production, the folks behind "Wow" at Rio, another success story that nobody really saw coming.
Also involved with "Extravaganza" are Corey Ross, founder of Starvox Entertainment, Udi Izak, Hanoch Rosenn and Jordan Fiksenbaum.
Sorry about the "cheese" thing, team "Extravaganza," but obviously you're doing something right.
"Extravaganza" will always have our respect as it managed to pay its performers and crew when others could, or did, not.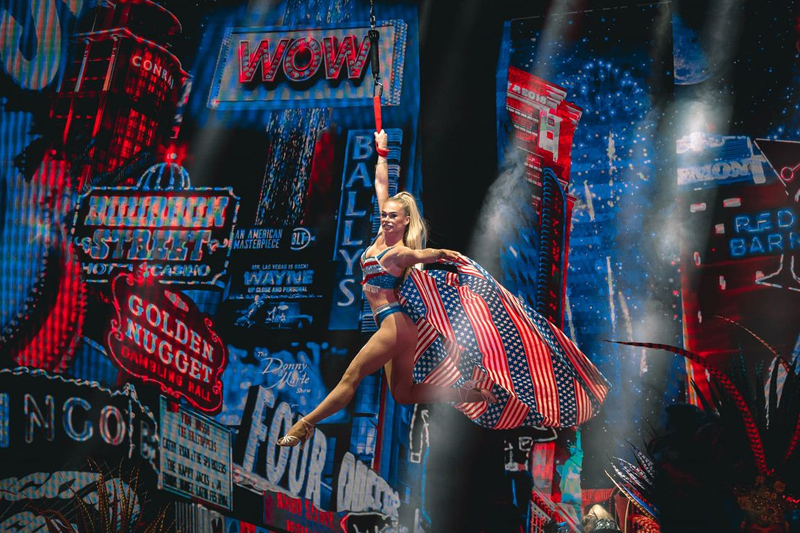 Thanks to "Extravaganza" for all the great show pics. You can find more on the show's Facebook page.
"Extravaganza" performs nightly Monday, Wednesday and Thursday at 8:00 p.m. and Tuesday, Friday and Saturday at 7:00 p.m. and 9:30 p.m. (dark Sunday). Tickets range from $109.99 to $145.99. Get tickets on the official Web site.
Las Vegas entertainment has changed dramatically in the last few years, with multiple theaters closing down entirely.
"Extravaganza" is the kind of show Las Vegas used to be known for around the world, including the eye candy and glorious awkwardness.
Now, the shift is toward superstar residencies, or more pragmatic productions with minimal production costs.
A run of 500 shows is impressive, and here's hoping "Extravaganza" will continue to beat the odds and surprise the cynics. At least one of whom was us. Sometimes, being wrong feels very right.