Encore Player's Club Makes a Play for Millennials But Creates a Space for Everyone
The new Encore Player's Club had a specific goal in mind. Encore wanted to turn a low-earning section of its casino floor into a place that would appeal to Millennials.
In the process, it's done what we expect many other casinos will soon do—it's created a space that's accessible and inviting, a mixture of casino and game room and lounge. While it's intended for a nightclub crowd, it's nothing like a nightclub, which makes it all the more appealing to a certain Las Vegas blog.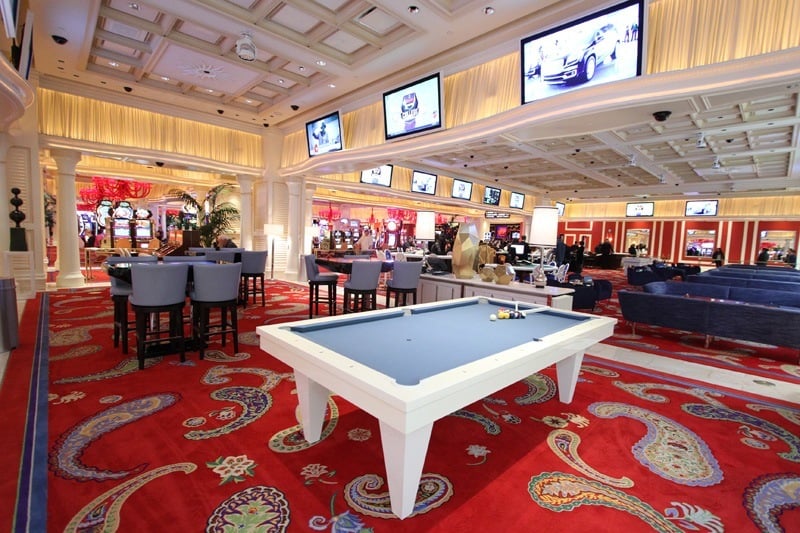 It should be noted the Encore Player's Club has nothing to with the casino's loyalty club. That confusion is likely to be cleared up when Encore Player's Club gets another name. Yes, already.
Executives realized quickly the name was misleading, and we've heard the shiny new Encore Player's Club signs will be coming down soon. Rumor has it the name "Millennial Club" was being considered, but the prevailing thinking is the word "club" tends to imply exclusive access, when the Encore Player's Club is meant to be appealing and accessible to everyone.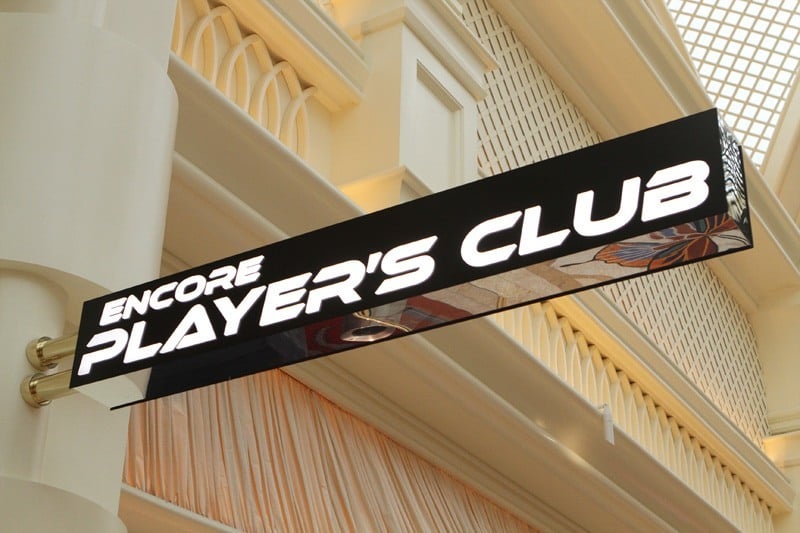 Encore Player's Club is a roughly 5,000-square-foot section of the Encore casino, part casino, part arcade and part man cave.
The location of Encore Player's Club is a key asset. It's in very close proximity to Surrender Nightclub, VDKA bar and Andrea's restaurant.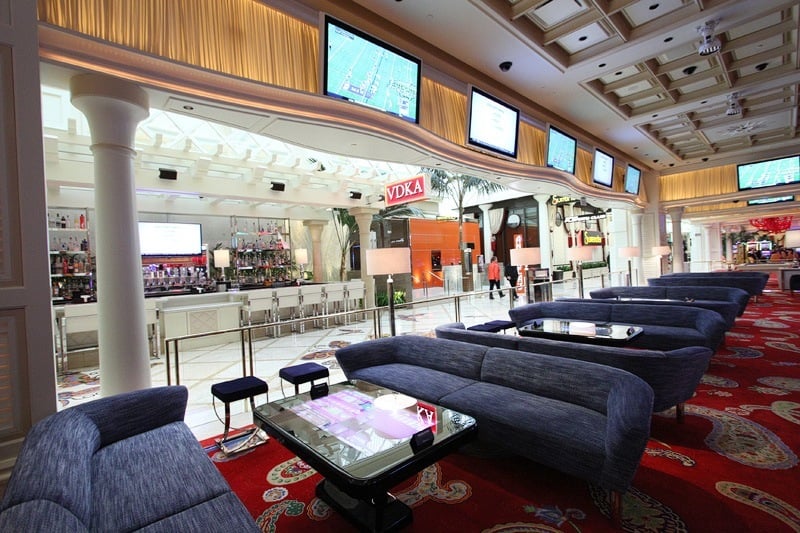 Encore Player's Club has several traditional casino table games, and a few slot machines, but most of the space is taken up by couches and touchscreen tables.
The touchscreen tables provide a number of entertainment options. There are a slew of free games, plus they can also be used to watch TV. From what we could see, guests can watch four sporting events on the tables at one time. Not too shabby.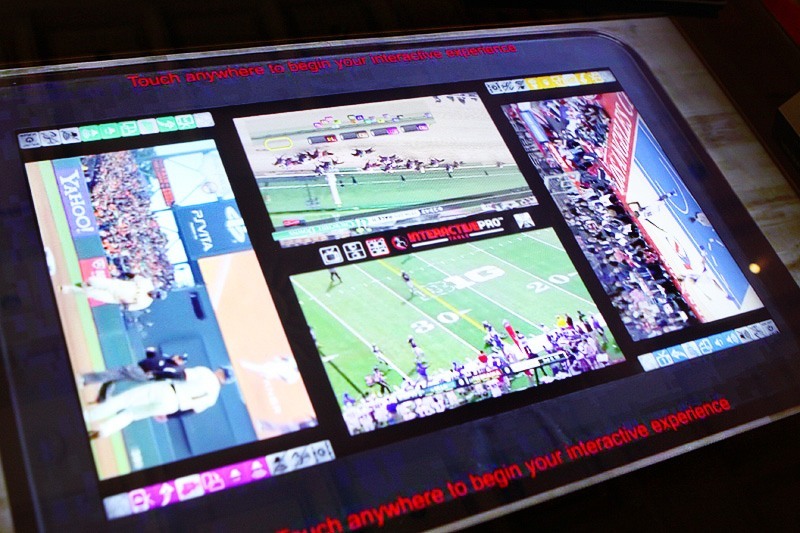 The walls of Encore Player's Club are lined with an additional 23 56-inch HD TVs.
It's anticipated guests will be able to place sports bets at the tables in the future.
The games on the Suzo Happ InteractivePro tables may not hold the interest of Millenials, the stated audience. The games are sluggish and simplistic compared to games played on dedicated videogame consoles, or even smartphones.
But the games are a fun diversion, and a great conversation-starter and social lubricant.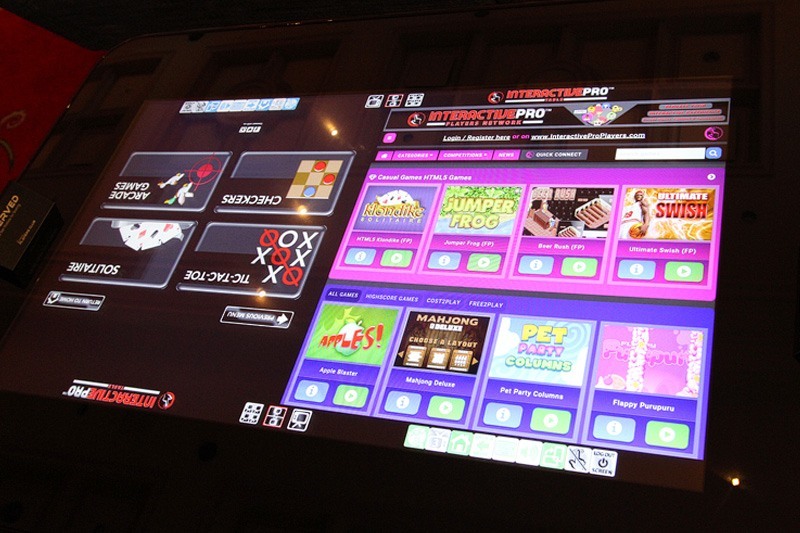 The tables allow guests to log into their various social media platforms, which seems an odd thing for someone to do at a casino-lounge. Smartphones will run circles around these tables, but again, they're more a conversation piece than the actual point. (It should be noted we couldn't find any outlets for charging mobile devices. These pesky Millennials are sure to notice such things.)
The point? It's a place to hang out with friends (most of the tables can accommodate groups of eight people), to order expensive cocktails, to grab a quick bite and gamble a little.
Wynn's Vice President of Operations Sean Christie (who was actually in the Encore Player's Club during the entire duration of our Saturday afternoon visit) says the goal is to "create a distinctive social space to gamble with friends, watch the game or hang out before hitting the club." Mission accomplished.
Aside from the touchscreen tables, Encore Player's Club also features a shuffleboard table.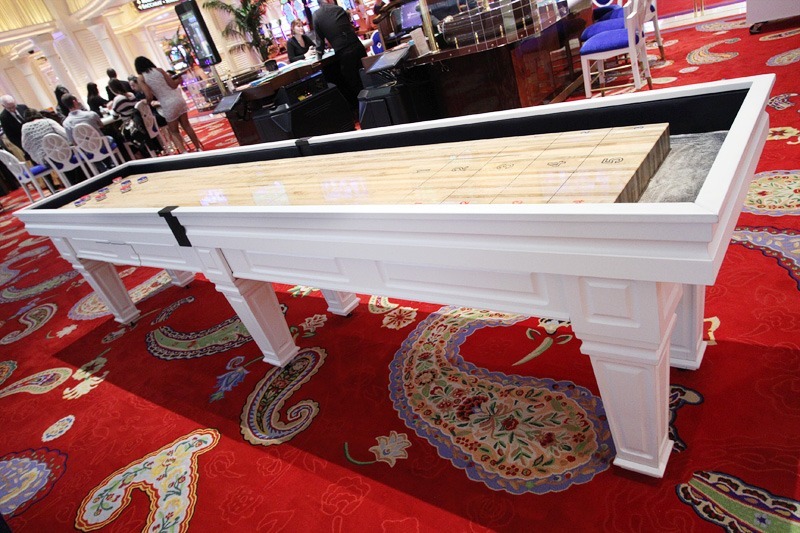 There's also a billiard table from the Manhattan apartment of none other than Steve Wynn himself. You can see the table in its native habitat in Architectural Digest.
While anyone can play pool on the table now, it's rumored once Encore Player's Club opens officially, it will be reserved for invited guests only.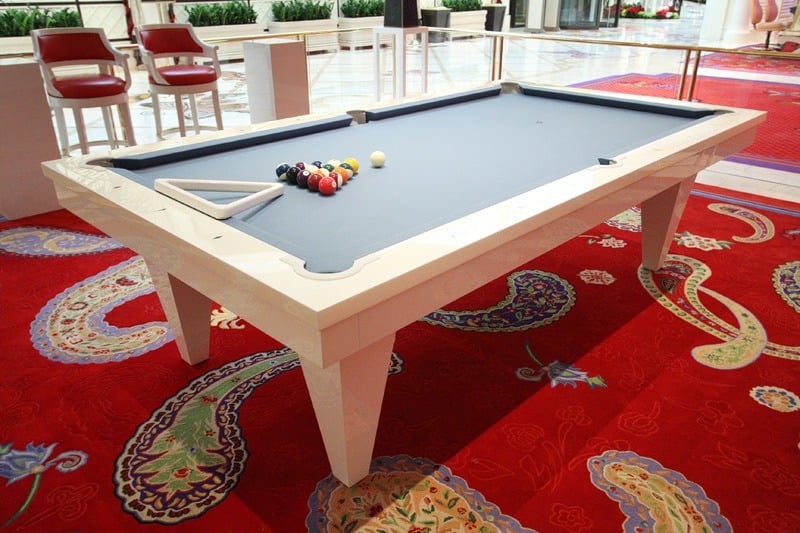 A DJ spins starting at 9:00 p.m. each night.
Next up, the libations! Here's a look at the signature drinks offered at Encore Player's Club.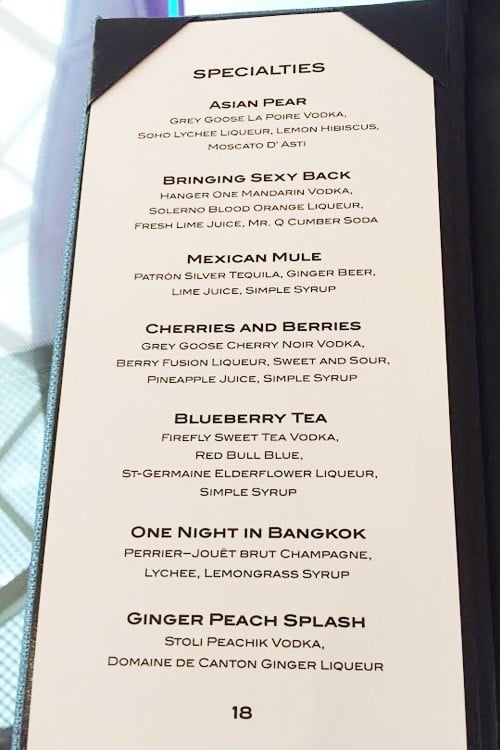 We tried the Cherries and Berries, the drink which most clearly qualifies as a panty-dropper cocktail.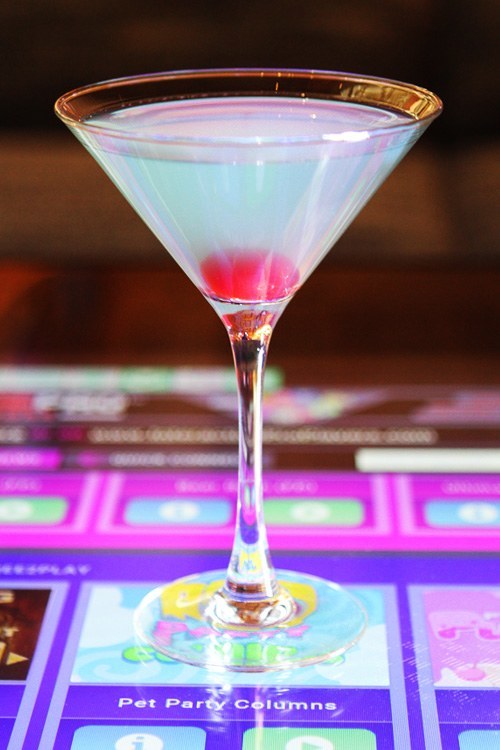 During our visit, we also had a Cosmopolitan. The garnish was on the fancy side.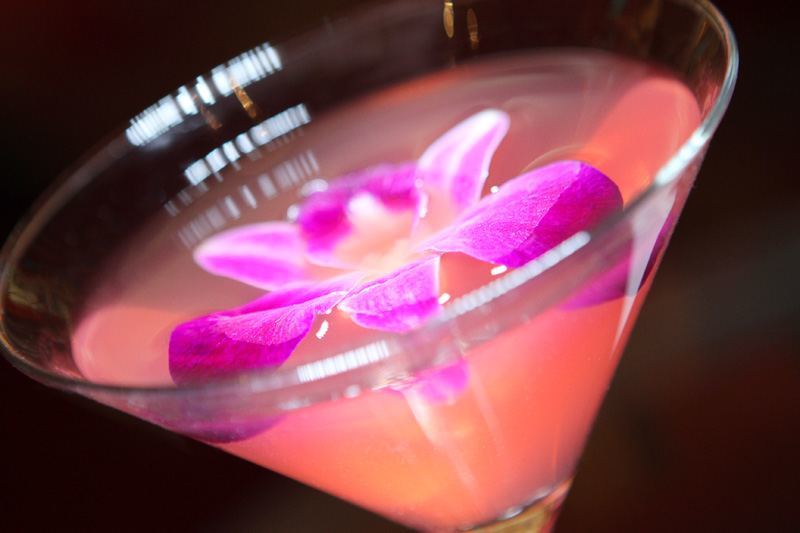 Food is served in Encore Player's Club, courtesy of the nearby Wazuzu restaurant.
While the cocktails are on the pricey side, the bites are moderately-priced by Strip standards, with nothing on the special menu costing more than $16.
The menu features starters like pot stickers, dumplings and Indonesian corn fritters, "Cut Rolls," entrees like a grilled chicken salad, chicken fingers and sliders, and desserts like a dark chocolate brownie, a fruit bowl and a warm chocolate chip cookie for which we will be returning soon.
One of the more appealing features of the Encore Player's Club is that one can do the aforementioned hanging out at the touchscreen tables, order food and drinks, and then step over to the craps or blackjack tables. It's sort of like your house would be if you had a full-sized craps table in your house. Which we're going to someday, mark our words.
Encore Player's Club doesn't officially open until Jan. 6, 2015, so for now it's free to occupy the tables. Word is there will be a $100 minimum for the tables once the area is officially open, which won't be too difficult to hit if you order a few drinks and menu items.
The staff at Encore Player's Club were exceptionally friendly and helpful. The casino staff were especially outgoing, seemingly relaxed being in such close proximity to a place intended to invite chillaxing.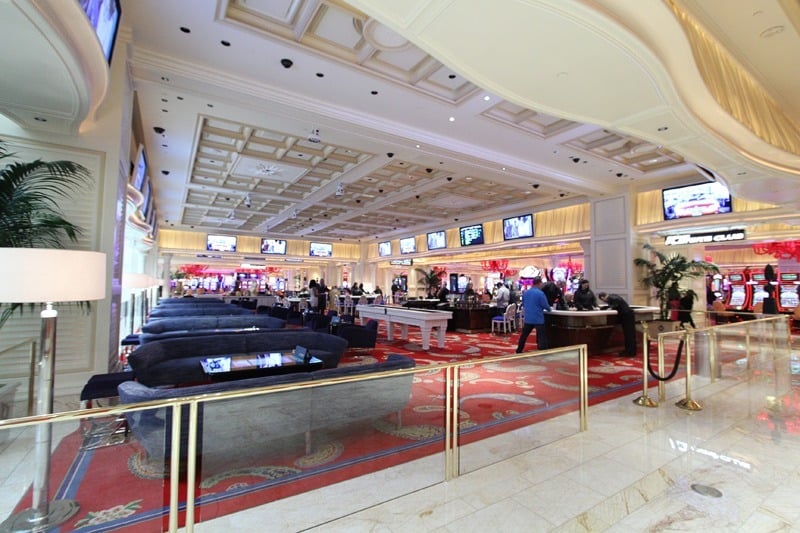 On the casino side, the tables have surprisingly reasonable table limits for a Strip casino of Encore's caliber. Blackjack had $15 minimums, craps was $10, as was roulette.
Overall, we found Encore Player's Club to be an unassuming, welcoming place to relax and enjoy a great hotel-casino. Bonus points for them not freaking out about us taking photos.
Encore Player's Club is touted as being the first of its kind, which is only true if you're not aware many of its offerings have been tried elsewhere.
SLS Las Vegas, for example, has a lounge in its casino, near its Center Bar. Rio Las Vegas has had Microsoft Surface tables in iBar for some time now. The Cosmopolitan has Millennial-friendly common area with a pool table. Lavo Nightclub at Palazzo recently opened a gambling area, Lavo Casino Club. Slots-A-Fun at Circus Circus has pool tables and foosball in the middle of its casino floor.
Still, Encore Player's Club is just different enough to warrant watching. The challenge for casinos is to try and capture younger guests who may not see gambling as the main reason they visit Las Vegas resorts. Encore Player's Club is sort of a bridge between nightlife and gambling, and we'll be back despite liking only one of those things. (Hint: It's the one that doesn't involve cochlear damage.)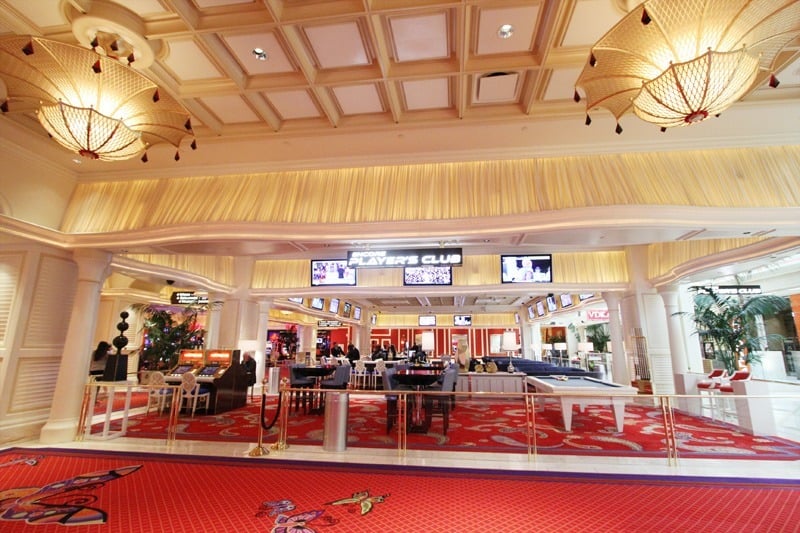 Encore Player's Club is open Monday through Sunday, 8:00 p.m. to 4:00 a.m., with extended hours on game days. The touchscreen tables are on at other times, so stop by and check them out. You can get the signature cocktails on the Encore Player's Club menu anytime at VDKA bar, by the way.
A final insider tip: To get the most out of your Encore Player's Club experience, be an attractive woman. Staff will often give drink tickets to attractive woman to keep them lounging, which in turn draws men, often the big spenders at the tables.
If you swing by Encore Player's Club, let us know what you think. Tell them the blog with the uncanny shuffleboard skills sent you.