Eiffel Tower at Paris Las Vegas Gets Light Show
The Eiffel Tower at Paris Las Vegas boasts some new bling. And, yes, we're fully cognizant of the fact people haven't used the word "bling" since 2008. You get the idea.
The Strip resort spent about $1.7 million installing lights on its Eiffel Tower replica in honor of the casino's 20th anniversary.
The light show was unveiled with the requisite hoopla on Feb. 27, 2019, despite the fact the resort's anniversary isn't until Sep. 1. Paris opened on that date in 1999. Never let facts get in the way of a perfectly good hoopla!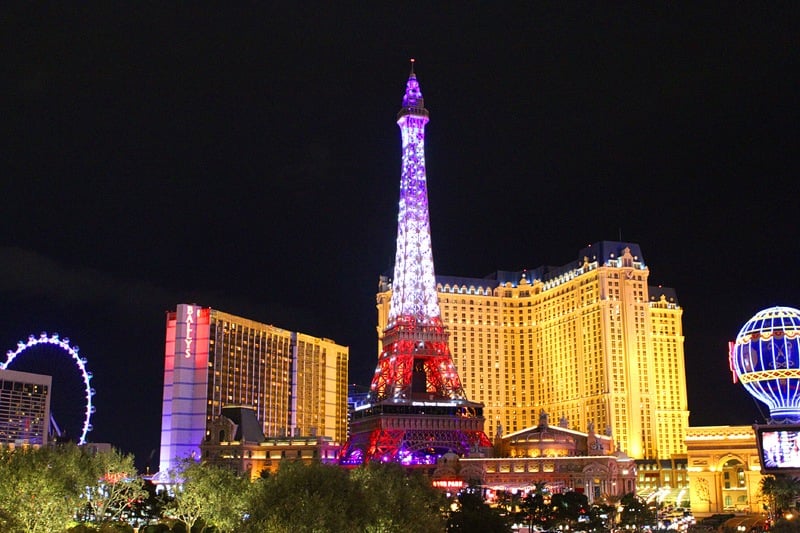 The new light show runs every 30 minutes, from sunset to midnight.
The lighting system features "300 color washing Traxon ProPoint Wall Washer luminaires and more than 800 Traxon ProPoint Pixel luminaires." In human words, that's 300 colored lights and 800 strobes.
The lights are programmable and come in four colors (red, green, blue and white).
Check out our spectacularly slapped-together video of the new Eiffel Tower light show at Paris Las Vegas.
While the music in our video syncs with the light show, we aren't entirely sure music accompanies the show at Paris. The best view of the light show is across the street at Bellagio, and they have their own music going to accompany the dancing fountains show.
And while we're on the subject, it's fairly obvious the Paris light show is meant to pull tourist eyeballs back across the street from Bellagio.
We've often talked about how surprising it is Bellagio's Conservatory is still free, given trends toward casino cost-cutting, so it's refreshing to see Paris creating a new free "attraction" for Las Vegas visitors.
The Eiffel Tower light show may not have the "wow" factor of the fountains (nothing does, really), but it's a fun diversion and makes the most of a distinctive Las Vegas landmark.