Dream Hotel Construction Ramps Up on The Strip
The Dream lives as construction of this new Las Vegas resort is picking up steam near the Las Vegas airport.
This is a unique hotel project, so we had to stop by, as we're sure to do obsessively until Dream Las Vegas opens in late 2024.
We've got some pics of this Las Vegas dream in progress.

The groundbreaking for Dream was held back in July 2022, but there hasn't been much to report in the intervening months.
Now, there's lots of activity, much of which we would describe in detail, but we are a blog, not a general contractor, so, we'll just share photos and fake our way through the rest to keep the photos from slapping together.
Dream is set to cost about $550 million and will have 531 rooms, seven "experiential dining and nightlife venues" and a 20,000-square-foot casino.

Dream sits on The Strip next to the aforementioned airport, in between the Harley-Davidson dealership and Pinball Hall of Fame (formerly located on Tropicana Ave.).
As we were the first to report, there was a smidge of drama when the beloved Pinball Hall of Fame opened, as a surveyor error resulted in the popular attraction encroaching upon Dream's site by eight feet. The kerfuffle was averted and the parties settled the matter amicably.
We can't think of a better place to spend one's time following experiential dining than the Pinball Hall of Fame, overflowing with hundreds of playable classic pinball and arcade games.

The foundation of Dream Hotel has been laid, and there are lots of rebar-laden things sprouting up from the site.
McCarthy Building is the design-builder contractor for the Dream project, and these folks don't mess around.

Here's how Dream is described officially: "The 20-story luxury hotel tower will feature a diverse mix of dramatic venues distributed vertically throughout the composition roof decks and terraces of the hotel design. The undulating contemporary design will feature a lustrous glass and metal facade, boasting stylistic details such as radiused corners, spacious double-height terraces, oversized windows and a unique aerodynamic character influenced by its context. When complete, Dream Las Vegas and its distinctly iconic architecture will introduce a refreshing, new lifestyle-focused hotel experience and an innovative and welcome addition to the Las Vegas skyline."
It appears at least one of the restaurants at Dream Las Vegas will serve word salad.
Despite not knowing what anything in that description means, expect to see some serious progress in 2023.

There was momentary concern when it was announced in November 2022 that Dream Hotel Group was purchased by Hyatt Hotel Corp.
We got a little jumpy that Hyatt might have other plans for its money, and the Dream Hotel might be cast aside like stilettos after a night of clubbing.
Nope. Hyatt confirmed it will proceed with Dream Las Vegas, saying, "Signed contracts represent additional strategic destinations including Las Vegas, Saint Lucia and Doha. Dream Hotel Group founder Sant Singh Chatwal will continue his commitment as an owner of four open and two future hotels that are expected to join the Hyatt portfolio."
Sad trombone averted! Las Vegas has enough of those. (Looking at you, All Net Resort.)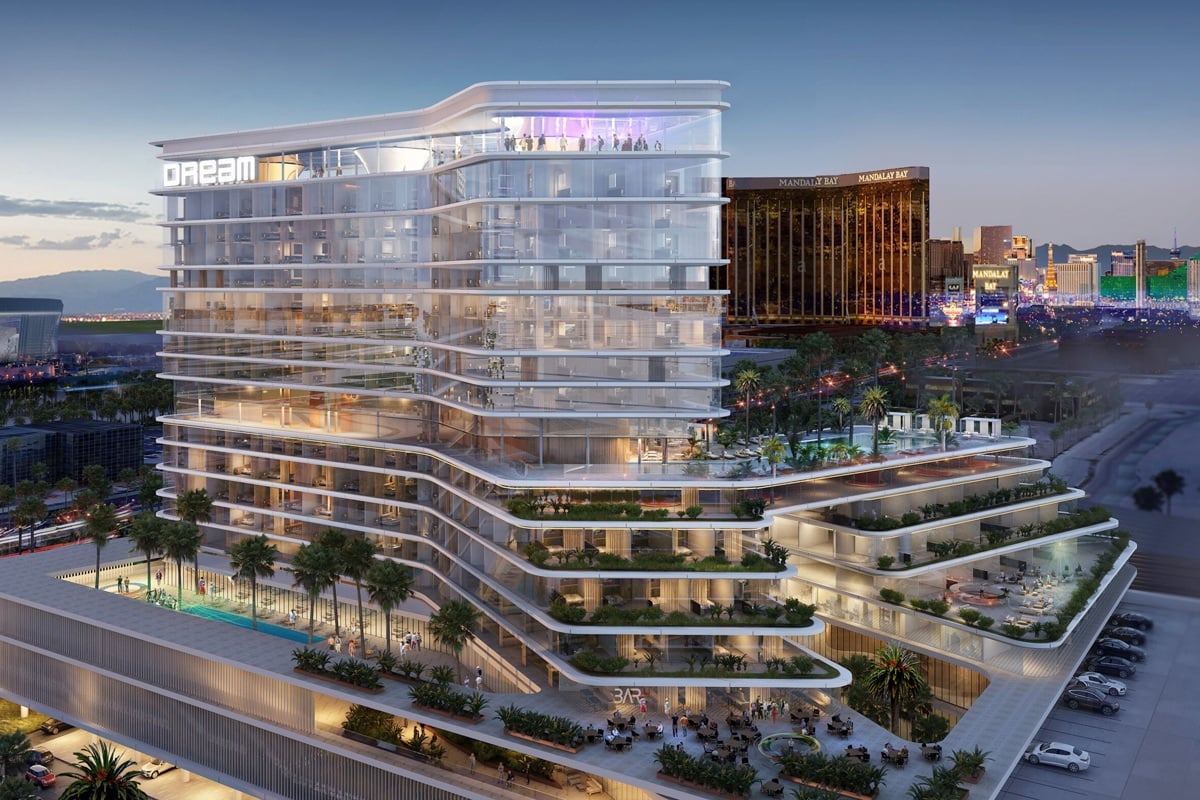 Dream is one to watch, as it's a one-off resort, not part of the big corporate casino company offerings that dominate The Strip.
The renderings are beautiful, and we have no doubt McCarthy will fulfill on the design vision.
We snagged a metric hell-ton of floor plans for Dream, so you'll want to check those out to get a better feel for what will go where.
Dream Las Vegas was originally scheduled to open in 2023, but that's been pushed back a smidge. We blame everything on supply chain issues now, including erectile dysfunction and our recent video poker royal flush drought.
You know we'll keep our finger on the pulse of Dream Las Vegas as it springs to life over the coming months, so there's much more new and shiny to come.