Breaking: Free Resorts World Parking Still Free (With an Asterisk)
Resorts World has updated its parking policies, but we're here to tell you it's not kerfuffle-worthy.
Free parking at Resorts World remains free, there's just a new caveat: If you want to park free, you have to join the casino's Genting Rewards loyalty club.
The new rule went into effect Jan. 4, 2023.
Parking is $10 for those who aren't in the loyalty club.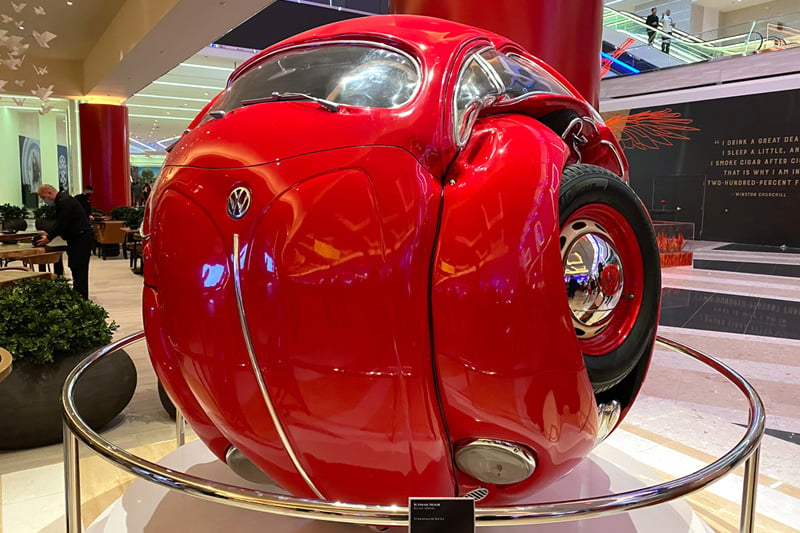 Whenever you visit a casino, you should join the loyalty club, anyway.
So, this isn't really news, but we're writing about it, anyway, possibly because you're one of those people who doesn't know where to park and think Resorts World's parking garage is a mile away from the casino, which it isn't. Keep reading, for once, if you are one of those people.
When Resorts World opened, it appeared the Strip resort would charge for parking as all the infrastructure for paid parking was in place.
Thankfully, cooler heads prevailed, and self-parking was free.
Valet parking is $25, but we're talking about the self-parking here.
Lots of people went to Resorts World and immediately started complaining that the parking garage is a long walk from the casino. That's because not everyone reads this blog, sadly.
Early on, we gave you the skinny about where to park at Resorts World. Let's do it again. Here's the key to where to self-park at Resorts World.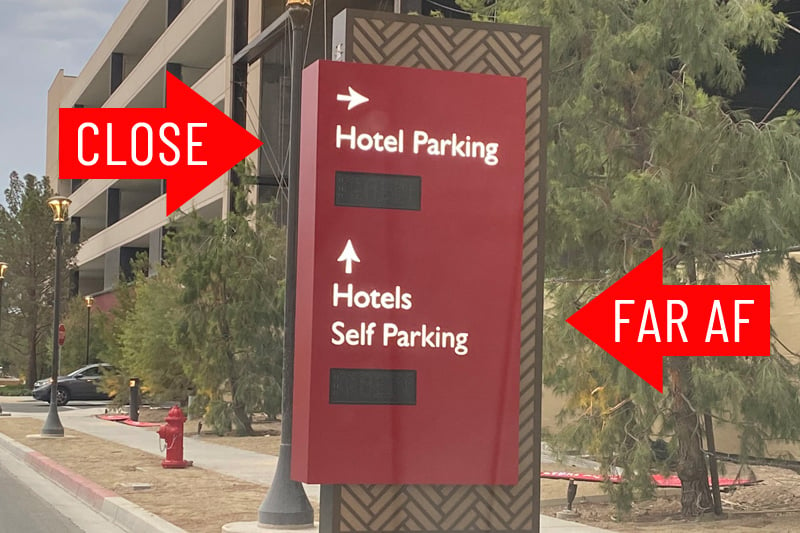 If you park in the right lot, the elevator drops you right into the casino (near Dawg House Saloon and the showroom).
It's worth noting, free parking at Resorts World may not be free if there's a special event happening in the neighborhood, like at the Las Vegas Festival Grounds.
We are a big fan of Resorts World. It's gorgeous and feels fancy without being pretentious. The art is amazing and there are lots of great food options, including an Asian-themed food court. We shared lots of photos when Resorts World opened.

We'd visit more often, but Resorts World has some of the tightest slot machines in Las Vegas, and we like to make our gambling dollars last as long as possible before waving "goodbye" to them. We love all the other parts of Resorts World, however.
Props to Resorts World for keeping its parking free, despite the new "asterisk" of having to sign up for Genting Rewards to get free parking.
Even if you decide to pass on joining the loyalty club, the $10 flat fee is much less expensive than most Strip casinos.
Joining a loyalty club is a small price to pay (it's free to sign up) for free parking, and you should always try and get the most out of your gambling dollar. Yeah, that should probably be plural.
The Strip still has a number of casinos where parking is free (or mostly free), including Tropicana, TI, Venetian and Palazzo, Casino Royale, Circus Circus, The Strat, Wynn and Encore, in addition to Resorts World.