Cosmopolitan's Two Kick-Ass New Offerings: Clique Lounge, Race & Sports Book
Already one of the most popular and appealing resorts in Las Vegas, Cosmopolitan continues to unveil new offerings. Most recently, Cosmo opened Clique Bar & Lounge, followed by a new Race & Sports Book.
We've got all the scoop, as well as so many photos the world may soon experience a pixel shortage.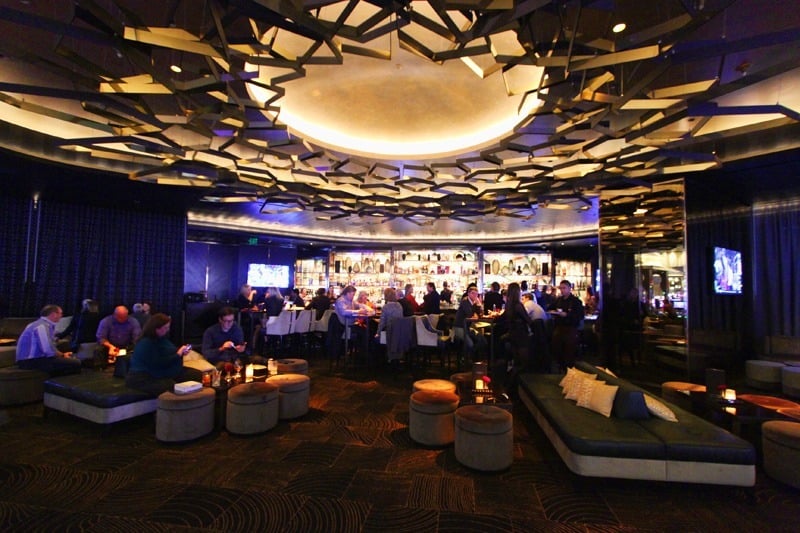 Clique Bar & Lounge was created in partnership with Clique Hospitality in the space formerly occupied by Cosmo's Book & Stage.
The lounge's interior is understated by Las Vegas standards, managing to feel upscale without being ostentatious, exuding a vibe welcoming even to those who may not love the more pretentious aspects of Sin City's nightlife scene.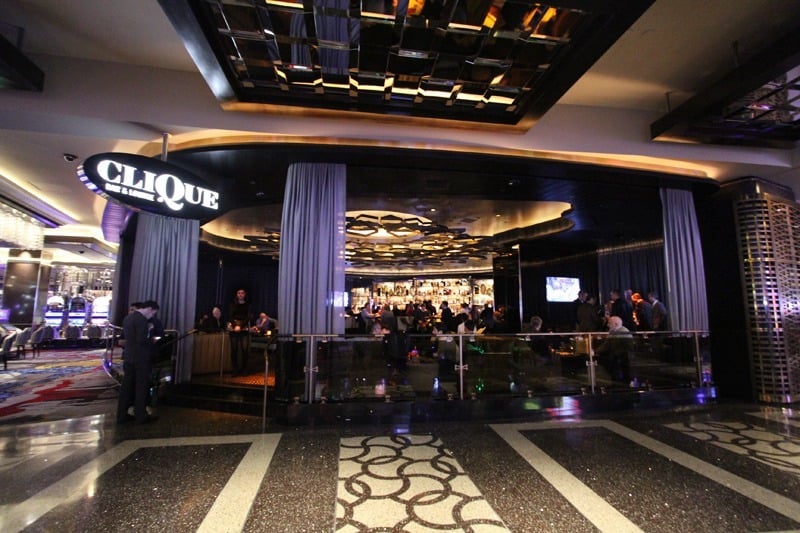 Clique (pronounced "click," not "kleek," by the way) is a lot about the exceptional cocktails and serious mixology, a claim made by most, if not all, Las Vegas lounges and bars.
Clique fulfills its promise, making it a stand-out in a town famous for its innovations in the realm of libations.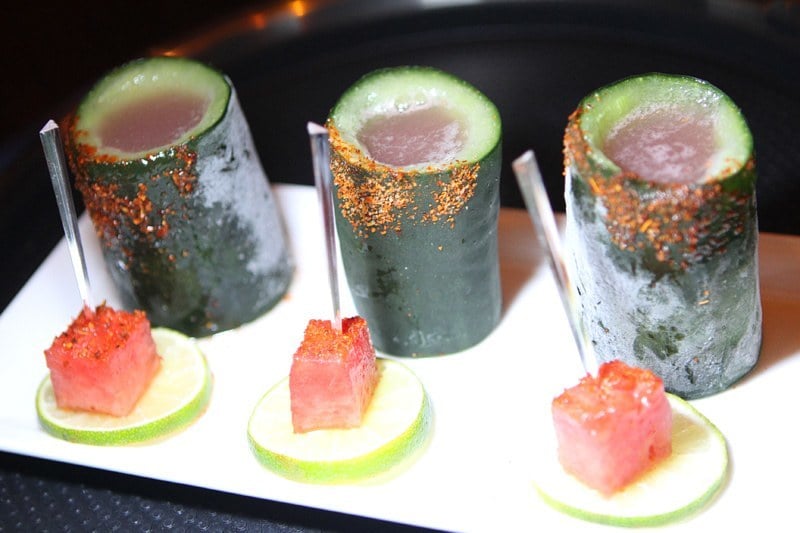 Bargain-hunters may feel a bit of sticker shock at Clique, but $18 specialty cocktails are quickly becoming the norm on the Las Vegas Strip.
Ultimately, that's not the price of a cocktail so much as the price of an experience, and Clique delivers one guests are unlikely to soon forget.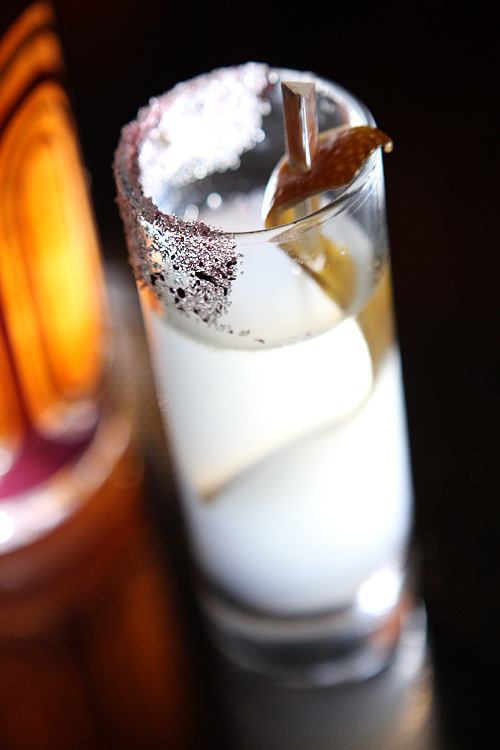 Some of the more remarkable cocktails at Clique are prepared tableside by expert bartenders. Sorry, mixologists. It doesn't matter what you call them. They facilitate the happy.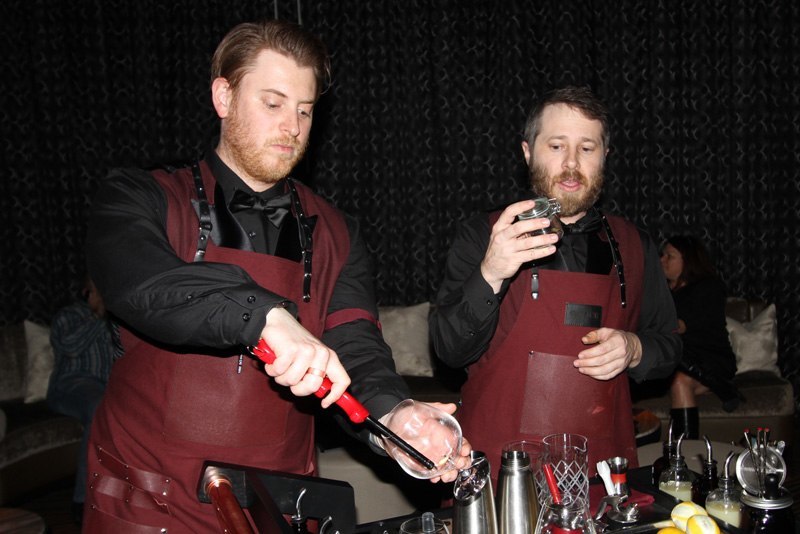 Each cocktail presentation is more dramatic than the last. The tableside cocktails break down into three groups: Barrel Smoked ($30), Table Infused ($25) and Caramelized ($25).
One of the more entertaining presentations is for the Bow Street Banana, which includes capturing smoke in your glass. It's hard to explain. Just go with it.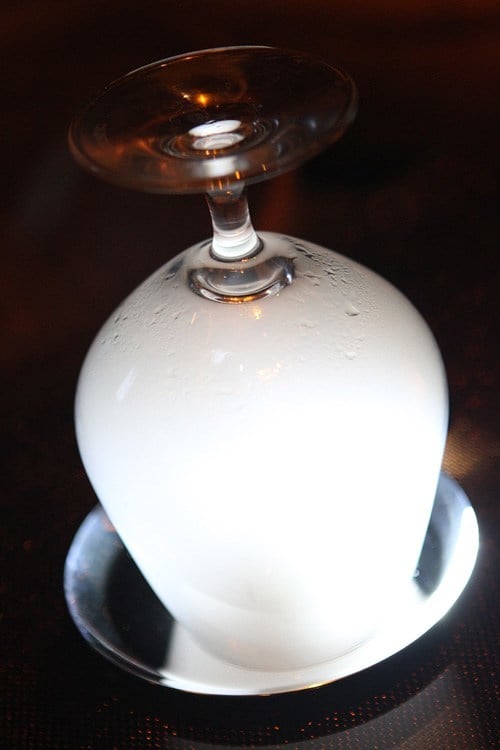 Please note there are some rules around these tableside cocktails, including the possibility there may be a one drink minimum for each person in your party. At $25 to $30 a pop, that can add up.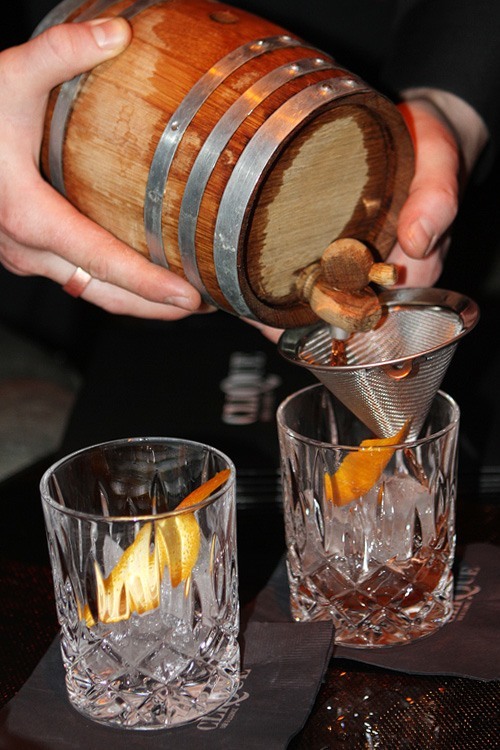 Here's the full menu for Clique Bar & Lounge.
A delicious diversion at Clique is the other menu, the food, or "Table Snacks." Food is served from 5:00 p.m. to midnight.
Recommended are the Pizza Pockets ($14) and Mini Sliders ($18), the perfect complement to your drink of choice.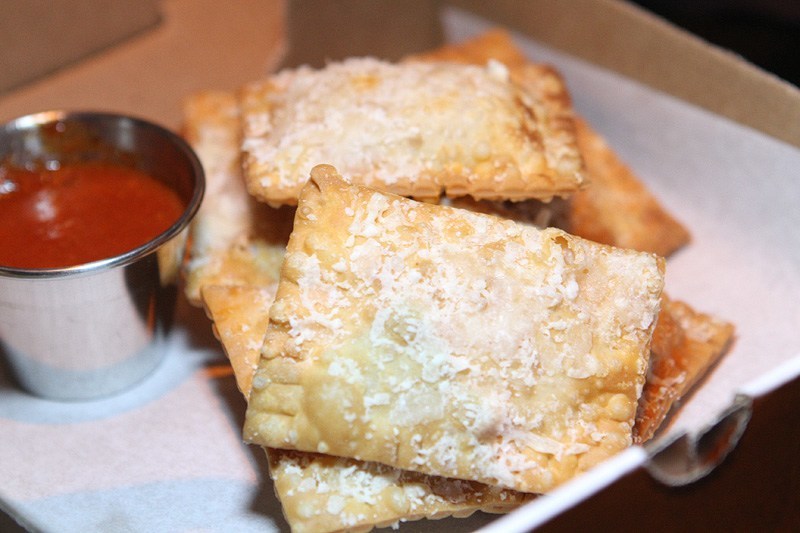 You won't want to leave Clique without having the heavenly Deep Fried Oreos ($9) with vanilla anglaise sauce.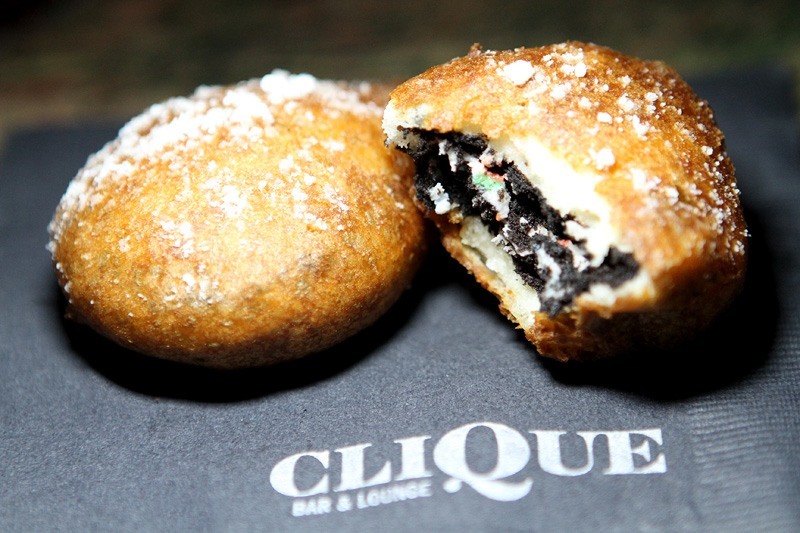 The staff at Clique is as memorable as the beverages and food.
The bartenders all appear to be models, and that also goes for the cocktail waitresses. The team at Clique seems to be able to balance good genes with a high degree of menu knowledge and ability to hold a conversation.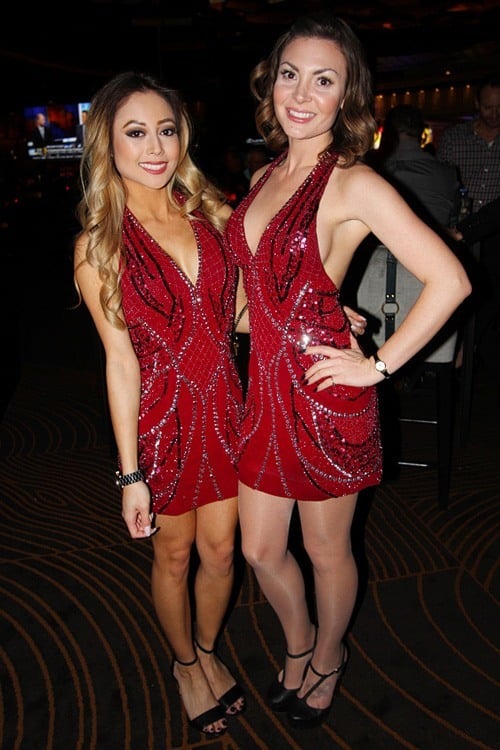 Here are more photos from Clique Bar & Lounge at Cosmopolitan Las Vegas.
Clique Lounge at Cosmopolitan
But wait, there's more! It's Vegas, after all.
Also new at Cosmopolitan is a sparkly new Race & Sports Book. Even if you're not all that into races or sports (we aren't), we suspect you'll find this new venue enticing (we did).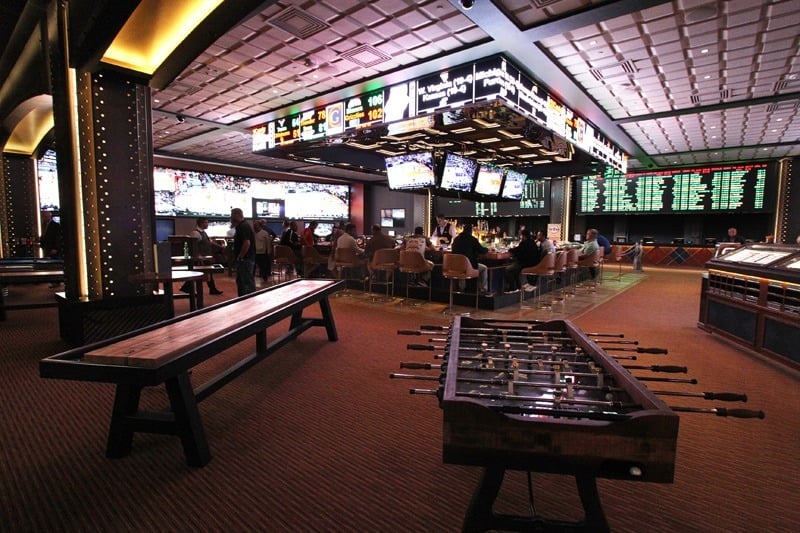 Cosmo's new Race & Sports book has a lot to love, including comfy chairs, an epic hell-ton of TV screens, and even some Millennial-friendly games like tabletop shuffleboard and pool.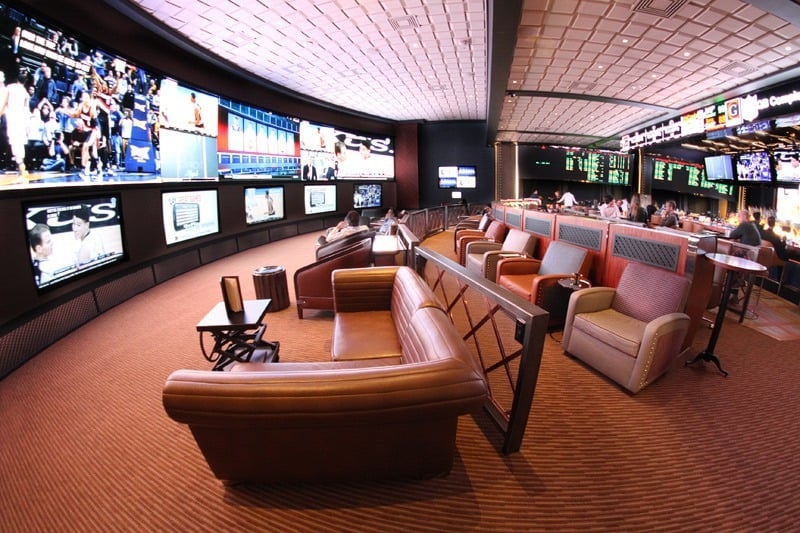 Social spaces with non-revenue-generating games are a thing in Las Vegas at the moment, so cut them some slack.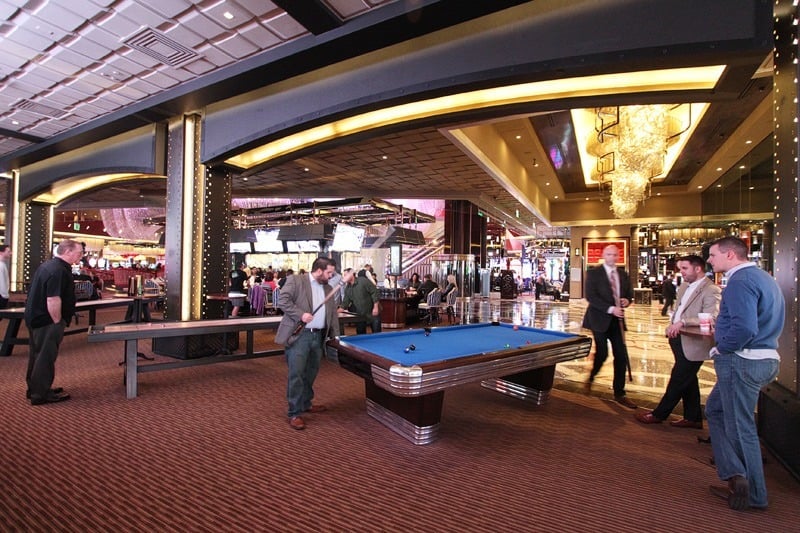 Near the Race & Sports book is a collection of table games, the kind that actually make casinos money.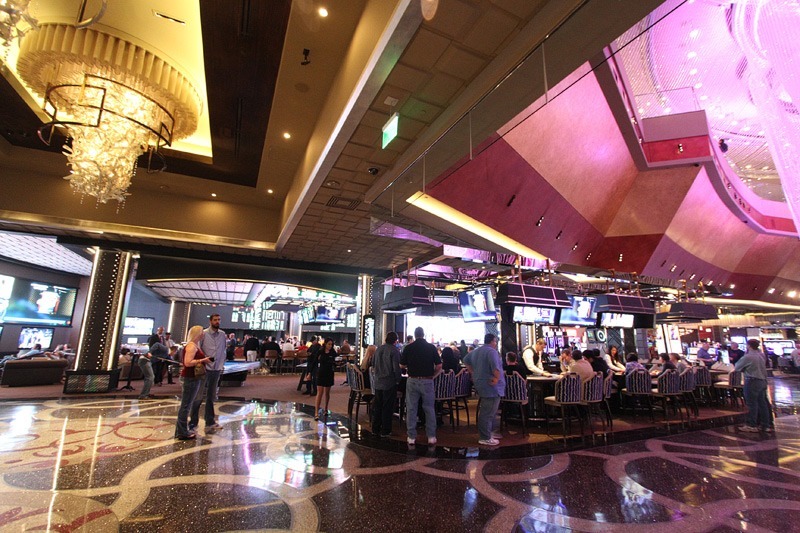 The new Race & Sports Book is just inside the Cosmo's Las Vegas Boulevard entrance, near Chandelier Bar. Which we swear we're not just mentioning so we have an excuse to share this photo we took.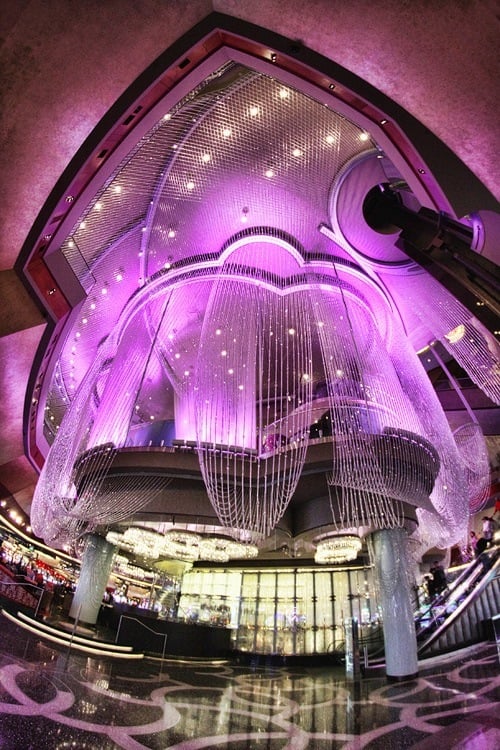 There's still some construction going on in the adjoining Lucky Cat space. That'll be a small Starbucks in time.
Cosmopolitan's Race & Sports Book has its own specialty cocktails and food items, several of which can be seen in the photo below, because we're all about giving you the tools you need to get the most from your Las Vegas sojourn. The legal ones, anyway.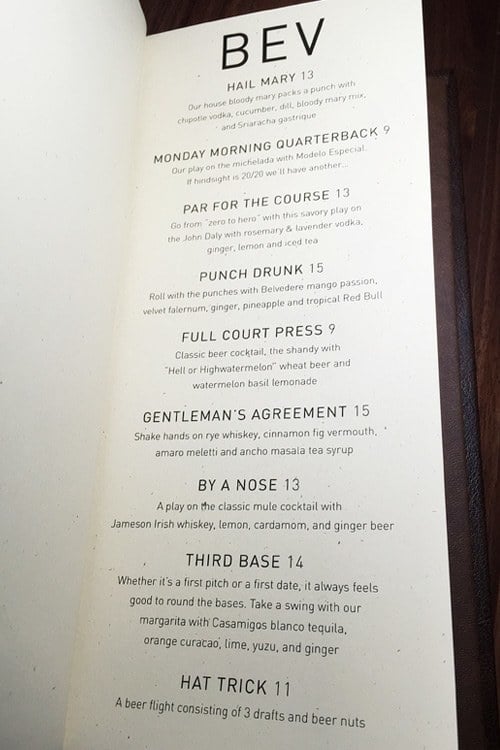 The Race & Sports Book at Cosmopolitan has a little something for everyone, and it's well worth a stop.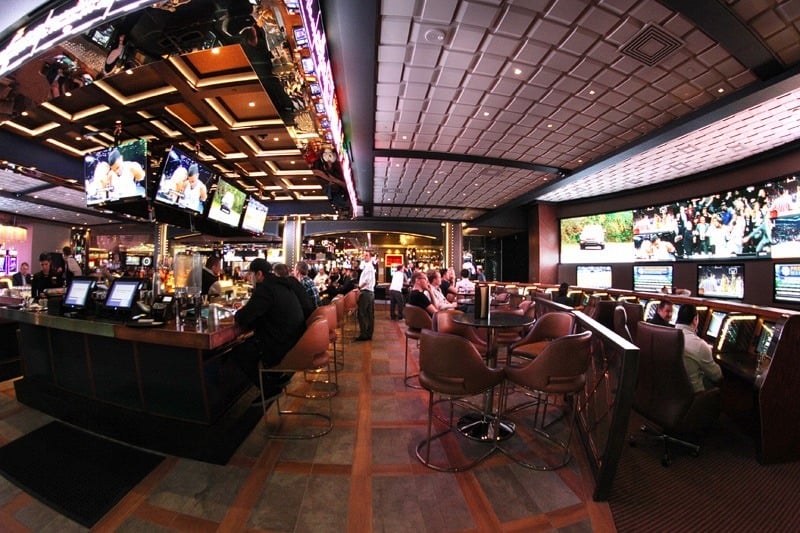 Both Clique Bar & Lounge and the Race & Sports Book are wins in our opinion. Along with the casino's renewed focus on gamblers, Cosmopolitan Las Vegas remains one of our favorite places to drink, play and people-watch. Let us know what you think.
Cosmopolitan Race & Sports Book