Circa Named Best Casino Resort in U.S. for Third Straight Time, Here's Why
At this year's Global Gaming Awards, Circa Las Vegas was named "North American Property of the Year" for the third straight time.
It's incredible how certain organizations manage to make something so exciting sound so boring. "Gaming" is the boring form of "gambling," and "property" is the boring form of "casino" and "North America" is the boring way of saying "in the world."
No matter how you say it, Circa kicks ass and there's a reason it's our favorite Las Vegas casino. Reasons, plural. Now seems a good time to share some of those reasons. Let's go.

First, we should say the Global Gaming Awards are legit, meaning you can't buy a nomination or award, and it's not a money grab, as far as we can tell. (Looking at you, "Best of Las Vegas" awards.)
The awards are given by two industry publications, Gambling Insider and Gaming America.
According to the official awards site, "A panel of over 100 C-level executives from the industry decides the winners, with KPMG in the Crown Dependencies independently adjudicating the voting process to ensure full transparency and fairness."
In short, Olive Garden doesn't win "Best Italian Restaurant in Las Vegas."
On this page of the Global Gaming Awards Web site, you can see all the judges, most of whom spent way too much on their headshots given the results.
We can't completely vouch for these awards, because their awards ceremony has a bit of a Golden Globes vibe, the biggest difference being the Hollywood Foreign Press Association spends more than $30 on audio equipment. Here's video from the awards event, the Circa part starts at 48:50.
That said, they got Circa's award right, despite the truly random group of nominees, most of which we've never heard of and would never visit unless it was to rescue a puppy from a burning building.

It's worth nothing Wynn won for "Land-Based Operator," but we don't really know what that means, so we're sticking to the place where we go four nights a week.
Here are 10 reasons Circa deserves this award, and you will not find these in the news release or in stories by other news outlets copying and pasting from the news release. We live at Circa, so we know of what we speak.
1. The owner built Circa for himself.
The reason Circa is great is because its owner, Derek Stevens, built the place exactly the way he wanted it. (His brother and co-owner, Greg Stevens, prefers to give Derek Stevens the limelight.) Derek Stevens loves socializing and sports and drinking and gambling, so he and his brother spent $1.156 billion making Circa a place perfectly suited to those with Derek Stevens' same passions. The dude sits at the end of the casino bar, Megabar, most nights and schmoozes with guests and his team. There's no Board of Directors. Stevens listens to guests and when he sees problems, he fixes them. Circa is the best-maintained casino in Las Vegas. Derek Stevens loves a party, so he created a party that never ends at Circa.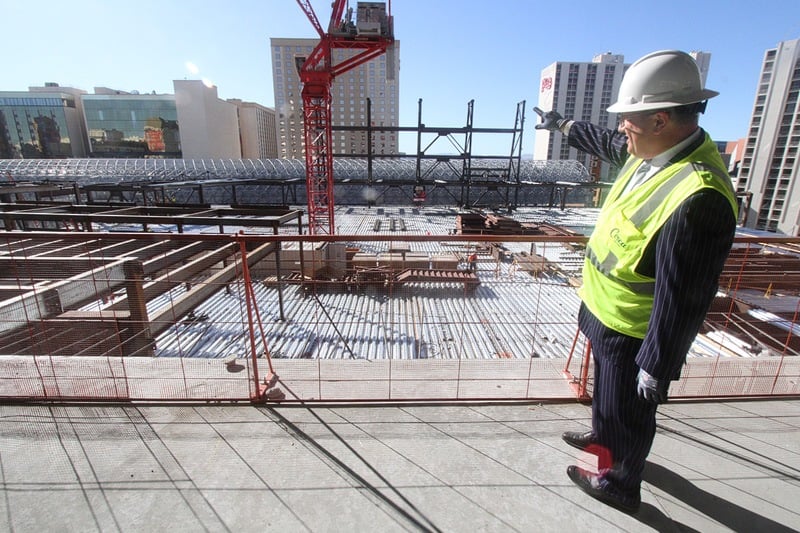 2. The ventilation system.
Through some ingenious engineering, the A/C at Circa isn't pushed down, it's sucked up. That means smoke doesn't linger, and the result is as glorious as if Circa were non-smoking.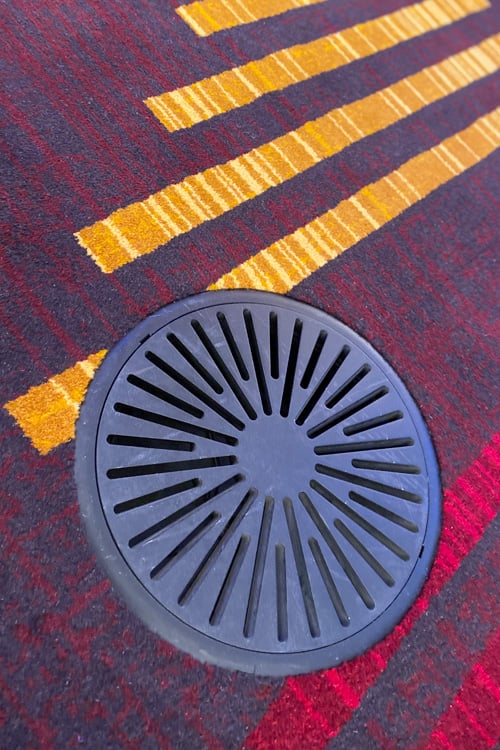 3. The loud music.
We hate loud music, but love Circa, which has very loud music. We can't explain it. We love Circa's high limit slot room, and the sound is muffled there, so it's possible the music volume is a clever trick to get us to gamble more. There's no denying the music gives Circa an energy that isn't easily replicated (although Circa's sister casinos, Golden Gate and The D, come closed). If booming music isn't for you, Circa might not be, either. It grows on you, especially when you understand the music isn't just intended for guests, but also the casino's dancing dealers.
4. The dancing dealers.
Circa knows its customer, which skews male. There are dancing dealers at Golden Gate and The D, but the A-team is reserved for Circa, all due respect. The simple fact is beautiful dealers and dancers encourage players to play longer. Is it sexist? Probably. Is there objectification? Of course. If you're hyper-sensitive to these things in Las Vegas, you may have chosen the wrong vacation destination. Sex sells. Always has, always will.
5. The bartenders.
The bartenders at Circa are the engine that drives the party at this downtown casino. Many do flair, and to a person, they're some of the most affable and friendly folks you'll meet in any Las Vegas casino. Yes, they make a lot of money, but you never get the impression they're punching the clock. They're having as much fun as guests are, and are guaranteed to turn your bad mood around with a joke, a bar trick and a generous pour.
6. Long pours, no guns.
We weren't kidding about the long pours. Circa bartenders hold all the power when it comes to how strong your drink is going to be. (We even saw one using a clever trick with a bottle pour spout to give a short pour when customers are jerks.) One of our biggest pet peeves is casinos what switch out liquor brands with generic booze to save money. Circa doesn't use liquor guns at its bars, so what you see is that you get.
7. The fried rice.
We don't talk about it much, but one of our favorite things about Circa is a certain fried rice at a certain restaurant called 8 East. The brisket fried rice at this eatery owned by the owner of Le Thai on Fremont East, Dan Coughlin, is the best dish in Las Vegas, especially when chicken skewers are mixed in. We order it so often, it's called the "Vital Vegas" in the restaurant's point-of-sale system, an honor even greater than winning a Global Gaming Award.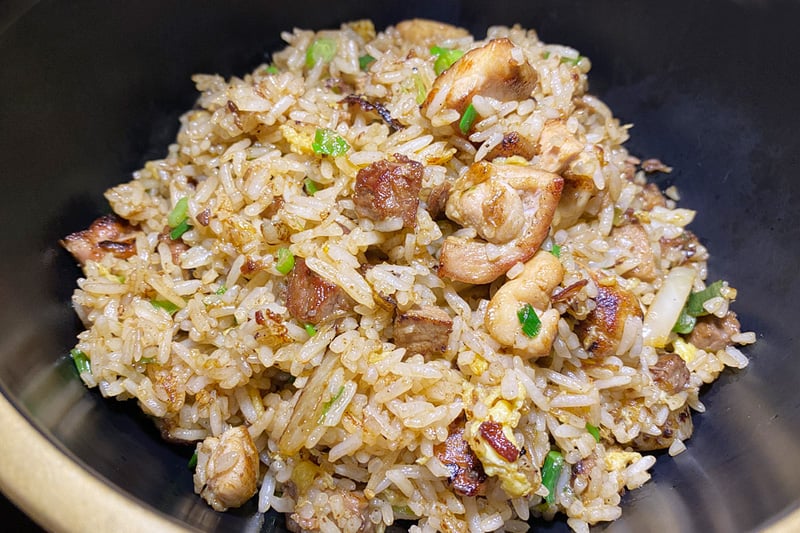 8. Places for cups.
When you go to an ATM at Circa, there's always a little shelf nearby to rest your drink. That may not sound like a big deal, but it's illustrative of the painstaking detail that went into designing and building Circa. Every granular aspect of the customer experience was considered and refined. Many such amenities are invisible to most guests, but if you know, you know.

9. No kids.
Children are wonderful, everywhere but in casinos. Circa understands this concept, so Circa is for adults only. There's a minor loophole for Barry's Prime restaurant, but nobody really takes advantage of it. No kids. No kids at the pool. No kids in the restaurants. No kids anywhere. It's glorious. No strollers. No screaming. No diapers or drool or snot. Take the little bastards out to Fremont Street where children belong! (Note: I.D. checks have an added benefit. They help keep out troublemakers and deter crime.)
10. Vegas Vickie.
She's neon perfection and she almost ended up in a dumpster. Vegas Vickie was a Fremont Street fixture for years, and when the Stevens purchased the block where Circa now resides, she was looking rode hard and put up wet. There were years of pigeon droppings inside her, and it appeared all was lost. Nope. The Stevens rescued her and renovated her and now Vegas Vickie is a centerpiece of the casino, a spectacular monument to Las Vegas art and history. The Stevens could've made a replica for a fraction of the cost of a refurbishment (one of the Stevens initially voted for that course of action), but they dug deep and brought an icon back to life. She's one of the must-see photo ops in Las Vegas, and will be for as along as Circa stands.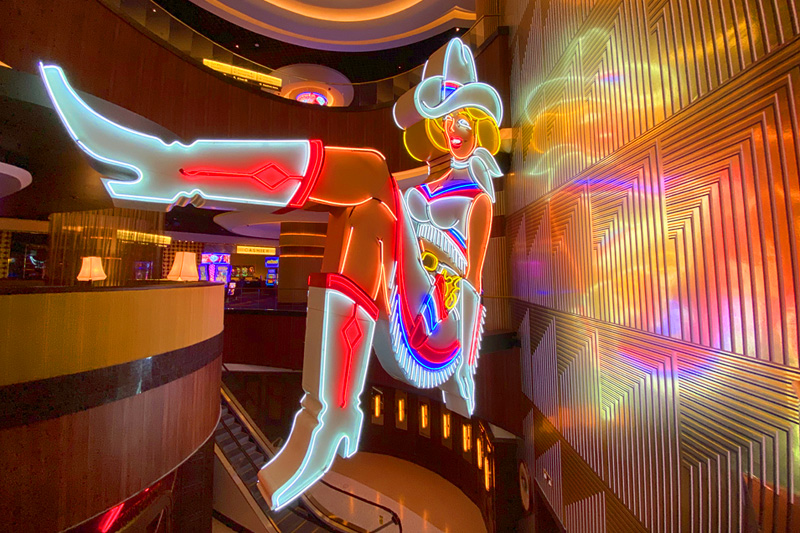 There are a lot more reasons to love Circa, but everyone else can tout the world's largest sportsbook and Stadium Swim and the views from Legacy Club, which we can't get into because of the dress code.
Oh, there's also the gold bars in Legacy Club, and busts of casino luminaries.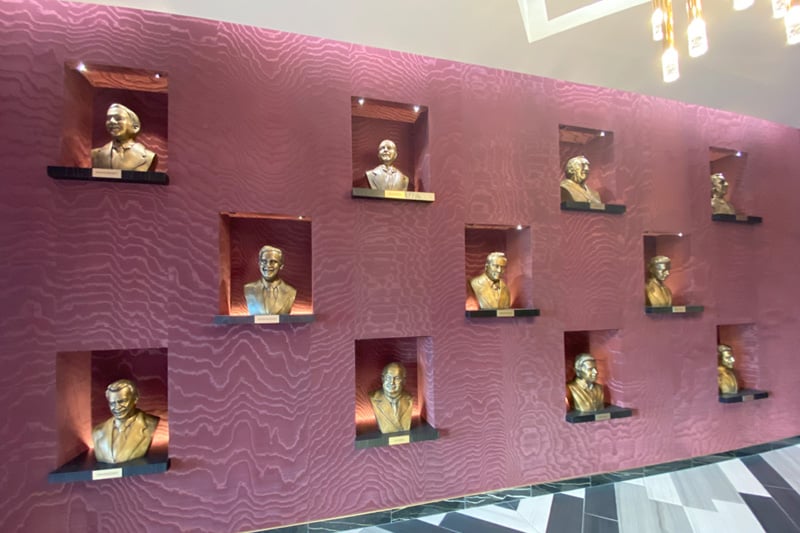 There's a bunch of other solid restaurants we haven't even touched upon, mainly because they haven't named a dish after us.
There's some convention space, and the rooms are popular (we've never stayed there, but haven't heard any complaints) and the alleged sex workers at Circa's bars are always very friendly and charming.

And did we mention Circa was built for rideshare and one can eat off the floor of the parking garage, Garage Mahal? We are not making this up. They named the parking garage.
Oh, and the loyalty club dining credits and free play are very generous.

If you're looking for things to do at Circa, we compiled a list of 69 of them.
There's a lot more. We don't exactly know what criteria the Global Gaming Awards used to determine Circa is the best whatever in North America or whatever, but we can attest to its being our go-to casino in a town with a multitude of incredible places to play and eat and get catch phrases from bartenders like Chris, who once said, "Vital Vegas is the juice and the squeeze."
Here's more, and see you at Circa.