Checking In on the Downtown Las Vegas Archway
YESCO is making quick work of the downtown Las Vegas welcome archway. We snagged some progress pics on Aug. 19, 2020.

By the time you read this, the arches will have connected, but we figured it was worth sharing these for posterity.

The archway is at the foot of The Strat. That's the tall casino with the thrill rides at the top.
Guests drive through the legs of the new archway to enter the porte cochere (a fancy term for "entryway") of The Strat.
Here's the view from valet.

The completion date for the welcome archway is Aug. 28, 2020. YESCO doesn't mess around.
If you're ever asked why YESCO is capitalized, reply, "None of your business."
If you're every asked why YESCO is capitalized as part of a bar bet, answer, "It's an initialism. YESCO stands for Young Electric Sign Company."
YESCO is the same company that renovated Vegas Vickie for her return to Circa Las Vegas, so they're permanently on our good side.

There's a lot involved with this seemingly straightforward archway. We got all up in its business to illustrate.

The downtown welcome archway is about 80 feet tall. Or 82 feet in heels.
All told, the arch will cost about $6.5 million. Which is a total bargain if you consider the St. Louis Arch cost $13 million back in 1963. That's about $110 million in today dollars.
Here's another look at what the finished product will look like.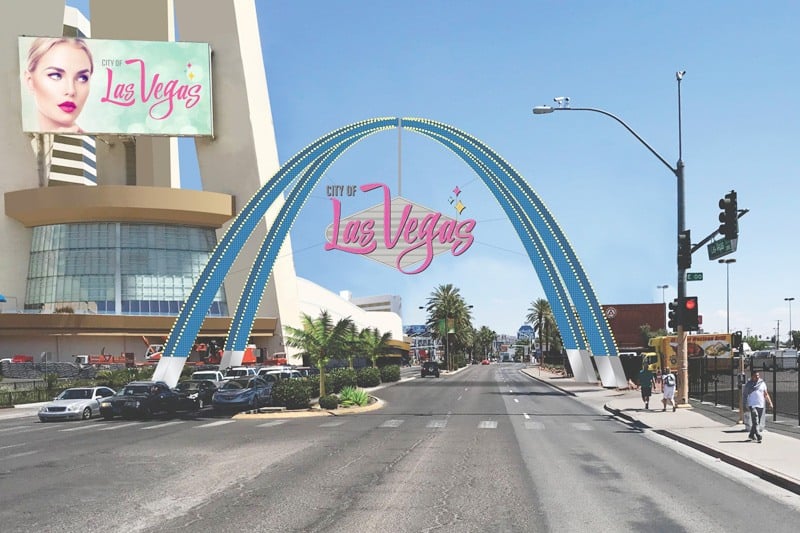 We're about a week away from the completion of this new downtown photo op, so check back to see the finished product.