Pinball Hall of Fame's New Strip Location Takes Shape
The Pinball Hall of Fame is one of the most beloved attractions in Las Vegas, and fans of throwback arcade games will soon have a new place to plunge, flip and bump.
It sounds dirtier than it really is.
Here's a look at the construction underway at the new Pinball Hall of Fame on the Las Vegas Strip.

The new Pinball Hall of Fame is expected to open in January 2021.
The Pinball Hall of Fame will be at 4915 S. Las Vegas Boulevard, next to the Harley-Davidson dealership, not far from the "Welcome to Fabulous Las Vegas" sign and Mandalay Bay.

According to Pinball Hall of Fame owner Tim Arnold, "It's within walking distance of 14 of the 15 largest hotels in the world."
Here's a little walk-through, courtesy of our feet.
httpv://youtu.be/X2YJ8ygJcVQ
It's worth noting there's a five-acre lot between Harley-Davidson and the new Pinball Hall of Fame, slated for a Dream resort.
Here's today's perfunctory photo of an empty lot that might be a thing someday.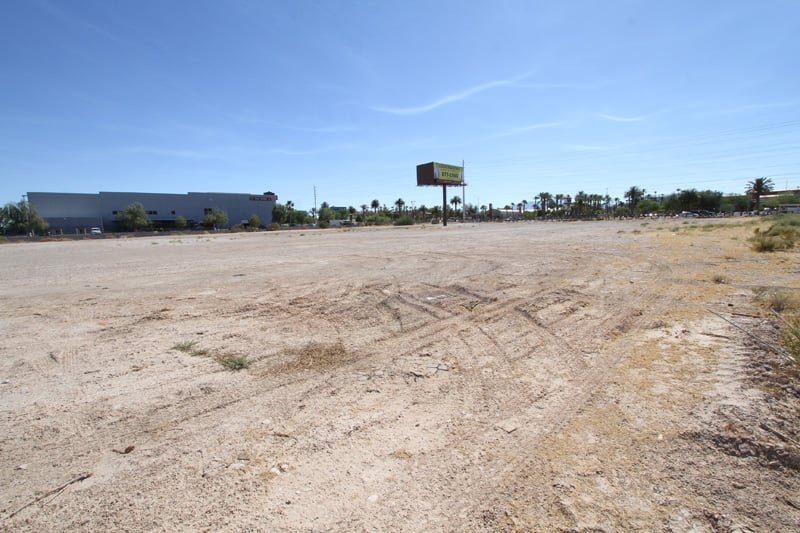 At 28,000-square-feet, the new venue will be three times larger than the current Pinball Hall of Fame, which boasts an eclectic collection of vintage and rare arcade games.
The existing Pinball Hall of Fame (at 1610 E Tropicana Ave.) is open and operating, and has about 250 games. The new Pinball Hall of Fame will have more than 700.

Many of the games being dusted off for the new location have been in storage for 30 years, so even Pinball Hall of Fame regulars can expect lots of surprises when the new location makes its debut.
Tim Arnold says there will be a lot more games from the 1940s and 1950s. "Everybody in the artwork will be wearing hats and women will be wearing dresses." Wait, that used to be a thing?
While classic machines are awesome to see and play, they're a bear to maintain.
Arnold says, "We have a dedicated staff of volunteers that both live here, and some of them fly in for periods of time, that have been fixing this stuff for years."
Arnold picked up truckloads of videogames "when the whole thing collapsed in the '80s."
"Right now, we're running things like Centipede and Pac Man, but we're going to get back into the earlier black and white games—Pong, Computer Space, Rip Off, Star Castle," Arnold says. "You can get simulations of these games on the Internet, but it's not the same as playing on a tube monitor. The flat screens do not give you the same visual experience as a tube."

We've always touted the Pinball Hall of Fame as "family-friendly," but Tim Arnold clarified.
"A lot of people think they can bring their kids, turn them loose, they can run around and have a good time and scream, we do not tolerate that at all," says Arnold. "We've offended a lot of parents by speaking to their children in a loud, firm voice."

Yeah, Tim Arnold is awesome.
We knew we'd like him when he told us, "We can do an interview, but there are two requirements. You must never refer to a 'cacophony of sound' or a 'melange of color.'" Done and done.
Clearly, this isn't Arnold's first rodeo.
Arnold also came up with the de facto slogan for the Pinball Hall of Fame: "If you can't find something to play in here you like, there's something wrong with you."

Here's a little insider scoop. As Arnold planned for a new location, he considered changing the name of the place. The proposed name: The Last Real Arcade in America.
The new venue will have free parking and be rideshare-friendly. It will also be non-smoking.
Interestingly, the Pinball Hall of Fame is a non-profit organization.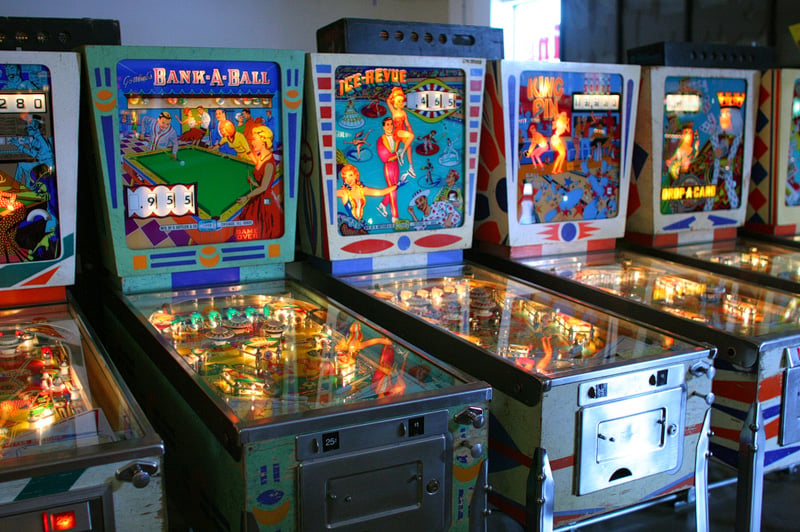 The parcel for the new location cost $4.5 million (the same lot once sold for $18 million), and the building cost about the same. All in, the project will cost about $10 million. That's a lot of quarters!
Arnold says, "The building will be mostly paid-for when we open. Our debt to equity will be under 20 percent…so, we're definitely penny-pinchers. We're going to work on paying down the debt, then we're going to get back to doing charitable work."

Construction on the new Pinball Hall of Fame has progressed despite the challenges of the COVID-19 crisis and a temporary shutdown of the Hall of Fame's original location.
As Tim Arnold puts it, "Right now, Las Vegas is flat on its ass, but it will come back."
Arnold adds, "The only reason we've been able to pull this off so far is we realize the fans of fun things count for something, and that's what we've always worked on, rather than just throwing advertising at something and hoping somebody shows up. What we're doing is being fanatical about games…we keep our prices low and our fans engaged."
We'll be watching the new Pinball Hall of Fame and expect to see our initials under "High Scores" on Asteroids when the place opens in January 2021. Hey, it's not our first rodeo, either.