Checking In On the Dollar-Suck That Is the Lion's Share Slot Machine at MGM Grand
If you don't know about the Lion's Share slot machine at MGM Grand, you should probably skip this blog post. You don't want to get sucked into its "Vortex of Allure," which, we should note, would make a great band name.
The Lion's Share slot machine has reached near-legendary status over the years. The machine was one of 50 such machines rolled out when the MGM Grand opened in 1993. Now, it's the last of its kind.
The Lion's Share is a progressive slot machine, and due to gaming regulations, the MGM Grand can't remove it from the casino until it pays the big jackpot, currently clocking in at $2,334,838.64, give or take.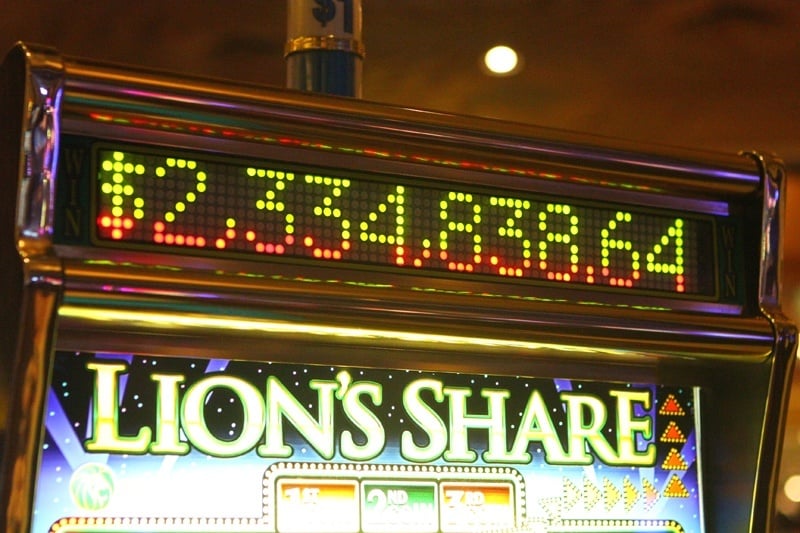 The Lion's Share slot machine sits just outside the high limit slot area at MGM Grand, and is rarely vacant.
This blog has personally invested several hundred bucks in trying to snag not only the progressive jackpot, but also Vegas immortality.
Beyond its storied history, the Lion's Share machine is unique in that the winner will get the jackpot and the slot machine itself.
The Lion's Share has become a bit of an annoyance for the casino. When it breaks, custom parts have to be fabricated from scratch. Also, there's no ticket-in/ticket-out, so every time customers cash out, they have to be paid by hand. Every time, no matter the amount.
Of course, the hand-pay thing isn't too big a deal because this machine is excruciatingly tight!
Still, few who know the story of the Lion's Share slot can pass by without making a little investment. Good luck with that.