Cheap Trick Brings Baby Residency to The Strat
The Strat picked the right resident performer in Sammy Hagar. The rocker's first string of six shows sold out quickly.
Now, The Strat is teaming up with Cheap Trick for a series of shows in 2022 and possibly beyond.
The initial dates for this mini-residency are Feb. 25-26, March 4-5, 2022.

The shows will feature the band's hits, of course, including "I Want You to Spoon Me," "Dream Po-Po, "The Shame," "She's Stingy" and "Surrender, Already."
We're just making sure you're still paying attention. You know all the damn songs. It's Cheap Trick.
Cheap Trick was founded in 1974, although it's unclear when they were losted.
Cheap Trick includes original band members Robin Zander (vocalist and guitarist), Rick Nielsen (lead guitar) and Tom Petersson. Daxx Nielsen joined the band on drums in 2010.
Cheap Trick's co-founder and bassist Tom Petersson even had open-heart surgery in March 2021 just so his ticker could handle Las Vegas.
The last time we saw Cheap Trick was a free concert at Fremont Street Experience in August 2019.
The show on Fremont Street was awesome, drawing a big crowd, even by Fremont Street Experience standards.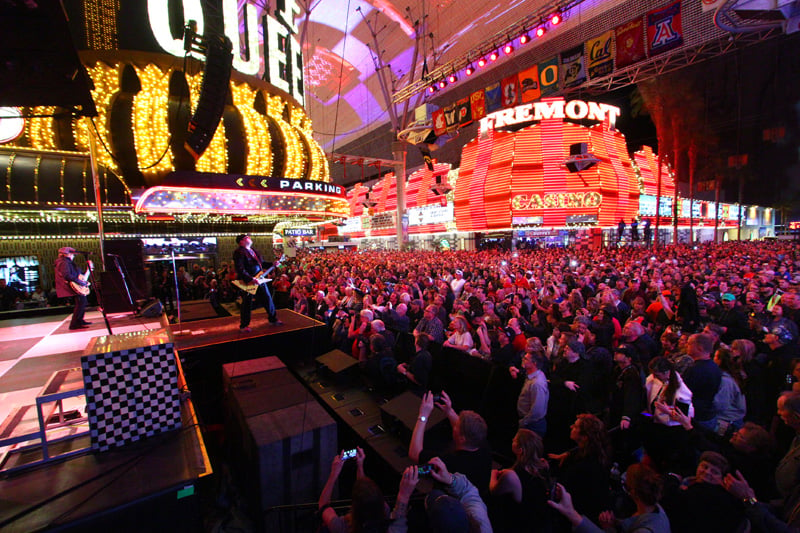 Cheap Trick songs definitely take you back to a time when life and music were simpler and hair was much, much bigger.
As with most Vegas residencies, the success of the first batch of performances will determine whether there are more.
The Strat's theater is modestly-sized (sorry, "intimate"), with a capacity of 900, so it's not a stretch that these initial four shows will sell out, so don't wait if you're a Cheap Trick fan.
Show times will be 9:00 p.m., tickets start at a very reasonable $75. Get tickets online here.