Caesars Palace Security Breaches Reveal Hell's Kitchen Progress, Fountain Mystery
Up for a couple of security breaches at Caesars Palace? We've got this.
The transformation of the former Serendipity 3 into Gordon Ramsay's Hell's Kitchen restaurant is well under way at Caesars Palace.

Caesars Entertainment is clearly sparing no expense on the new Hell's Kitchen restaurant, as demolition work has stripped the building down to its steel beams.

The extensive demolition provides the Hell's Kitchen restaurant designers, Jeffrey Beers International, a virtual "tabula rasa" where they can re-invent the venue unencumbered by the restraints of the previous space. Yes, we're drunk.
Gordon Ramsay's Hell's Kitchen is expected to open by Dec. 1, 2017, and will be the celebrity chef's fifth restaurant in Las Vegas.

While we're excited to see further progress at Hell's Kitchen, we were even more excited to get a peek behind the construction wall around the iconic Caesars Palace fountains nearby.
A peek over the wall shows an outcropping of pillar-shaped additions to the fountains, and we honestly have no idea what they are.

It appears the famous statue in the fountains is still standing, but the Winged Victory of Samothrace replica is now in the company of more than a dozen mysterious metal poles jutting up from the bone-dry fountain.

The metallic protrusions, wrapped in packing material, rest upon a framework that sits at what will be water level when (or perhaps if) the fountains are filled again.
Is it temporary? Is it permanent? Is it related to Hell's Kitchen restaurant? Are we looking at the next iteration of the Caesars Palace fountain experience, one of the best Las Vegas photo ops, ever? Will there be lights? Lasers? Fire? Are these questions getting annoying yet?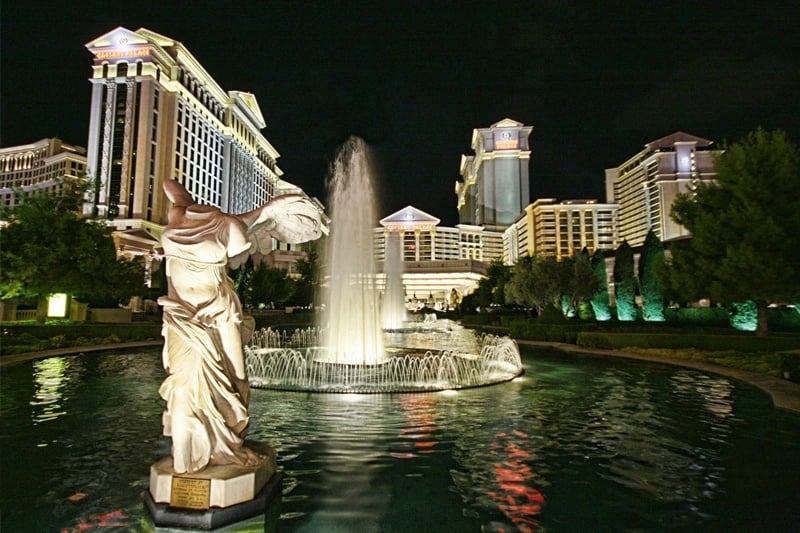 Remember, you saw it here first, whatever the hell it might actually be. We'd love to hear your guesses!
Update (9/11/17): Our friends at Eater Vegas say it's a "temporary Samsung Galaxy Studio" being built over the fountain, where customers will be able to pick up orders and try the company's products. When the "exhibit" closes, the fountains will return to their original state, and we'll all need a Silkwood shower because, seriously, is nothing sacred?