The Best Places to Watch the Bourne 5 Car Chase on the Las Vegas Strip
There's been lots of excitement about "Jason Bourne" filming in Las Vegas, but you ain't seen nothing yet.
The film's climax is rumored to be an action sequence that starts at Aria, where scenes were filmed last week, and ends at the shuttered Riviera.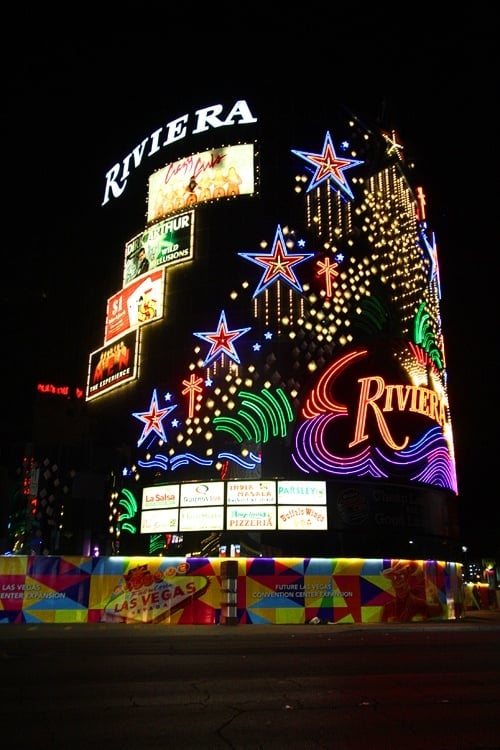 From what we hear, a large scale car chase will happen this week in the center of The Strip, and you'll need to know the best places to watch. We've got this.
The filming is likely to take place late at night, so it'll be important to get a good vantage point. It'll also be cold, so bundle up. Movie making involves a lot of waiting around for something to happen. The same goes for watching movies get made.
Buzz around the climactic "Jason Bourne" car chase leads us to believe it will happen center Strip, between Aria and Flamingo Blvd. That means guests of Bellagio, across the street, should have a bird's eye view of the action. Those in the hotel will be quite far away, however, so a spot on the sidewalk outside Bellagio should provide a good view of the fun.
Two of the best spots for viewing the Bourne 5 chase should be pedestrian bridges. Our first choice would be the overpass between Cosmopolitan and Harmon Corner.

Another good spot will be the bridge between Bally's and Bellagio.

Both these bridges provide a sweet view down, or up, Las Vegas Boulevard.
Other prime viewing points are the restaurants at Planet Hollywood and Paris Las Vegas. They include Mon Ami Gabi and Hexx at Paris and Cabo Wabo Cantina at Planet Hollywood. The Eiffel Tower Restaurant should also provide a great view of the stunts.

The only problem with viewing the chase from a restaurant is they often close before filming is likely to begin (late). Mon Ami Gabi at Paris closes at 11:00 p.m. during the week. Cabo Wabo closes at midnight (but you shouldn't go there, anyway, because of the joint's CNF charge). Eiffel Tower Restaurant closes at 10:30 p.m.
Hexx, however, is open 24 hours a day.

Arguably the best view of the Bourne 5 car chase will be from the Cosmopolitan. Guests on their balconies should be able to feel the revving engines and take in any pyrotechnics.
The very best spot at Cosmopolitan, though, would have to be on the pool deck. This view is stunning anytime, but when Jason Bourne is evading bad guys, it will be truly epic.
The new Bourne film hasn't been given a name yet, but if we had to make a bet, we'd take "The Bourne Betrayal." The movie comes out July 29, 2016.

If you'd like to get caught up on all the Bourne news, you're in the right place. We security breached the Bourne set downtown, served up some character and plot spoilers and spilled about other Bourne goodness.
Here's a peek at James Bourne in action during a sequence in the Aria casino.
Expect a flurry of pics and video of the "Jason Bourne" movie car chase this week, because word has it there will be many, many extras involved. The production is sure to ask extras not to take or share photos, but enthusiastic fans won't be able to help themselves.
Road closures are expected, and police presence will be strong, so expect to be herded if you're near where the production is taking place. You're allowed to be on public sidewalks unless they're inside the production footprint, but the police will want to avoid crowds gathering. Remind the cops you have rights. They love that.
It's unknown if Bourne 5 stars Matt Damon or Tommy Lee Jones will be on hand for the Strip chase, but it seems unlikely. Such large-scale stunts are done by stunt teams, assistant directors and doubles (referred to as the film's "Second Unit"), as opposed to the stars and director (the "First Unit").
The Riviera portion of the chase scene could happen next week. We hope to have more details soon.
Thanks to our moles, and keep the tips coming! Every time you share a "Jason Bourne" tidbit, an angel gets its wings.