Bourne 5 Update: Matt Damon and Friends Infiltrate Aria
As if we needed further proof our readers are epic, alert reader Matt W. has given us some major Bourne 5 scoop.
Production of the fifth in the Jason Bourne film series is under way in Las Vegas, and now we've got more details and spoilers from Aria Las Vegas.
First up, here's an exclusive look at the letter Aria guests were provided about the Bourne 5 filming. The letter spells out the locations of the shoot over five days, through Jan. 15, 2016. See it full-sized.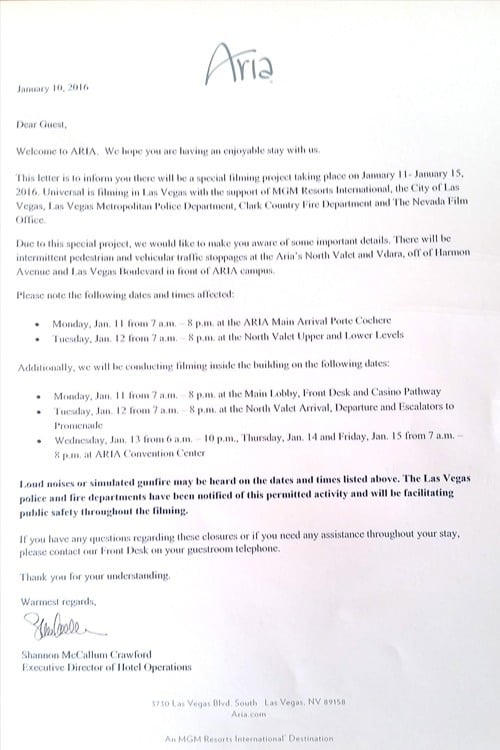 The shoot on Jan. 11 happened at Aria's porte cochere and inside the casino, including the main lobby and front desk area.
Here's the legal disclaimer posted to let casino guests know their presence amounted to approval to appear in the film.
Note that the production is under the name B5 Pictures LLC. It doesn't take a code-breaker to decipher that "B5" is shorthand for "Bourne 5." The movie hasn't been given an official name yet, but insiders think it will be called "The Bourne Betrayal," and while the plot of the book deviates quite a bit from the details we've heard about in Las Vegas, it seems to follow the general thrust.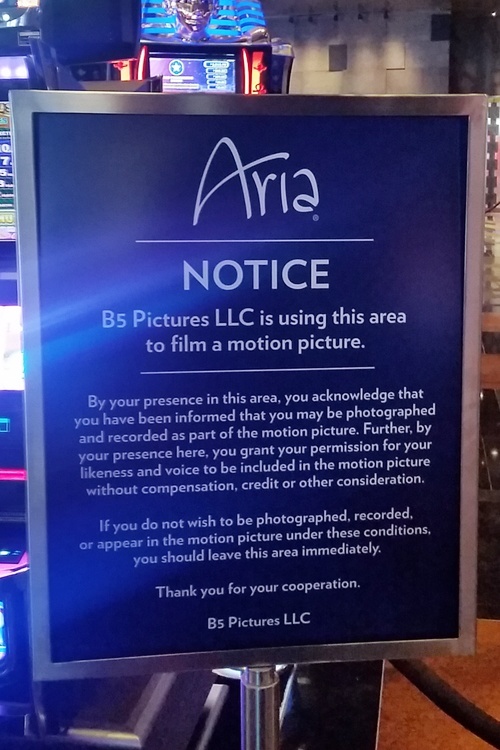 Other photos from the location provide some world exclusives about Bourne 5 itself.
It appears the story takes Bourne to a technology conference called Exocon. Here's a photo of signage creating the conference vibe.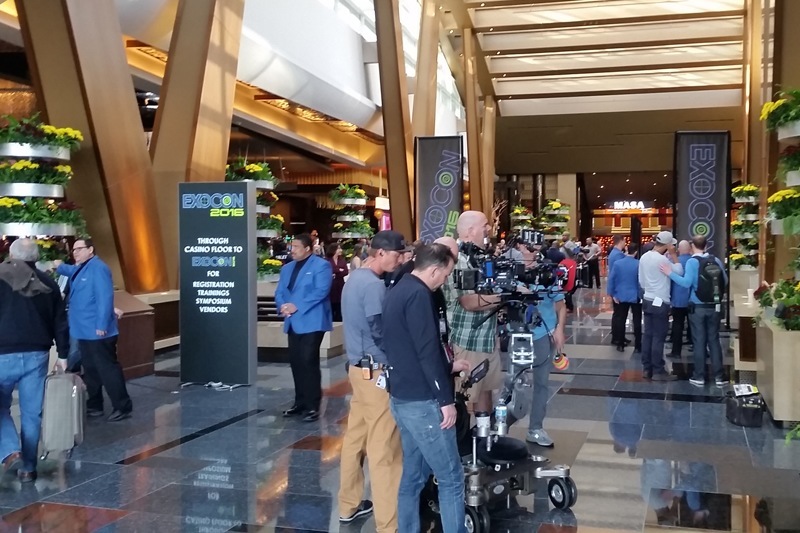 Another photo reveals some Bourne 5 gold. Speaking at Exocon 2016 are CIA Director Robert Dewey and Deep Dream Founder and CEO Aaron Kalloor.
To our knowledge, this is the very first time the name of Tommy Lee Jones' character in Bourne 5 has been divulged.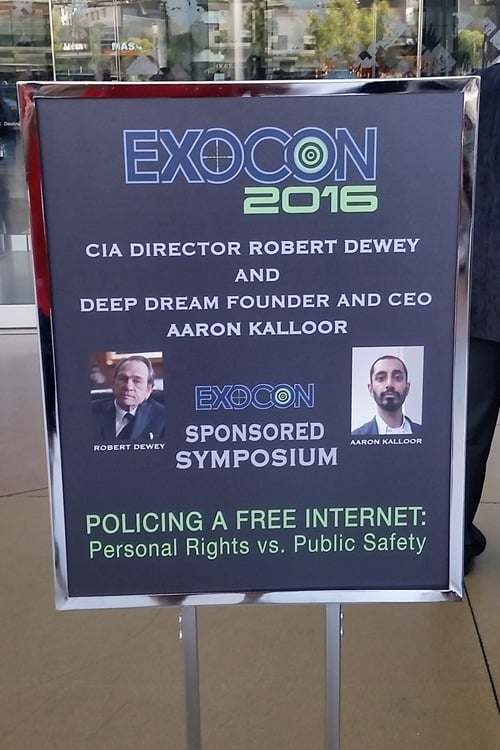 Aaron Kalloor appears to be played by Riz Ahmed, who has appeared in "Four Lions," "Nightcrawler" and "The Road to Guantanamo."
According to the Aria letter, filming will next take place at Aria's north valet and the escalators to the promenade. On Jan. 13, the shoot moves to the Aria Convention Center.
Aria also mentions "loud noises or simulated gunfire" may accompany the shoot. Good times!
Previously, Bourne 5 has shot at McCarran Airport and the Greyhound station at Plaza Las Vegas. See more, including our exclusive photos from the Bourne 5 set.
Bigger, stunt-heavy sequences are expected to take place on the Las Vegas Strip soon, some involving thousands of extras. Keep your eyes peeled and let us know what you see and hear.
Thanks, again, to Matt W. for the great pics! Get more Bourne 5 news and exclusive Bourne 5 production photos.
Knowing Las Vegas is going to be in the next Bourne movie is just about the most exciting thing, ever. The anticipated release date is July 29, 2016. We hope to see you in line, right behind us.