Bally's Las Vegas is Shaking Things Up
There's a lot going on at Bally's Las Vegas, so we thought it was time we popped in for the latest from this throwback Strip resort.
On Feb. 2, 2014, a Las Vegas institution is closing. The Bally's Steakhouse, a fixture on The Strip for nearly 40 years, will go away to make room for a new steakhouse, BLT Steak.

BLT Steak is expected to open in May, 2014.
This steakhouse upgrade should be pretty great, but it's bittersweet as well. Many of the servers at the Bally's Steakhouse have worked there 30 years and more, and they'll now have to apply for jobs at the new restaurant.

There's a lot of good news, however. The popular Sterling Brunch will return in some form when BLT Steak opens in May. Gratuitous rendering below.

The new restaurant will be about twice the size of the Bally's Steakhouse. The original BLT Steak opened in New York in 2004. Here's the news release for BLT Steak, because news releases are super entertaining.
Nearby, a revamped Indigo Lounge has been unveiled at Bally's, and it's downright snazzy.

The Indigo Lounge renovation was spearheaded by Victor Drai, the nightlife maven behind the adjoining Drai's After Hours nightclub.

The Indigo Lounge has been completely retooled, including new furniture, draperies and fixtures. We'd hang there, depending upon the level of the oontz.

In other Bally's news, the iconic "Jubilee!" will close Jan. 30, 2014 so its showgirls can also receive a much-needed renovation.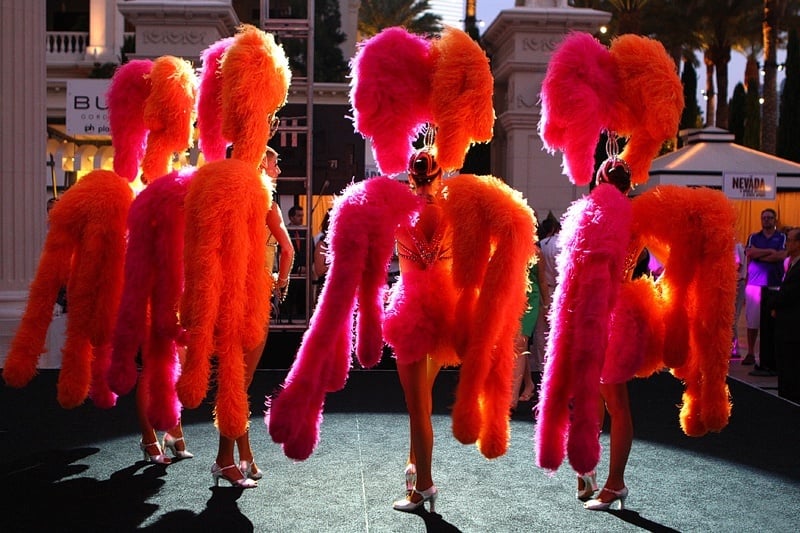 Due to declining ticket sales, "Jubilee!" is being revamped to bring the over-the-top show into the modern era.
Noted creative director and choreographer Frank Gatson Jr. (BFFs with Beyoncé) will be giving the show a refresh, and most of the giant sets and eye-popping costumes aren't expected to go anywhere.
"Jubilee!" will return in March, 2014. Read more.
In other entertainment news at Bally's, it's been announced singer and impressionist Veronic DiCaire has had her show extended through 2014. Her show schedule mysteriously ends Jan. 18, though, so we're curious if that means the extension will be a short one.

Despite our fervent wishes, construction has begun on the Grand Bazaar Shops at Bally's. This new shopping project will swallow up all the real estate in front of Bally's, including its fountains, retro entryway and greenery.

Presumably, the Grand Bazaar Shops are slated to open in spring of 2014, but that seems a little optimistic at this point.

Learn more about the Grand Bazaar Shops at Bally's, with the understanding we are not responsible for any retinal damage.
We're pleased to report the newly-renovated Jubilee Tower rooms at Bally's are getting solid reviews from guests.

And finally, we were sad to see Bally's has put its giant slot machine, which used to sit outside the casino, across from the Evening Call slushy bar, out to pasture.

The giant slot machine, nicknamed "Big Bertha" by Bally's staffers, has been replaced by two smaller (although still pretty large) slot machines.

The larger-than-life slot was made by IGT, but discontinued years ago, so parts were difficult to come by. Casino techs were forced to cannibalize parts from another machine, or to fabricate parts from scratch. Big Bertha was definitely high maintenance.
Hopefully, Bertha has been put away in a "Raiders of the Lost Ark"-type warehouse for posterity, or perhaps an upcoming garage sale.
Overall, things seem to really be hopping at Bally's Las Vegas. The hotel appears to be getting some love from its owner, Caesars Entertainment, and we look forward to seeing what's next for the classic Strip hotel.