At the Corner of Seedy and Charming: Fun City's Pink Motel
Sometimes, when you're in Las Vegas, you just want to try something new. Something offbeat. Something where you might end up with a communicable disease just from using a hand towel. Well, Fun City's pink motel might just do the trick. Figuratively speaking.

This little slice of Vegas kitsch can be found on Las Vegas Boulevard, just north of the former Sahara Hotel, near the Stratosphere.
We've passed by it a hundred times without noticing the pink motel, but this time, we just had to stop.

We'd call Fun City's pink motel a hidden gem, but it's actually rather famous.
It was featured in "Vegas Vacation." A tenant at the site, the Chapel of the Bells, is where the Griswalds got remarried in the 1997 comedy.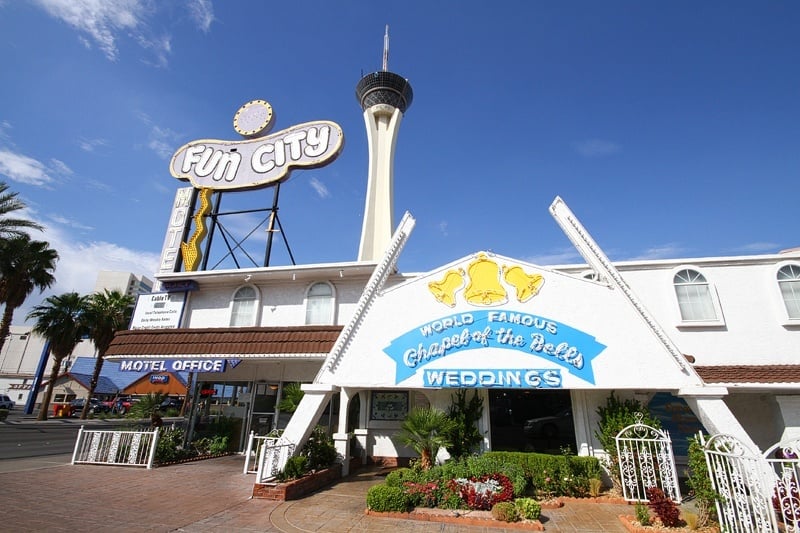 The pink motel is also a popular spot for wedding photographers. As long as you don't venture too close, the places has a photogenic, old-Vegas feel. We peeked our head into a room, and let's just say the exterior is where all the charm is kept at Fun City.
As you might imagine, the rooms at Fun City are dirt cheap. But the pink motel is less about being a place to stay, and more about being a uniquely Vegas photo op.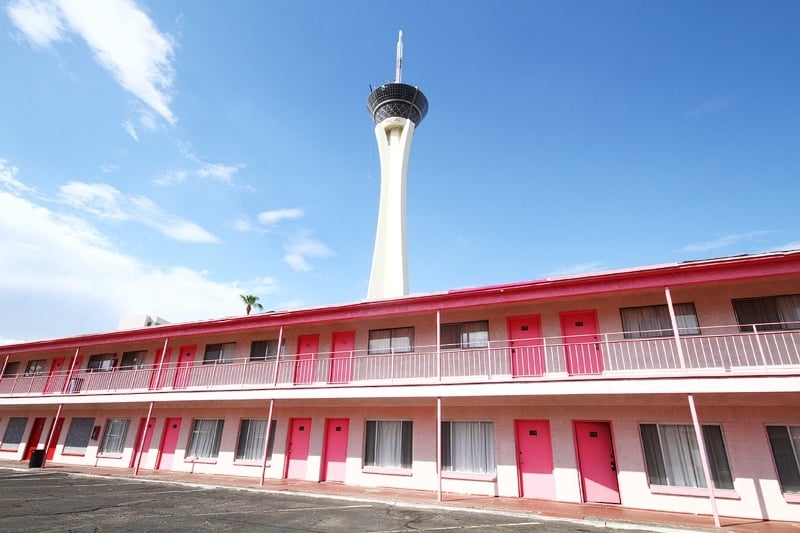 Of course, if you do dare a stay, there's an unexpected bonus: Strippers who commute to Vegas to work weekends before flying back to L.A. often choose Fun City, so you never know who you might meet.
Then again, maybe you're an adventurous spirit who values free wi-fi (all the guest rooms have it) more than personal safety. Maybe you prefer vending machines over room service. Maybe you really just love the color pink. If so, Fun City's pink motel might just be the Las Vegas dive for you. Sorry, the pink motel might be the "vintage Las Vegas experience" for you.
Update (8/9/19): Well, this sucks. During our most recent visit to the pink motel, we were distraught to see the pinkness has disappeared. The doors are now red. Yawn.