ZenSports Hopes to Bring Peer-to-Peer Sports Betting Exchange to US in 2020
Posted on: March 27, 2020, 11:34h.
Last updated on: March 28, 2020, 12:18h.
An American entrepreneur and his team believe they have a solution for the future of sports betting, and it's one they hope to offer somewhere in the US in the very near future.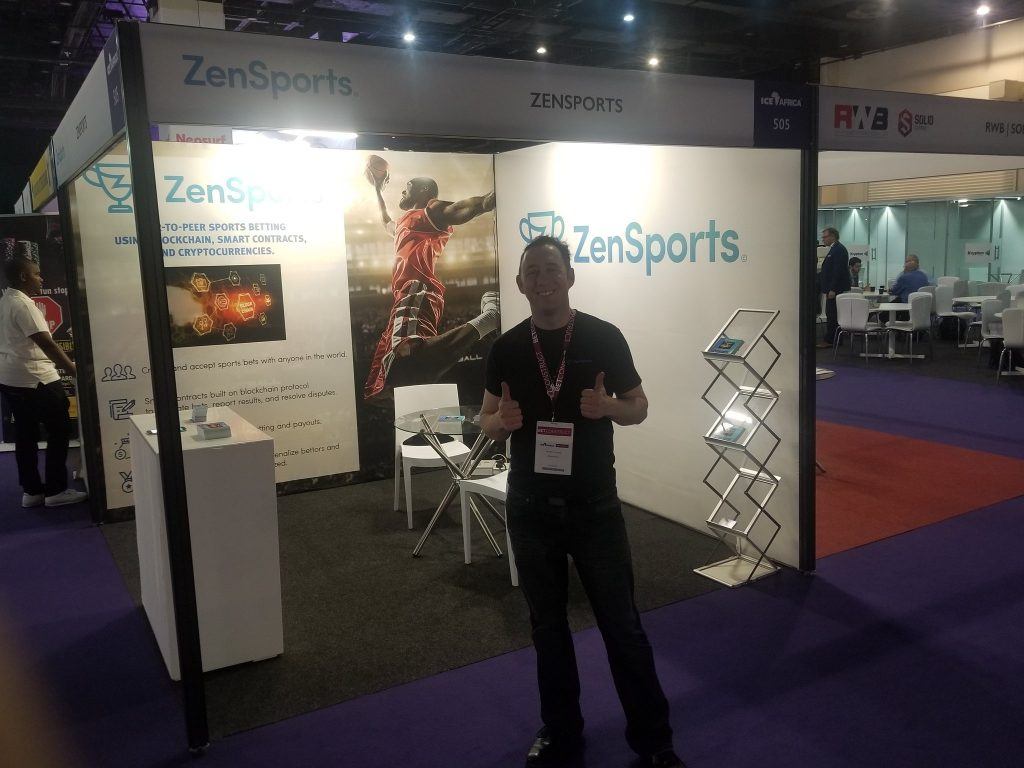 Mark Thomas is the co-founder and CEO of ZenSports, a blockchain-based company initially founded about three years ago to offer a mobile application connecting people to play recreational sports and games. After about 18 months, and shortly after the US Supreme Court's PASPA ruling, Thomas and team switched lanes, finding a more lucrative market as a  sports betting exchange via blockchain technology.
The same concept applies as the original app. But instead of finding someone to shoot hoops with on a Sunday afternoon, ZenSports now serves as a peer-to-peer marketplace for sports betting.
Basically, anybody can come in and create and accept sports bets with anyone else in the world, outside the US," Thomas explained to Casino.org. "And our marketplace just basically acts as the conduit, matching both sides of a bet up together without the need for a bookmaker."
Currently licensed in Curacao, ZenSports does have customers in about 90 countries and can handle bets for about three dozen sporting leagues around the world. The company's servers processing those bets are not located in the US.
How It Works
ZenSports has apps available for iPhone and Android devices. The company plans to roll out a web product for non-mobile customers later this year. Once on the app, the user can then make a bet and set a limit of how much they're willing to wager. At that point, another customer could then take on the entire wager or several could take on the bet, up to the established limit.
Rather than adding juice to the bet like sportsbooks, the ZenSports exchange charges a fee that it says is between 50-to-90 percent lower than the sportsbooks.
While ZenSports accepts money for bets, they also offer a cryptocurrency, called Sports, for purchase by its customers. Thomas said users place nearly all the bets with the cryptocurrency. Customers who use the cryptocurrency have their fees reduced.
The customer offering the bet is the one responsible for scoring the wager. But ZenSports offers a dispute resolution system in place to ensure all bets are scored correctly.
Not only can customers make bets on games, but they can also use the app to create in-game prop wagers, which Thomas – like others in the gaming industry – believes will drive growth in the market.
"I think that's super exciting for the reason that all the large sports leagues and all the large major media networks, they're going to be gravitating towards sports betting for the in-game betting piece because it drives engagement," he said. "You know, if a game is a blowout at halftime, what's going to keep fans watching is being able to put money on the second half of the game, or if the fourth quarter's a dog, being able to get money. That is going to keep people watching."
Looking Stateside
The initial interview with Thomas took place earlier this month, before the novel coronavirus reached the pandemic stage and drastically altered gaming and sports in the US and elsewhere around the world.
During the first conversation, he told Casino.org that the plan was to get in the states by the end of 2020.
Among the states where they're looking to set up are Nevada, Colorado, and New Jersey.
In a follow-up email this week, Thomas said that's still a goal. However, given the current events, there's now a contingency to it.
"That's completely dependent on when things can get back to normal, both in the sports world and the casino/sportsbook world… But yes, we're still hopeful that we can get into at least two states by the end of this year," he said.
For that to happen, ZenSports would need to own or partner with a land-based sportsbook. That's not likely to happen soon, since all commercial casinos, as well as some sportsbooks in the US, are closed.
ZenSports app is currently available for download in the US, offering an NFL daily fantasy game in the States.
Landing Investors
Since switching gears to sports betting enabled the company to attracted interest from investors. In the past 12 months, ZenSports has raised about $1.8 million on a nearly $7.3 million valuation. They hope to raise another $7 million to $10 million in series A funding in about a year.
Sports gaming laws vary by country. In some, ZenSports needs a sports betting license to operate. However, in other countries, if they have laws on sports betting, see it as a skill-based game because it's peer-to-peer.
"We feel very comfortable with the countries that we're operating in, given the licenses that we have and given the product we have," Thomas said.
Despite the global presence, only about 40 percent of bets are placed on soccer games, he added.
Like sportsbooks, the sports betting exchange at ZenSports is seasonal, too. Before the COVID-19 outbreak, bettors were active on NBA and NHL games.
"It's really cool because we have people in Sub-Saharan Africa betting on Calgary-Winnipeg games, and I'm like, 'Wow, I didn't think that they would know much about that,'" he said. "But they do."