Wynn Interactive Withdraws New Jersey Online Gambling Application
Posted on: September 24, 2015, 11:12h.
Last updated on: September 24, 2015, 11:19h.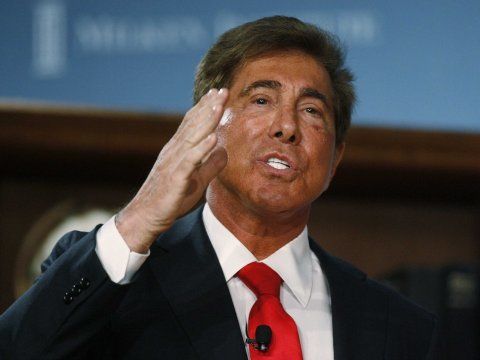 Wynn Interactive is backing down from its New Jersey online gaming licensing request, citing a lack of interest in pursuing an Internet audience as its primary reason for doing so.
Steve Wynn was once the owner of the most successful casino in Atlantic City, and for decades, there have been times when he's flirted with a return to the city. But it won't be happening in the near future, at least not in the realm of online gambling.
The application withdrawal for a New Jersey online gambling license ends a potential partnership with Caesars Interactive and 888 Holdings in the state.
The Wynn Interactive group, a subsidiary of Wynn Resorts, applied for such a license in July 2013, and was granted approval to work with Caesars early in 2014.
Never Much Interest in Online Gambling License
But even at that time, it seemed unlikely that anything would come of this potential partnership. Steve Wynn himself had questioned whether there was a real opportunity for his company to profit from online gambling, and when New Jersey approved the Wynn Interactive application last February, the company responded by saying that it wasn't likely to take advantage of it.
"Consequently, our plans are on hold until we understand the business opportunity," Wynn Resorts spokesman Michael Weaver said then.
As 2014 continued, it became clear that Wynn and his business were aligned more closely with Sheldon Adelson than with those who wanted to see growth in the online gambling industry. He expressed a distrust of technology designed to prevent minors and out-of-state players from accessing Internet gambling sites, and said that he didn't think there was any danger of being left behind by not embracing the technology.
Wynn Mogul Questions Internet Gaming
While Wynn has never been as strongly opposed to Internet casino and poker games as Adelson, his lack of interest in pushing forward with online gambling was clear at the 2014 Global Gaming Expo, where he gave a keynote address.
"My thoughts on Internet gaming? Not much," Wynn said in response to a question on the issue.
While Wynn expressed a dislike of online gambling during those comments, his main point of contention seemed to be that he didn't see much of an opportunity to make money in the industry. Even if online gaming was legal, he said, most of that money was unlikely to go to the private sector.
"They'll tax your brains out," Wynn said.
This sentiment culminated in the withdrawal of Wynn Interactive's application for an online gaming license in New Jersey. Earlier this month, a lawyer for the company sent a letter to the New Jersey Department of Gaming Enforcement formalizing the request.
"At this time, Wynn does not wish to proceed with its application," the letter read. "Therefore, kindly accept this correspondence as a formal request to withdraw such application."
Wynn Resorts has not formally commented about its decision to pull the application.
Once Major Player in Atlantic City
Steve Wynn was once a major part of the Atlantic City casino landscape. In the 1980s, his Golden Nugget was (for a time) the highest revenue-generating casino in the city.
That casino changed hands on a couple of occasions, eventually becoming known as the Atlantic Club. By 2014, it had the lowest revenue of the dozen casinos operating in Atlantic City, and became the first of four to close last year.
In recent years, Wynn's East Coast casino ambitions have led him to other markets. Last year, his proposal for a Wynn casino in Everett, Massachusetts won the only casino license being offered in the Greater Boston area.