WSOP 2015 November Nine Day One Reveals an Evening of Tanking and Passive Play
Posted on: November 9, 2015, 10:06h.
Last updated on: November 9, 2015, 10:15h.
The 2015 November Nine kicked off with a whimper, not a bang. On the first day of play Sunday night, the focus was on players tanking and acting as if they had little interest in actually playing poker.
Patrick Chan came to the WSOP Main Event final table Sunday with a small stack that lasted exactly two hands.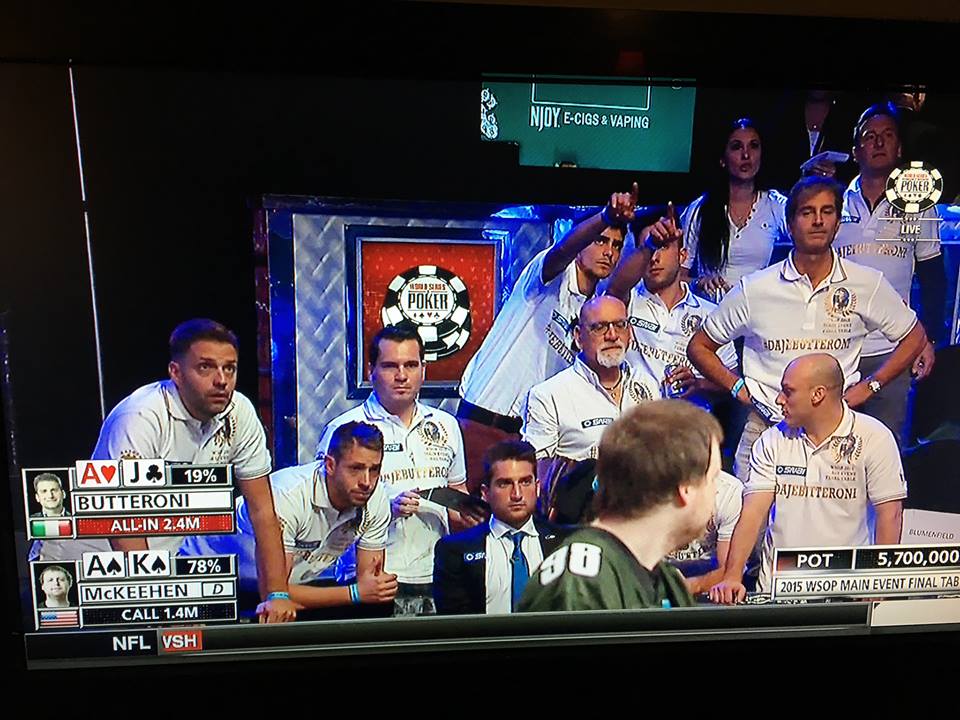 Chan woke up with K♠Q♣ in the small blind, facing an all-in bet by overwhelming chip leader Joe McKeehen. After careful consideration, Chan made the call with just 16 big blinds. In a near coin-flip situation, it was McKeehen holding on to bust the short stack.
The excitement at the final table began and ended with that hand. More than five hours later, when the session concluded, viewers were left wondering whether most of the players were just looking to move up the pay slots, or were actually interested in winning the tournament.
Stern and Neuville Put Viewers on Tilt
36-year-old Israeli Ofer Zvi Stern and 72-year old Belgian Pierre Neuville received criticism from viewers for tanking, especially Stern. Neuville took approximately 10 seconds to act nearly every time after looking at his cards, despite the fact that he hardly ever played a hand.
In fact, Neuville was only involved with a few hands the entire evening. He played so tight that he allowed his stack to dwindle down to miniscule proportions before being eliminated in 7th place to end the day.
But it wasn't Neuville's lack of interest in playing hands that irritated most viewers. It was his incessant pre-flop tanking. For a player that rarely played any hands, many found it disturbing to see him twiddle his thumb for 10 seconds before folding.
Fortunately, for the angry poker fans, Neuville is gone. Unfortunately for those same fans, Stern is not. He has 32,400,000 chips, which is good for second place. McKeehen remains the commanding chip leader with 91,450,000.
Stern was far more aggressive and active than Neuville, but also seemed more interested in getting TV time than playing poker. He tanked nearly every time it was his turn to act. ESPN commentator Antonio Esfandiari even cracked jokes about Stern's tanking.
Butteroni Busts in 8th
Federico Butteroni wasn't guilty of tanking, but was guilty of playing too tight. The Italian November Niner entered play with the smallest stack and made no apparent efforts to increase it.
He moved up the pay slot, earning an extra $96,000, when Chan busted, but that was the best he could do. Still, he stuck around for a few hours, thanks to only playing two hands.
With his stack blinded down to approximately six big blinds, Butteroni picked up A ♥J♣, but McKeehen woke up with A♠K♠. The better hand held up and Butteroni was "whamboozled," as ESPN WSOP commentator Norm Chad likes to say.
Josh Beckley and Tom Cannuli both survived the first day of the final table, but were also both noticeably absent from play most of the evening.
The WSOP Main Event started with 6,420 players. It is now down to six. Actual play picks up again at 4:30 pm today, with television coverage on ESPN resuming Monday night at 5:00 pm Pacific Time, due to the 30 minute delay between live play and air. They will play down to three tonight, with the final showdown happening on Tuesday night.