WSOP 2013 Main Event Final Table Kicks Off Tonight
Posted on: November 4, 2013, 05:53h.
Last updated on: November 4, 2013, 09:54h.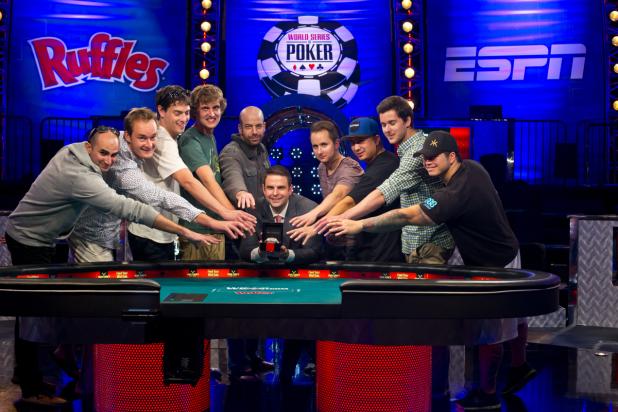 Every member of the World Series of Poker's (WSOP) November Nine has already won a life-changing sum of money; now, one of them will go on to become a poker legend. The nine players still alive in the WSOP Main Event will come back tonight to play for a top prize of $8.3 million, as well as the right to call themselves poker's World Champion for 2013.
Bringing It to the Table
Of course, even getting to this point is an extremely long shot with some huge rewards. Each of the nine remaining players has used a combination of great skill and timely luck to outlast the initial field of 6,352 players, each of whom put down a $10,000 entry fee (or won a satellite tournament to earn a seat). And just for making the final table, they've all earned at least $733,224 before a chip moves tonight.
While each of the nine players left in the hunt is dreaming about winning the gem-encrusted gold bracelet, they're not all coming in with an equal opportunity to achieve that goal. There are always chip leaders, but this year sees some of the biggest stacks also belonging to some of the biggest names at the table, making overtaking them seem like an even more daunting task.
At the top of the leaderboard is poker legend J.C. Tran, who holds 38 million in chips. Tran already has two WSOP bracelets on his resume, along with a World Poker Tour (WPT) championship and wins in PokerStar's World Championship of Online Poker. With the most chips, the most experience, and the most success in his career, Tran comes into the final table as the overwhelming favorite.
But he's not the only player to watch. In second place is Amir Lehavot, a WSOP bracelet winner who is relatively new to poker. The Israeli-born professional player has only been in the game since 2007, but has already established himself as a fierce competitor with over $2.3 million in tournament cashes in his short career.
Many Success Stories Meeting for Battle
There are other famous faces at the final table as well. Mark Newhouse hasn't been in the limelight much over the last few years, but he does have a WPT championship on his resume and has a history of high-stakes success. David Benefield is best known for being one of the first online poker legends, playing under the name "Raptor" in the early days of Internet poker. Newhouse and Benefield are the two shortest stacks at the final table, but either one can get back into the game with a timely double-up.
In between those two extremes, the middle positions at the final table have plenty of stories to share as well. Marc-Etienne McLaughlin has finished in the top 100 of the WSOP Main Event three times in the last five years. Jay Farber is a famous face in the Las Vegas nightlife industry. Ryan Riess comes in as the youngest player at just 23 years old, while Sylvain Loosli and Michiel Brummelhuis are well-known in Europe, but could become worldwide stars with a WSOP victory.
One thing's for sure: at the end of final table play, one of these nine players will add their name to the immortal list of players who hold the most prestigious title in poker. Live coverage will be available on ESPN networks in many nations around the world, as well as on WSOP.com, and we will be bringing you regular updates here as well.