Wind Creek Bethlehem Names Kathy McCracken GM, as Gaming Industry Shrinks Female Leadership Gap
Posted on: February 27, 2020, 12:04h.
Last updated on: February 26, 2020, 03:41h.
Wind Creek Bethlehem in Pennsylvania has appointed Kathy McCracken as the casino resort's next executive vice president and general manager following the departure of Brian Carr from the organization.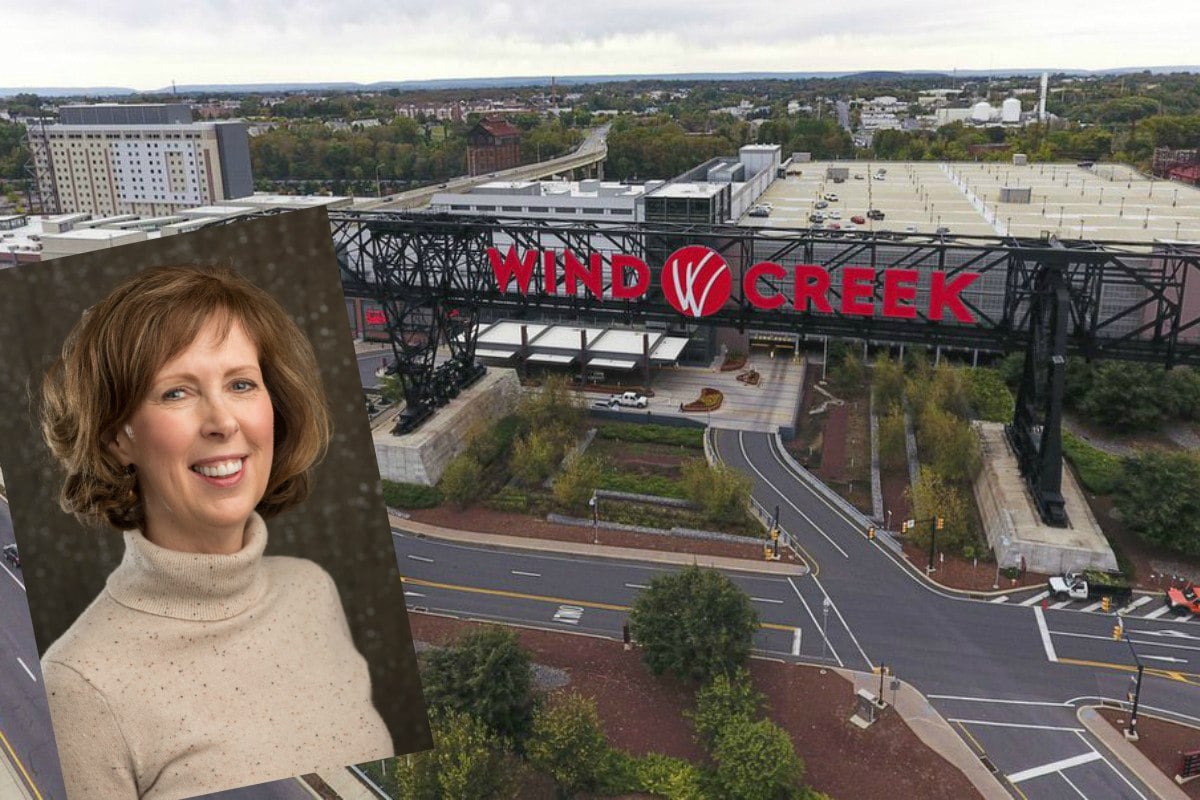 Carr served as president and chief operating officer of the property when it was under the ownership of Las Vegas Sands. He helped navigate the property's sale to Wind Creek Hospitality, the gaming unit of the Poarch Band of Creek Indians in Alabama.
Less than a year after the tribe finalized the $1.3 billion acquisition, Carr is out, and McCracken is in.
Kathy brings upbeat and collaborative leadership to the property. Her ability to help the employees continue through the ongoing expansion efforts will be invaluable," said Wind Creek CEO James Dorris.
McCracken is being elevated from senior vice president, a position she's held since April 2007.
Earlier this month, the Bethlehem Planning Commission signed off on a $90 million expansion project that will bring a new 13-story hotel tower with 270 rooms to the complex. Once complete, Wind Creek Bethlehem will feature 553 occupancies.
The casino has future plans to redevelop the property's historic No. 2 Machine Shop into a waterpark with a 400-room hotel at a cost of $250 million.
Gaming Industry Execs
Women in America continue to be underrepresented when it comes to serving in leadership roles. 2018 was a watershed year for women in US politics, and slowly, female executives are becoming better represented in various industries.
McCracken's appointment to the top spot of a major casino comes a little more than two months after Ocean Casino named Terry Glebocki its CEO.
In Las Vegas, following the bombshell scandal surrounding the alleged sexual misconduct of billionaire Steve Wynn, Wynn Resorts named Marilyn Spiegel president of its two Strip casinos.
Spiegel is just the third female to oversee a Strip casino. The first was Claudine Williams, who ran the Holiday Inn-Holiday Casino until it was sold in the 1980s. The other is Eileen More, current regional president of Caesars' Flamingo, Linq, and Cromwell.
Times Changing
According to the Center for American Progress (CAP), "American women lag substantially behind men in terms of their representation in leadership positions." But progress is being made – albeit slowly.
CAP reports in its 2018 Women's Leadership Gap study, "In 1980, there were no women in the top executive ranks of the Fortune 100 companies; by 2001, 11 percent of those corporate leaders were women."
Women's share of board seats in S&P 1500 companies increased 94 percent between 1997 to 2009. The share of companies with female CEOs increased more than sixfold during that same period. But more work needs to be done.
CAP summarizes, "Women have outnumbered men on college campuses since 1988. They have earned at least one-third of law degrees since 1980 and accounted for one-third of medical school students by 1990. Yet, they have not moved up to positions of prominence and power in America at anywhere near the rate that should have followed."