Naked Man Allegedly Punches Las Vegas Cop, Steals Vehicle, Crashes: VIDEO
Posted on: November 1, 2023, 05:26h.
Last updated on: November 2, 2023, 11:19h.
A nude man is accused of getting into a struggle with a Las Vegas Metropolitan Police Department (LVMPD) officer Tuesday night and then driving off with his police vehicle.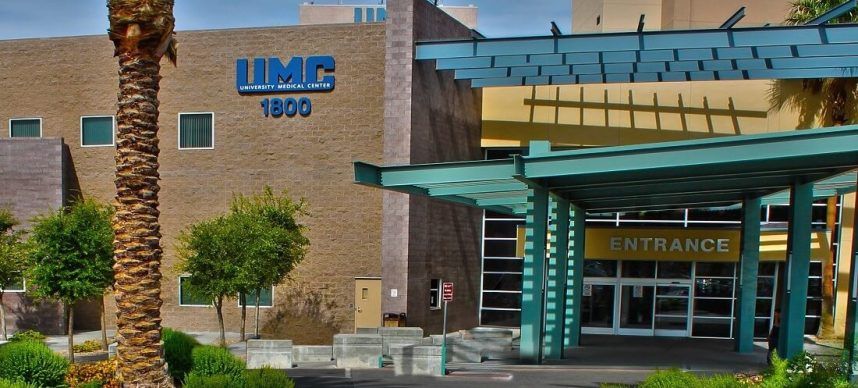 The 29-year-old suspect fled from the scene in the department's Metro Ford F-150 and eventually crashed into another vehicle following a high-speed chase through city streets. The suspect, Clyde Cabulisan of Las Vegas, as well as the other driver and her passenger, were injured.
The incident began at about 11:15 p.m. near the intersection of Blue Diamond Road and Buffalo Drive in the unincorporated town of Enterprise, Nev.
Officers were notified a nude man had been spotted on the street. The first responding officer found the naked suspect and approached him. Shortly after, a fight broke out between the man and the officer.
The officer fell to the pavement, and Cabulisan was able to get into the police vehicle's front seat. The officer was unable to reach him before Cabulisan sped away.
He headed north on Rainbow Boulevard. The responding officer immediately radioed headquarters that his vehicle had been stolen.
Several Metro officers began chasing the marked police vehicle in a pursuit that continued for more than five miles, Las Vegas TV station KLAS reported.
Critical Injuries
Cabulisan drove across a road into oncoming traffic. He then drove through a red light at Hacienda Avenue and crashed into a Ford Explorer operated by a civilian.
Both the 34-year-old female driver and a 43-year-old male passenger in the SUV were critically injured in the Wednesday morning crash, police revealed. They were rushed to University Medical Center for emergency treatment.
The victims' updated conditions weren't immediately available on Wednesday. The initial responding officer suffered minor injuries.
Cabulisan was also injured. He was also taken to University Medical Center for treatment.
Struggle Captured on Phone Footage
Passerby Kyle Even captured the struggle on her phone and posted the video online.
It appears the suspect was booked at Clark County Detention Center on Wednesday, according to online jail records. Police charged him with robbery, driver disobeying peace officer and endangering people/property, grand larceny of a motor vehicle, and battery on a protected person, according to KLAS.
Cabulisan was ordered to appear in court on Thursday.
He initially was reported to have been "possibly experiencing a mental health crisis," Las Vegas TV station KTNV reported, based on police accounts.