UK Study on FOBTs Due By Easter with Crackdown Possible
Posted on: April 11, 2014, 05:30h.
Last updated on: April 10, 2014, 02:41h.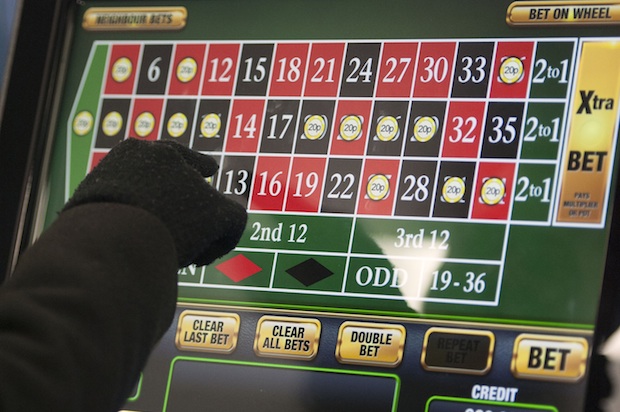 With barely a week passing without another debate over their presence in the UK, fixed-odds betting terminals (FOBTs) have become one of the most controversial topics in the gambling industry. Now the UK government is planning to review their policies towards the machines, and the potential for a crackdown on the games is becoming higher than ever.
The UK Department of Culture, Media and Sport (DCMS) confirmed this week that it is reviewing its policies towards FOBTs, and that the findings of that review should be published before Easter (April 20). That announcement came as the DCMS moved to deny reports that a crackdown on the machines was set to be announced this week.
Prime Minister Said to Want Code Strengthened
The belief that a crackdown might be imminent came after reports of correspondence between Prime Minister David Cameron and members of the gambling industry. That correspondence largely discussed a code of conduct introduced by the Association of British Bookmakers in February.
That code – self-imposed by the industry – asked for bookmakers to include pop-up alerts on FOBTs that are designed to help players know how much money (or time) they're spending on the games. Alerts will flash when customers have played for 30 minutes or have spent £250 ($419). It would also include voluntary spending limits that could be pre-set by players.
The Prime Minister reportedly wants that code to be strengthened. That could include making the implementation of the new code mandatory, rather than the voluntary system the industry wants to put into place. In addition, it could place more responsibility on bookmakers, as shops that allow players to play continuously and lose money without questioning their behavior could face penalties as severe as closure.
Study Shows FOBT Spending Lower Than Some Believe
Based on some of the claims of anti-FOBT campaigners, one might think the warnings and limits set by players would severely impact betting shops that rely heavily on the machines. After all, players can potentially spend up to £300 ($502) per minute on the machines, or up to £18,000 ($30,000) per hour.
But the key word there is potential. In actual play, it appears as though players spend much less than this in a typical session.
According to an internal study by Ladbrokes, only about 8 percent of all FOBT sessions would result in a player seeing one of the warnings that the code mandates. This is due mainly to the fact that players tend to play short sessions on the machines, and wouldn't reach the 30 minutes of continuous play needed to trigger one based on time.
Few would see the warnings for excessive losses, either. That same study found that among sessions that lasted 60 minutes or more, the average loss was around £93 ($156) – far under the £250 trigger.
Bookmakers Want Regulation Based on Facts
Ladbrokes has also used the results of their study to fight against mandatory spending limits.
"Given the vast majority of machine play is not problematic and is under 20 minutes and at low stakes, we would not expect most sessions to be impacted by mandatory limits," a Ladbrokes spokesperson said.
According to Ladbrokes and other bookmakers, what they really want is a dialogue with the government that is based on fact – not on rumors or scare tactics.
"[It is] important that both the industry and government act on the basis of evidence," said the Association of British Bookmakers.
Similar Guides On This Topic