UFC Fight Night 154: Carneiro Favored to Take Down 'Korean Zombie' Chan Sung Jung
Posted on: June 22, 2019, 02:00h.
Last updated on: June 20, 2019, 11:58h.
Featherweight contender Renato "Moicano" Carneiro will face a stiff challenge from "The Korean Zombie" Chan Sung Jung in the main event of UFC Fight Night 154 in Greenville, South Carolina this Saturday.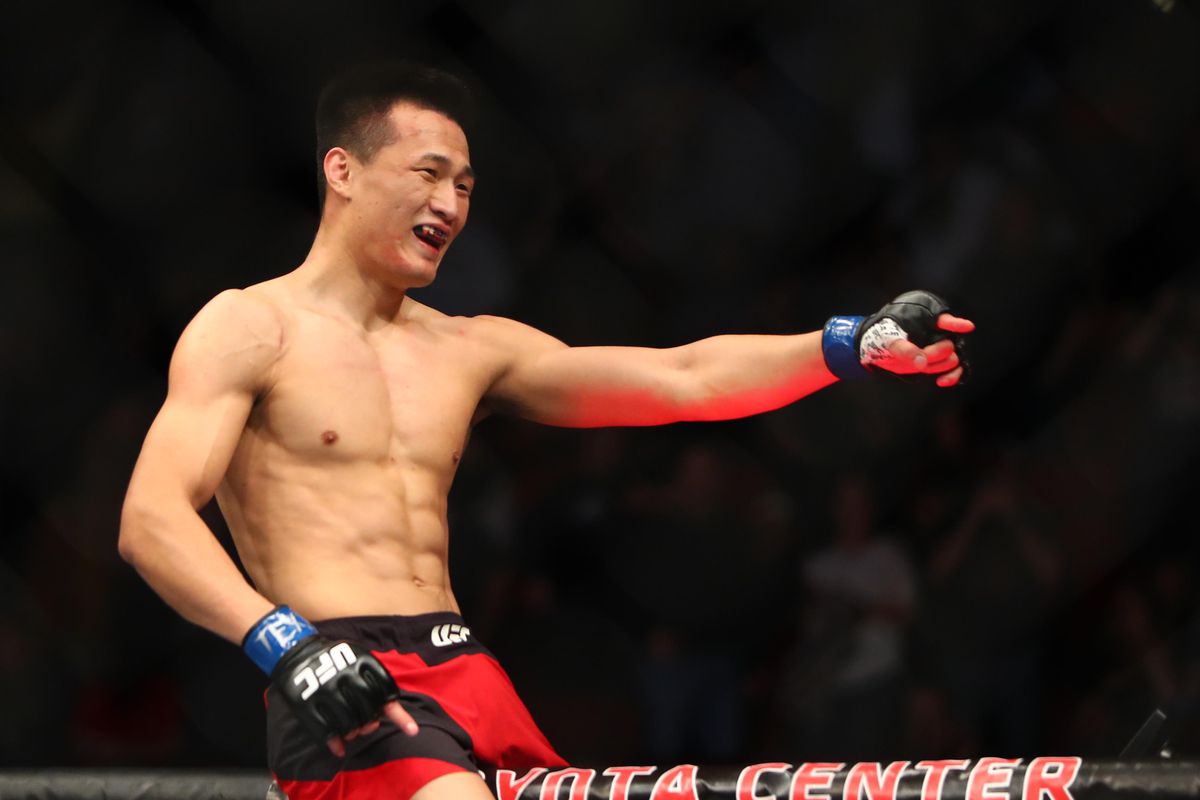 Carneiro has been installed as a -200 favorite over Jung (+160) according to online bookmaker Bovada.
Carneiro, Jung Look to Rebound From Losses
Carneiro (13-2-1) is currently ranked as the No. 5 contender in the UFC's featherweight division. He last fought in February, when Jose Aldo stopped him early in the second round via TKO. But despite that loss, the 30-year-old Brazilian believes that he can keep himself in the title picture of he can get past Jung.
"I think with a big win, that fight will put a momentum and I will come back to the contenders in the featherweight [division]," Carneiro said, via Sherdog. "I want a fight with [someone] in the top five, and a title shot [after that]."
Jung (14-5) is also coming off a loss: a brutal, last second knockout by Yair Rodriguez in the fifth and final round of their fight at UFC Fight Night 139 in November. That shocking back-elbow finish will be seen on UFC highlight reels for years to come, but for Jung, it was a crushing loss in a fight that he likely would have won by decision.
Now, Jung – still the No. 12 contender in the featherweight division – is looking to leave the past behind him.
"Post-fight, it was devastating for me, but I came to accept it because everything went according to plan," Jung told MMA Junkie on Wednesday. "I did gut it out at the end. I pushed it until the end…Back then, I did feel embarrassed, but after a while, it's more like an accomplishment, I feel. I don't feel embarrassed anymore."
Action-Packed Main Event for UFC Fight Night
A win for Jung could allow him to start to work his way up towards the title picture again, a place that he has been before. If he can reestablish himself as a credible challenger, there's little doubt he would get a shot: as one of the most exciting fighters in the UFC, the 32-year-old is always a draw, with his impressive overall resume only elevating that status.
Given Jung's penchant for action and the likelihood that the two fighters should produce plenty of exciting exchanges, Carneiro believes their meeting could be a bout to remember.
""Everyone knows 'The Korean Zombie,' Carneiro told Combate. "He has this cool nickname, he has this aggressive style, and this fight is a candidate for fight of the night. Even fight of the year. That's what I want. I want to put on a show."
It's also a fight in which Carneiro should have the edge, thanks to his superior ability to control range with the jab. But in a five-round fight, Jung will have plenty of chances to probe for a weakness or press the action in the hopes of scoring a finish. Carneiro will likely win the fight if it goes to a decision, but there are bound to be scary moments along the way – a scenario that promises plenty of drama for fans on Saturday.
The UFC Fight Night 154 card includes a bantamweight bout between John Lineker (-220) and Rob Font (+170) as the co-main event, with welterweights Bryan Barberena (-275) and Randy Brown (+215) also featured on the main card.