UFC Fight Night 152: Kevin Lee Moves Up to Welterweight to Face Rafael dos Anjos
Posted on: May 18, 2019, 01:00h.
Last updated on: May 17, 2019, 02:11h.
Former lightweight champion Rafael dos Anjos will take on young contender Kevin Lee in the main event of UFC Fight Night 152 on Saturday night in Rochester, New York.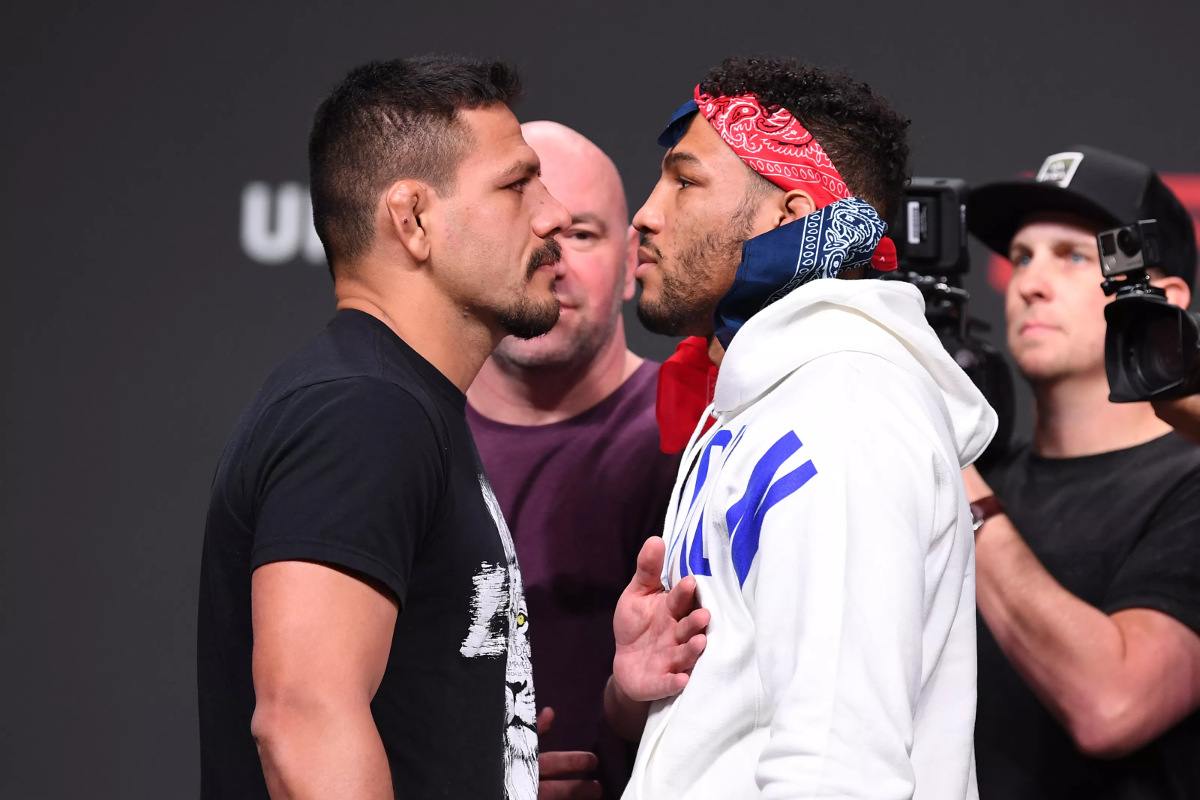 While both fighters are better known for their time in the lightweight division, this fight will take place at 170 pounds, the first time Lee has tried fighting as a welterweight.
Former Lightweight Champ Looks to Stay in Contention
Conversely, dos Anjos moved up to welterweight two years ago, winning three fights in the higher weight class before losing a championship bout to Colby Covington at UFC 225 last June. He then followed that up with another decision loss to Kamaru Usman in November.
That has taken dos Anjos (28-11) from being one fight away from becoming a two-division champion to putting him in a position where he could soon be out of the title picture for the immediate future. While Lee may not be the bounce back fight that dos Anjos was looking for, the 34-year-old says that he's looking forward to what should be a competitive bout.
"He's a top contender at lightweight coming up a division and I can't sit on my sofa waiting for the perfect fight," dos Anjos told reporters during open workouts before UFC Fight Night 152. "I want to be active. I want to fight. I know he's a tough guy and good wrestler and good jiu-jitsu and very good, well-rounded fighter, but I don't think he's going to have the size advantage on this fight. It'll be fun."
Lee Moving Up in Weight for First Time
The 26-year-old Lee (17-4) has gone 10-4 since joining the UFC, with two of those losses – his first and last fights – coming by decision to Al Iaquinta. Still considered something of a prospect considering his age, Lee has already had one title shot, losing an interim championship fight to Tony Ferguson back in October 2017.
That means that Lee's overall resume is quite strong, but he has yet to prove that he can hang with championship-level competition, a perception that a win over dos Anjos might go a long way towards changing.
"Dos Anjos will be the first former world champion I've fought and it's an opportunity to see where I am," Lee told Yahoo Sports. "So I think this fight is really going to be one of the ones where I see where I'm at. I'll see what I'm made of. He has that title by his name and of course, that does something for you. I don't take that lightly."
Dos Anjos is currently rated as the No. 3 contender in the welterweight division, while Lee sits as the No. 7 lightweight. But despite moving up a weight class, Lee is expected to pose some significant challenges for his opponent. Dos Anjos has shown vulnerability against strong wrestlers, and Lee promises to test that issue yet again.
In the minds of bookmakers, those factors are just about enough to balance the fight. At Bovada, dos Anjos (-120) has been made the slightest of favorites over Lee (-110), though it's clear that this is a bout that could go either way.
Other bouts on the UFC Fight Night 152 card include a welterweight co-main event between Vicente Luque (-700) and Derrick Krantz (+450), as well as a women's featherweight fight between Megan Anderson (-175) and the undefeated Felicia Spencer (+145).