UConn Wins Men's NCAA Title with Perfect Against The Spread Run
Posted on: April 4, 2023, 10:04h.
Last updated on: April 4, 2023, 02:42h.
The University of Connecticut defeated San Diego State Monday to win the 2023 NCAA men's college basketball tournament. It had a dominating betting run, covering the point spread in every game during "March Madness."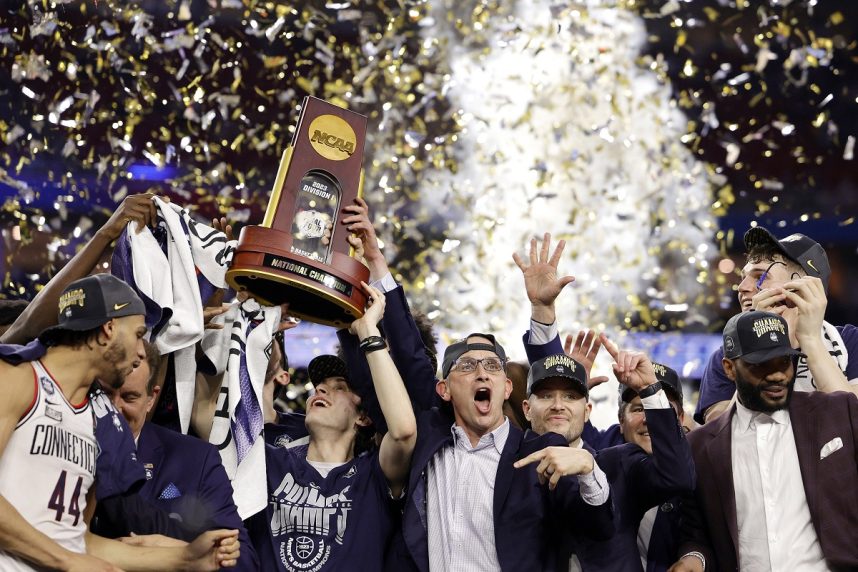 UConn, with the #4 seed, embarked on an impressive march to the championship. Even terrible hotel accommodations in Las Vegas didn't slow UConn down. The Huskies went a perfect 6-0 against the spread en route to UConn's fifth national championship since 1999.
Legendary head coach Jim Calhoun initially put UConn on the map in the 1990s during their rise to prominence in the Big East. Calhoun led UConn to its first championship in 1999. He'd win two more titles in 2004 and 2011.
Kevin Ollie, a former UConn player and assistant coach, succeeded Calhoun after he retired in 2012. Under Ollie's tenure, UConn won a fourth championship in 2014.
Dan Hurley took over the program after Ollie stepped down in 2018. In his fifth season with the Huskies, Hurley delivered a fifth championship for UConn.
Up and Down Season, Big East Doldrums
UConn felt disrespected in the preseason. They were ignored by every major polling entity and weren't included in the AP Men's College Basketball Top 25 Poll. Hurley and the Huskies took umbrage at the slight.
UConn responded with a 14-game winning streak to start the season. They picked off Alabama, who was ranked #18 at the time. They finally entered the AP Poll and, within two weeks, shot up from #20 to #5. Shortly after Christmas, UConn was ranked #2 in the country. That's when the season began going off the rails.
UConn lost a tough road game against Xavier, ranked #22 at the time, on New Year's Eve. It marked the beginning of a 1-5 skid, and they tumbled to #19 in the AP Poll.
UConn had a rematch against Xavier on their home turf at the end of January. The Huskies lost to Xavier a second time in a soul-crushing, 3-point loss. UConn slipped to 16-6 on the season, including 5-6 in Big East conference play. They nearly dropped out of the Top 25 but held on at #24.
UConn finished the regular season on a strong note with an 8-1 stretch. With a 24-7 record, UConn clawed back up to #11 in the last poll during the regular season. They lost to Marquette, ranked #6 in the country, by two points in the Big East conference tournament semifinals. Despite the disappointing exit in the Big East tourney, UConn earned a #4 seed in the NCAA tournament.
UConn Unstoppable 6-0 ATS
Heading into March Madness, UConn's last three losses were close affairs against ranked Big East teams. They lost to Xavier by three points, lost to Creighton by three points, and lost to Marquette by two points.
We knew we should've won those games with a few tweaks here and there and fewer turnovers," said Hurley. "I had faith in my guys. They just had to go out and execute."
Once the tournament began, the Huskies went berserk.
UConn was a -9.5 favorite against #13 Iona in the opening round and won by 24 points in a game in which numerous so-called experts picked Iona to notch the upset.
Heading into the second round, UConn was a -3.5 favorite against #5 St. Mary's and won by 15 points.
In the Sweet 16, UConn steamrolled #8 Arkansas by 23 points, even though they were the betting favorite by just -3.5 points.
In a highly anticipated meeting against #3 Gonzaga in the Elite 8, UConn was a slight favorite at -2.5. UConn destroyed Gonzaga in a 28-point drubbing.
When UConn squared off against #5 Miami in the Final Four, they easily covered the -5.5 spread with a 13-point victory.
UConn was a -7.5 favorite against #5 San Diego State in the championship game. UConn led by double digits at halftime, withstood a second-half rally against the Aztecs, who cut the deficit to five points. UConn smoked San Diego in the final five minutes and won by 17 points.
For a sixth-straight March Madness game, UConn covered the spread and finished their championship run with a perfect 6-0 ATS betting record. Their average margin of victory was 20 points, and they won every game by at least 13 points.
UConn finished the entire season with a 31-8 overall record and a 27-11-1 ATS record.
2024 March Madness Odds: UConn +1400
Before the 2022-23 season began, unranked UConn was +6600 odds to win the NCAA tournament. When the tournament began, UConn was +1600 odds to win the championship. By the time they reached the Final Four, the Huskies were the outright betting favorite to win the national title at -125 odds.
Oddsmakers didn't waste any time before they opened up the betting market for next year's men's college basketball championship. Duke and Kentucky, blue blood programs and perennial favorites, were at the top of DraftKings' 2024 futures board. Duke opened as the consensus favorite at +1000, and Kentucky was second at +1200.
UConn was third overall at +1400 odds to win in back-to-back seasons in 2024. Marquette and Kansas are both +1600 odds, and they rounded out the top five teams on the futures board.
It's difficult to win consecutive college basketball championships during the modern era. Hurley is the type of coach who loves a challenge—the last time a college hoops team won consecutive titles occurred in 2006 and 2007 when Billy Donovan led the Florida Gators to back-to-back titles.
Aside from that magical run 15 years ago, you have to go back 30-plus years to when Coach K guided Duke to national championships in 1991 and 1992. Hurley's older brother, Bobby Hurley, was the starting point guard on those championship squads from Duke.