Top Gaming Industry Salaries of 2017: Which Casino Barons Brought Home the Most Bacon
Posted on: December 25, 2017, 04:00h.
Last updated on: December 13, 2017, 08:05h.
The gaming industry had a dynamic 2017, but for casino operators, there's only one true way to count success, and that's by taking a look at their ledger sheets at the end of the year. The top dogs in the business didn't get there by being faint of heart, and this year, the industry's notables took risks and faced their antagonists head-on. The result was hefty compensation all around.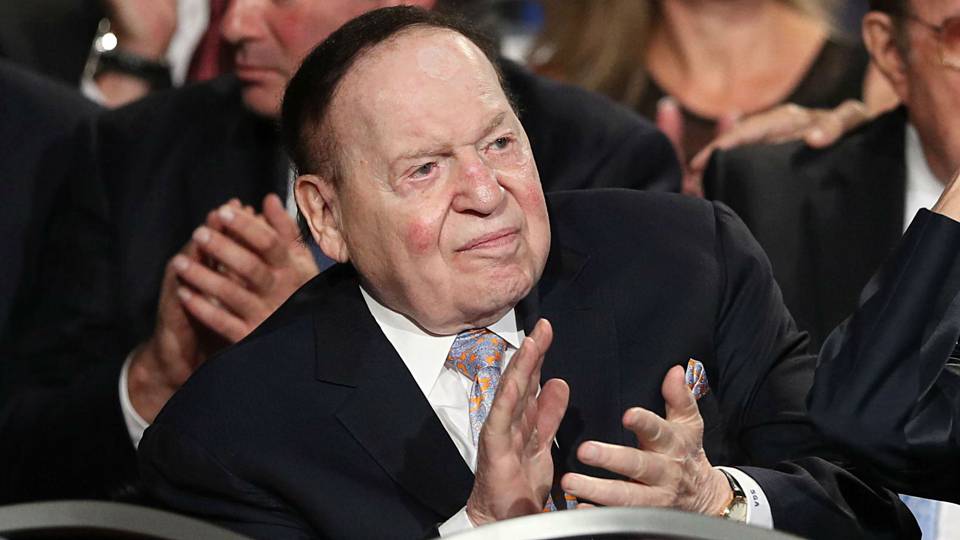 Many of the top names in the sector are billionaires, counting themselves among the richest people on the planet.
Here's a look at a few of the major executives and owners who made the big bucks in 2017.
Adelson Gets Standard 400 Percent Raise
When it comes to the richest of the rich, there are few who have the vast resources of Sheldon Adelson. The Las Vegas Sands CEO and chairman has a net worth of approximately $32.6 billion, according to the Bloomberg Billionaires Index, and his piles of cash only got deeper in 2017.
Adelson saw his annual salary increase from $1 million to $5 million, and along with performance-based bonuses, his total compensation package could be worth more than $17 million a year.
But his biggest financial move may have been the one he didn't end up making. The billionaire dropped out of a bid to bring the Oakland Raiders to Las Vegas, withdrawing his $650 million in funding for a proposed NFL stadium after saying that the Raiders had left him out of discussions over the arena's lease agreement.
Wynn Takes Stock Payout, Faces Off Against Frenemy
Steve Wynn also had quite the year, with his biggest windfall coming in January. That's when Wynn Resorts awarded its CEO with a stock package distribution worth $12.5 million. Wynn immediately sold $5.2 million in stock, providing himself with plenty of spending cash to start the new year.
The casino mogul has other big money stock issues pending, though. Former Wynn Resorts board member Kazuo Okada is suing the company over his 2012 dismissal and the forced redemption of his 20 percent stake in the firm, a move that Okada says wasn't made by the board because it was in the best interests of the company, but rather on orders from Steve Wynn himself.
Murren, MGM Must Deal with Shooting Aftermath
Another CEO to earn a raise in 2017 was MGM Resorts CEO James Murren. The 54-year-old executive received a new contract in October 2016, and while his base pay remained at $2 million a year, his bonuses and stock awards both increased in April, resulting in a total bump of about 25 percent.
Murren may be hard-pressed to get that kind of raise again in 2018, however. Following the tragic mass shooting in Las Vegas on October 1, MGM is facing lawsuits from more than 450 victims. While most damages are likely to be paid by insurers, the legal and public relations ramifications from the shooting will extend into 2018 and beyond.
Frissora Leads Caesars Out of Bankruptcy
On the other hand, Caesars Entertainment President and CEO Mark Frissora reportedly took a pay cut in 2016, though his compensation package of $9.5 million was still more than enough to keep him living large.
That could easily change when his 2017 earnings are announced. Frissora helped Caesars emerge from bankruptcy after a three-year effort, and in October, he spoke to investors about the corporation's plans to grow their operations not only in Las Vegas, but also in other global destinations like Japan, Brazil, and South Korea.
Northeast, Asia Likely Battlegrounds in 2018
So where will the big money players be focused heading into 2018? Increased competition may be the biggest concern to their respective bottom lines, particularly in the northeastern United States, where new casinos in Massachusetts and Connecticut, along with the introduction of online gambling in Pennsylvania, could put a lot of pressure on markets that are already beginning to feel saturated.
High stakes are at play in Asia as well coming into the new year. Not only will Japan likely grant final approval for the nation's first integrated resorts, but regulators in Macau are also expected to announce the rules that will govern the renewal of gaming license concessions in the Chinese territory.
Both could lead to fierce competition amongst some of the largest gaming firms in the world, each of which wants to be a leader in these lucrative markets. And you know what that means: bigger payouts for the gambling industries biggest moguls in 2018.
Latest Casino Stocks:
Retrieving stocks data...
Retrieving stocks data...
Retrieving stocks data...
Retrieving stocks data...
Retrieving stocks data...