THEhotel Renovation Delays Point to Improving Las Vegas Economy
Posted on: October 3, 2013, 05:30h.
Last updated on: October 26, 2021, 06:10h.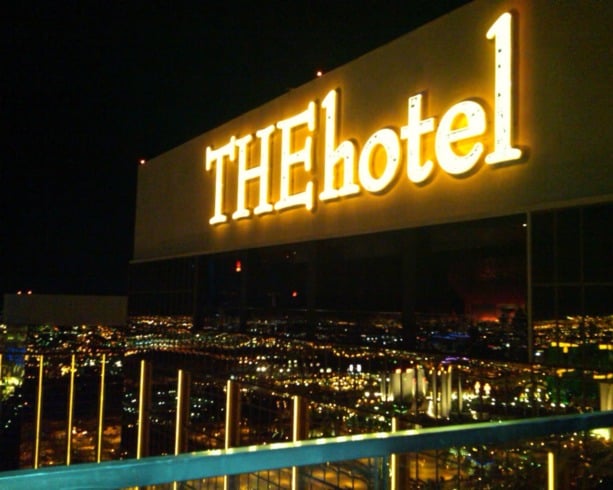 Usually, a hotel renovation put on hold in Las Vegas is a sign of something gone awry: a collapsed economy, dissipated funding, or some other amalgam of construction snafus. But just this once, Mandalay Bay's halt of the rebranding and major renovation of its ancillary property, THEhotel, is a good sign; it's because business is too good to let the rooms go right now for as long as they would be out of commission.
Renovation is Postponed
So the changeover of THEhotel into Delano Las Vegas – originally scheduled to kick off at the end of this year – is being postponed so the rooms can be used by overflow Mandalay Bay convention attendees to lay their weary heads after a long day on the show floor. So sayeth MGM Resorts International anyway, and they own the place.
Mandalay Bay's 3,300 hotel rooms and THEhotel's 1,100 being filled are a sign that a glimmer of the old Vegas magic may be coming back five years after the recession hit, so this is one construction delay everyone can be pretty happy about.
"A potential delay in taking rooms out of service at the end of this year demonstrates MGM's high-visibility and confidence in calendar year 2014 group booking trends, in our view," noted Sterne Agee gaming analyst David Bain to investors.
2014 Could be Turning Point
MGM Resorts chairman Jim Murren backs up this vision, saying 2014 is looking gangbusters for those all-important convention dollars; after all, we all know that conventioneers usually spend more time gambling than they do conventioning. Mandalay Bay offers an enormous space for these gatherings, and has gained traction in popularity in recent years, as it's certainly easier to access than the sometimes archaically cumbersome Las Vegas Convention Center off the mid-Strip. And Murren says it's all a good thing, and a harbinger of Las Vegas having at least one whole foot out of the recessionary manhole.
"The Strip is on a positive pace," he noted as summer 2013 wrapped up.
MGM Resorts, of course, has been on a renovation and attraction building orgy of sorts, so maybe the break is also a wise financial move for the gambling conglomerate. Between its 10 Strip casinos, room renovations and new attractions have been costing a bundle, with the MGM Grand conversion of the old Studio 54 into the hipper and now insanely successful Hakkasan nightclub/restaurant paying off big-time for the company.
And there's the new $100 million outdoor entertainment, retail and dining promenade being created between MGM properties New York-New York and the Monte Carlo, which will itself lead guests towards a $350 million, 20,000-seat arena designed to host both sporting and entertainment events.
Part of the Morgans Hotel Group, Delano has been trying to get a foothold in Las Vegas since its original plans to do so via the never-took-off Echelon collapsed. MGM and Morgans say they will overhaul THEhotel's restaurants, bars, lounges and spa into a new Delano-branded experience.
Similar Guides On This Topic