'The Match' Odds: Tiger Woods, Peyton Manning Favorites Against Phil Mickelson, Tom Brady
Posted on: May 24, 2020, 12:02h.
Last updated on: May 22, 2020, 04:21h.
Tiger Woods and Peyton Manning are the favorites today in "The Match: Champions for Charity" against Phil Mickelson and Tom Brady at Medalist Golf Club in Jupiter, Florida.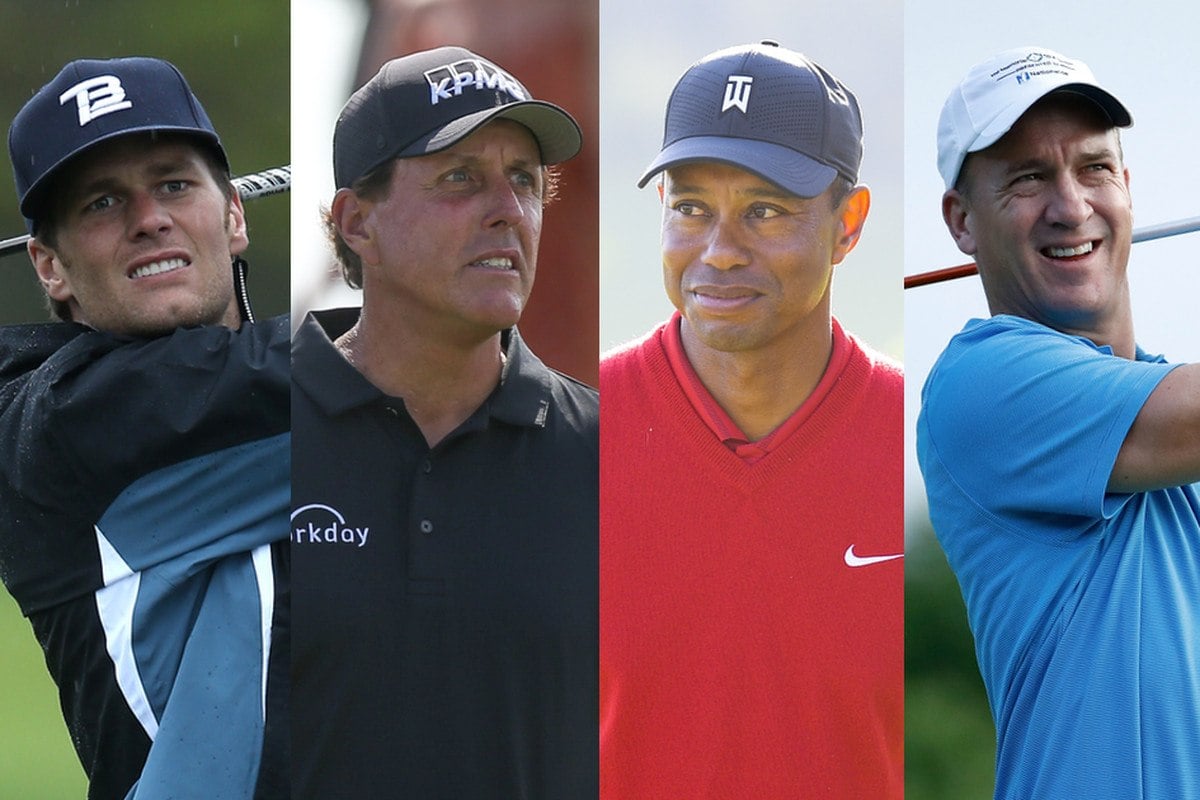 The star-studded match featuring four champions that are current or future Hall of Famers in their respective sport tees off today live at 3 p.m. ET.
Woods, a 15-time major winner, partners with Manning, a two-time Super Bowl champ and five-time NFL MVP. Oddsmakers have Tiger-Peyton favored for the 18-hole match, their line at -190. That's an implied chance of 65.52 percent, a $100 bet netting $52.63.
Mickelson is "only" a five-time major winner. He partners with Brady, whose NFL resume is more distinguished than Manning's. Brady has six Super Bowl rings and three NFL MVP awards. Mickelson-Brady are the underdogs at +160, a bettor needing to risk $62.50 to win $100.
Trash Talking Underway
Despite Manning being a slightly better golfer than Brady – their respective golf handicaps are 6.4 and 8.1 – and the match being played at Medalist, just miles from Woods' Florida mansion – Mickelson, never short on confidence, is upping the ante with a bit of trash talk.
"Get ready, @TigerWoods. I'm coming for you on your own course," Lefty tweeted. "And @TomBrady is used to taking Peyton down on Sunday."
Mickelson added to Golfweek, "He [Tiger] was insistent that this event is played on his home course despite everyone else wanting to play it elsewhere. That's fine. We'll take it to him and Peyton."
Woods tweeted recently that fans should "tune in to TNT … to watch Peyton and I win."
As for the format, the front nine will be a better ball of partners, with the NFL quarterbacks spotted three strokes – one each on a designated par 3, par 4, and par 5. The back nine will be modified alternate shot. Both partners will tee off from the same teeing area, and then select which ball to play next, and rotate shots until the ball is holed.
FanDuel has additional prop bets, including whether Tiger or Phil will make more birdies on the front nine 9 (Woods -138, Mickelson +100), and most birdies on the front between Manning (-138) and Brady (+100).
Sports Betting Relief
"The Match" will benefit COVID-19 relief programs and nonprofits to the tune of $10 million, the money coming from WarnerMedia, which owns TNT, TBS, TruTV, and HLN – all of which will televise the golf event.
Additionally, on-course competitive bets made between the four players will all go to coronavirus aid. "To help people out, it means a lot," said Woods.
For sports bettors, "The Match" provides them relief, with a live US sport to watch and wager on. It's the second consecutive Sunday afternoon with televised golf featuring the game's best players.
A week ago, Rory McIlroy and Dustin Johnson teamed up to defeat Rickie Fowler and Matthew Wolff in a skins game, also held in Florida.