Ted Forrest Wanted by Authorities Over Alleged Bad Checks at Wynn Las Vegas
Posted on: September 5, 2016, 07:41h.
Last updated on: October 12, 2016, 08:37h.
Ted Forrest is a wanted man in Las Vegas.
The six-time World Series of Poker (WSOP) bracelet winner has been accused of writing bad checks at Wynn Las Vegas in 2012 and 2013.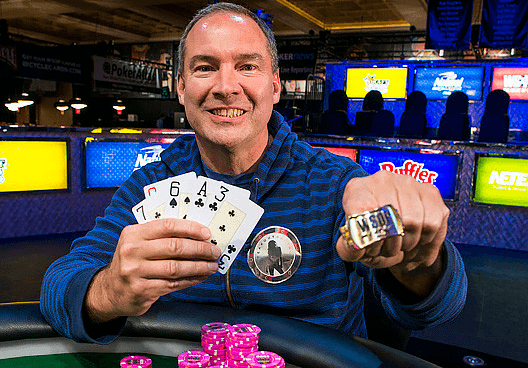 According to authorities, Forrest cashed two checks totaling $215,000. Wynn says the checks bounced due to insufficient funds to cover the transactions.
Clark County has now issued an arrest warrant for Forrest.
Three years ago, Forrest admitted to owing Wynn over a quarter of a million dollars and agreed to pay back the money in 10 monthly payments. But Las Vegas Review Journal's (LVRJ) David Ferrara reports Forrest failed to make good on the settlement.
Wynn wants its money, and it's turning to legal recourse. "We believe this is a long-standing civil dispute," Forrest's attorney Chris Rasmussen told the LVRJ. "Now . . . they've moved to prosecute."
Clark County is charging Forrest with theft and writing bad checks. Those accusations could lead to prison time should Forrest be found guilty. Rasmussen plans to ask a Clark County judge to revoke the warrant.
High Stakes Drama
Forrest is notorious on the poker circuit for always being ready for a big wager. He's won over $6.3 million in live earnings during his 25 years playing poker, but his notoriety largely stems from his actions in non-sanctioned showdowns, also known as prop bets.
His most notable face-off came against Texas billionaire Andy Beal. Forrest and other poker pros pooled their money together to take on Beal in what were perhaps the richest poker games in history.
Dating back to 2001, Forrest and Beal have gone against each other several times with millions of dollars in the pot. Held at both the Bellagio and Wynn Las Vegas, Beal supposedly once won an $11.7 million hand.
Forrest's best live recorded victory came in 2007 when he won the $10,000 World Poker Tour no limit hold'em event for a $1.1 million win, but he's certainly won more during his non-tournament high-stakes affairs.
Weighty Matter
Forrest's situation with Wynn is a bit ironic, considering he's been a vocal critic of Mike Matusow on a 2010 prop bet. Six years ago, Forrest bet Matusow he could drop his weight from 188 to under 140 pounds in just a matter of months.
The bet was for $2 million.
Forrest followed through, but claims Matusow has only paid him $70,500 to date.
"I didn't eat for 10 days," Forrest said in 2010. "I ate a kiwi, a tomato, and five or six raspberries, which gave me the energy to make the final push and lose the weight."
Matusow blamed alcohol for the bet, and claimed that he wasn't in a sound mental state to make such outlandish terms.
"Four years ago me and Ted made a bet and were very drunk when we made it," Matusow tweeted in 2014. "I then told him I don't want the bet cause I can't afford to lose."
Similar Guides On This Topic