Super Bowl LVI Odds: Bills, Chiefs Still Favorites After Week 3 Losses
Posted on: September 27, 2022, 02:16h.
Last updated on: November 18, 2022, 06:34h.
Even though the Buffalo Bills (2-1) and Kansas City Chiefs (2-1) lost games in Week 3, they're still the top two betting favorites on DraftKings' NFL futures board. The Bills are the outright favorite at +400 odds to win Super Bowl LVII, while the Chiefs are +750 odds.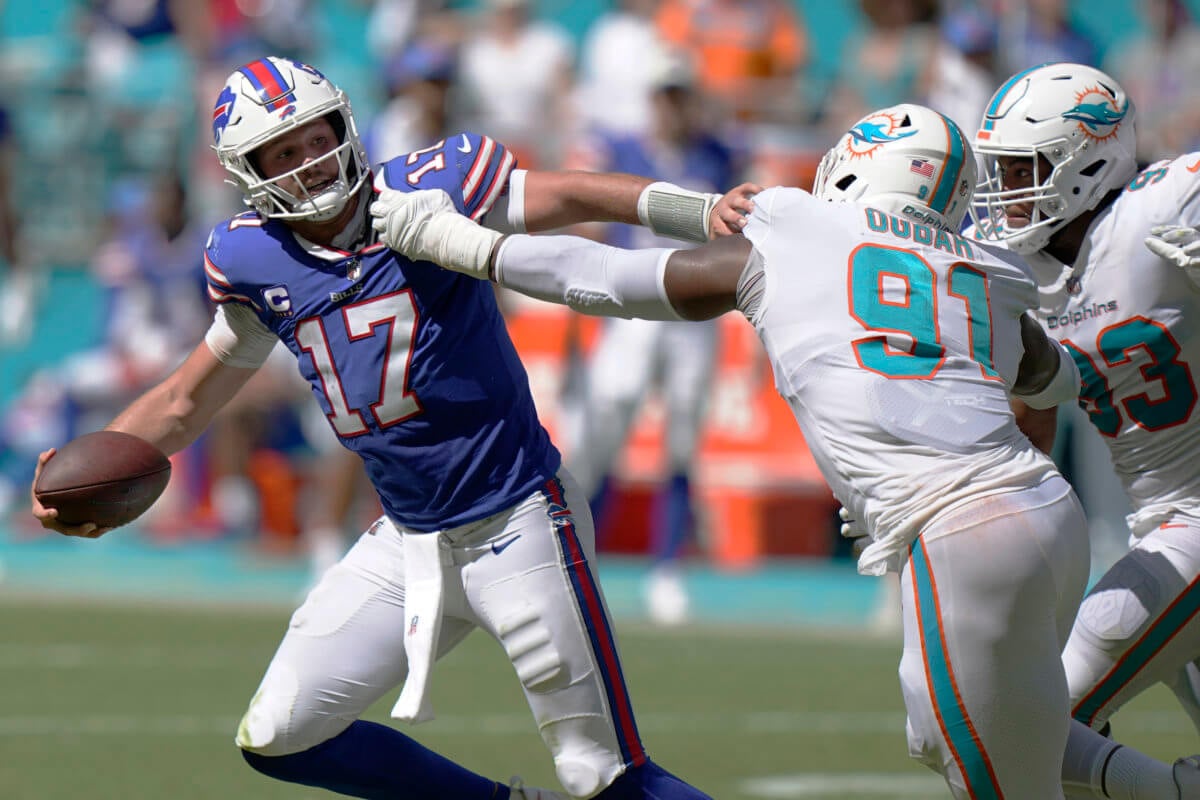 The Philadelphia Eagles and Miami Dolphins are the only undefeated teams remaining in the NFL right now at 3-0. The Eagles rocketed up the futures board and are now +800 odds to win the Super Bowl, while the Dolphins also saw a bump to +1800.
SUPER BOWL LVII ODDS UPDATE
Buffalo Bills +400
Kansas City Chiefs +750
Philadelphia Eagles +800
Green Bay Packers +900
Tampa Bay Buccaneers +1000
L.A. Rams +1500
Baltimore Ravens +1800
San Francisco 49ers +1800
Miami Dolphins +1800
LA Chargers +2200
Denver Broncos +2500
Minnesota Vikings +2800
Cincinnati Bengals +3000
Dallas Cowboys +3000
Indianapolis Colts +3500
Cleveland Browns +5000
Jacksonville Jaguars +6000
New Orleans Saints +7000
Arizona Cardinals +7000
Las Vegas Raiders +7000
Tennessee Titans +8000
Detroit Lions +8000
New England Patriots +10000
New York Giants +10000
Carolina Panthers +10000
Washington Commanders +15000
Pittsburgh Steelers +15000
Chicago Bears +25000
New York Jets +30000
Atlanta Falcons +30000
Seattle Seahawks +50000
Houston Texans +50000
** Odds by Draft Kings
The defending Super Bowl champion Los Angeles Rams (2-1) won two games in a row since dropping the season's first game. The Rams are now +1500 odds to pull off a rare championship repeat.
Undefeated Jump: Eagles and Dolphins
In the preseason, the Eagles were +2200 odds to win the Super Bowl. Their odds gradually improved after wins in the first three games of the season from +1600 in Week 1 to +1200 in Week 2 to +800 after Week 3. Only the Bills and Chiefs have better title odds than the Eagles.
The Miami Dolphins are the biggest surprise team thus far. Rookie head coach Mike McDaniel and the Dolphins pulled off another insane comeback win to improve to 3-0. The Dolphins took advantage of sweltering heat on their home turf and upended the Bills.
Before the start of the regular season, the Dolphins were +4000 odds to win the Super Bowl, which was accurately priced for a team with a rookie head coach and starting quarterback with health issues. However, the Dolphins have the biggest jump over the last three weeks among the top contenders.
The Dolphins were +3000 odds after Week 1, then +2500 after a sensational Week 2 comeback against the Baltimore Ravens, and are now +1800 after their 3-0 start.
Movers: Packers, 49ers, Jaguars
Aaron Rodgers and the Green Bay Packers won two games in a row after an ugly Week 1 loss. Their Super Bowl odds jumped from +1400 to +900 after a convincing road victory against Tom Brady and the Bucs in Week 3.
It's rare to see a team's Super Bowl odds improve after losing their starting quarterback. In the case of the San Francisco 49ers, bettors weren't 100% sold on Trey Lance, who suffered a brutal fractured ankle in Week 2. At least bettors know what they're getting with former starting quarterback Jimmy Garoppolo returning to his old starting job.
The 49ers blew a fourth-quarter lead against the Denver Broncos on Sunday Night Football and slipped to 1-2 on the season. Yet, if you're tracking their Super Bowl odds, the 49ers continued to trend upward despite a losing record. The 49ers were +2200 odds after Week 1, then bumped +2000 after the Lance injury in Week 2, and are now at +1800 odds.
The Jacksonville Jaguars are a great underdog story this season, and you can't help but root for the former bottom feeders of the NFL. The Jaguars finally have a legitimate coach in Doug Pederson after the Urban Meyer experiment backfired last season.
The Jaguars improved to 2-1 and sit in first place in the AFC South. They're still an inexperienced squad, but DraftKings updated their title odds from +13000 in the preseason to +6000 after back-to-back victories.
Sliders: Bucs, Chargers, Patriots
The Bucs were decimated with injuries to their offensive line and wide receivers, yet still started 2-0. They lost a tough game in Week 3 against the Packers, but some critics suggested the Bucs were doomed because of simmering marital issues between Tom Brady and his supermodel wife, Gisele Bundchen. Experts dismissed the off-the-field issues for a GOAT-like Brady.
But there's genuine concern for their shaky O-line and banged-up wide receiving corps. The Bucs' futures dipped from +750 to +1000 after their first loss of the season.
The LA Chargers were a popular Super Bowl pick in the preseason. However, bettors are worried about Justin Herbert's rib injury, which could bother him during the entire season. Herbert struggled in Week 3, even after getting a painkiller injection. After a 1-2 start, oddsmakers adjusted the Chargers' championship odds from +1500 to +2200.
The New England Patriots saw their Super Bowl dreams shatter when quarterback Mac Jones hobbled off the field after sustaining a high-ankle sprain. He's expected to miss multiple games, so their postseason hopes ride and die with backup quarterback Brian Hoyer.
The Patriots had the most notable decrease on the futures board after Week 3 when they went from +5000 to +10000 odds to win the Super Bowl.
Theme from the Bottom: See Ya Next Season
Oddsmakers at DraftKings don't have any faith in the bottom nine teams on their NFL futures board. That sad list includes long shots like the Las Vegas Raiders (+10000), Carolina Panthers (+10000), Washington Commanders (+15000), Pittsburgh Steelers (+15000), Chicago Bears (+25000), New York Jets (+30000), Atlanta Falcons (+30000), Seattle Seahawks (+50000), and Houston Texans +50000.
If you're a fan, it's frustrating to know that professional bookies don't think your squad has a legit title shot after just the first three weeks of the season.
The Raiders are the only 0-3 team in the league this season. Considering they play in a tough AFC West division, their outlook is grim. Diehard fans are hopeful new head coach Josh McDaniel can turn the season around despite their flawed running game and awful secondary.