Sugar, Sugar: Oversized Hershey Candy Icons Coming to Las Vegas Strip
Posted on: June 13, 2013, 05:23h.
Last updated on: October 26, 2021, 05:20h.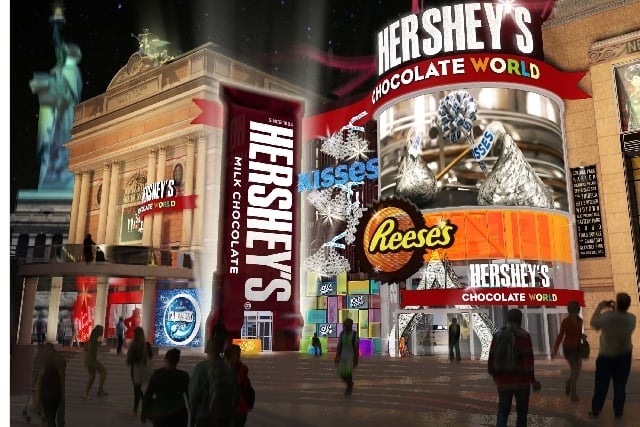 It already boasts ersatz replicas of the Eiffel Tower, Egyptian pyramids and the lakes of Bellagio, Italy, not to mention the Brooklyn Bridge and Lady Liberty; why not add to that some iconic candy notables in an 18-foot glory size? That's the thinking behind Hershey's new "Chocolate World," coming to life inside the New York-New York casino as one of the key draws as part of an ambitious new 63-acre outdoor plaza and arena being constructed by MGM Resorts International, which owns New York-New York and nine other Strip properties.
Hershey's Attraction
The new Hershey attraction will take up 13,000 square feet, and will be second in size only to the original Hershey version at their flagship location in Hershey, Pennsylvania, which has been a huge tourist draw in that area for years. Other smaller Hershey Worlds are already up and running in Times Square in New York, Chicago, Dubai, Singapore and Canada.
"We have been looking at Las Vegas for awhile, and we actually had our toes in the water five years ago," said Amy Hahn, general manager of the Hershey Experience. "This project and the location right on the Strip fit perfectly with our brand."
It's all part of MGM Resorts International's massive $100 million retail, dining and entertainment district being constructed between their New York-New York and Monte Carlo properties.
Customized Delectables
Among the distinct attractions inside the sweets cavalcade will be the ability for customers to create their own candy wrappers and Hershey kisses foil plumes.  We can imagine how the latter might work for a bachelorette party, but will leave that to the reader's imagination.  For sure, the personalization concept will be a hit with both wedding planners and guilt-ridden parents who've been away from the kiddies for a few days too long.
"It's a multi-sensory attraction for our iconic brands," Hahn said.
The ode to all things chocolate will stand tall between the Statue of Liberty and the Brooklyn Bridge, and will include a mammoth Hershey's milk chocolate bar, the aforementioned 18-foot Reese's Peanut Butter Cup, and enormous Hershey's Kisses.  Can you say "branding"?
Slated to open in Winter 2014, Hershey's Chocolate World is expected to employ between 75 and 100 workers.
Similar Guides On This Topic